Flash Player for BlackBerry: Options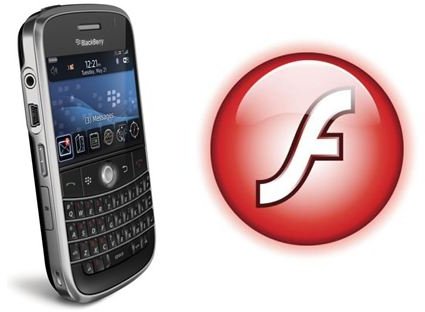 Adobe Systems and RIM Alliance
Research In Motion (RIM) and Adobe Systems announced at the BlackBerry Developer Conference, last year, that they have expanded their collaboration. They proclaimed that this move will greatly benefit application developers and creative experts who will be able to use the Adobe Flash Player for BlackBerry along with Adobe Creative Suite content development and authoring tools for creating rich applications and content.
During the 2009 BlackBerry Developer Conference, RIM and Adobe announced several exciting developments:
Adobe will be introducing the latest Adobe Creative Suite for BlackBerry smartphones. The suite will come with new features that will allow BlackBerry developers and designers to easily and efficiently create graphics.
Enhanced Adobe Dreamweaver will allow web designers to create websites and widgets for BlackBerry smartphones.
Adobe and RIM will work together to develop integration between BlackBerry Java Plug-in for Eclipse and Adobe Creative Suite.
Adobe and RIM will also come together to provide BlackBerry smartphone users Adobe AIR, a key component of the Flash platform.
Initially, Adobe Flash Player 10.1 will support BlackBerry browser, widgets and the web rendering engine.
Adobe Flash Player for BlackBerry: When will We See it?
Unfortunately, there's still no date for the release of Flash 10.1 on the BlackBerry platform, with Adobe's CEO Shantanu Narayen only saying that Flash player for BlackBerry will be made available in the second half of 2010.
It should be interesting to see how long Adobe Systems take to make Flash available to BlackBerry users and how will it will perform on the handsets. Adobe's Flash 10.1 promises to provide its users rich Flash web content experience via games, animations, RIAs (rich internet applications), music, audio, video, ecommerce, data presentations and visualization. But until then what are the Flash Player options for BlackBerry smartphones?
Flash Player for BlackBerry: Options
BlackBerry smartphones use an embedded mobile web browser, Opera that does not allow users to add plug-ins. Adobe Flash Player is an Active X plug-in that web browsers use to view Flash videos or content. As the web browsers for mobile devices are different from the web browsers on computers, making changes in the internal web browser of BlackBerry devices will not be an easy task. So getting Adobe Flash Player for BlackBerry will not work, you will require a Flash Player that is specifically created for the BlackBerry browser.
Frankly speaking you cannot view Flash content on BlackBerry until the Flash Player for BlackBerry arrives. However, you can use Video Converters that convert flash videos to a format that is supported by BlackBerry devices. Simply download and install a BlackBerry video converter on your computer. Most video converters come free of cost. Add the flash content that you want to convert in the converter and follow step by step instructions to convert the flash file into a BlackBerry supported format.