iTunes Remote for BlackBerry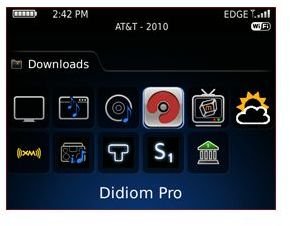 Didiom Pro
Didiom Pro is the quickest and easiest way to stream music directly from your iTunes library or your computer to your BlackBerry. With this iTunes remote for BlackBerry app, you can stream music, audiobooks, podcasts, and playlists irrespective of your phone's storage capacity. Before signing up for the premium account that costs $9.99 per year or $0.99 per month, you can try Didiom Pro's free account that allows unlimited streaming of any of your five favorite tracks from your iTunes playlist. On the other hand, the premium account provides unlimited streaming of your favorite tracks from your iTunes library. The premium account even allows you to wirelessly download tracks for offline listening. In order to get started, download Didiom Pro to your computer, set up an account at www.didiom.com and select the folders where you store your iTunes files and follow the given instructions.
Connect your BlackBerry with your computer via a USB data cable.
Open the BlackBerry Desktop Manager on your PC and select "Application Loader." Then, choose "Browse" and double-click on the Didiom Pro Mobile loader file (.alx). The .alx file is located in the same folder where Idiom Pro Mobile is installed.
However, if you use a Mac, click on the "Applications" icon at the top of the screen in the BlackBerry Desktop Manager. Then, click the " +" icon, select the Didiom Pro Mobile loader .alx file, and click "Open." Now, Didiom Pro will appear in the list of items to install. Follow the instructions and install Didiom Pro on your BlackBerry.
When the installation finishes, open the "Downloads" folder on your BlackBerry and select Didiom Pro to stream music.
Download: $9.99
nuTsie iTunes Music Player
nuTsie is a service that allows users to stream titles from their PC's iTunes collection or anybody's iTunes collection to their BlackBerry cell phones. To stream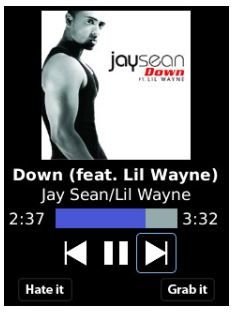 songs from a user's iTunes collection, nuTsie actually matches the songs from the user's library to the songs stored in its servers, then streams those songs. The limitation of this app is that it might not be able stream every song from the user's iTunes playlist but can only stream songs that are available on its servers.
nuTsie is presently available for download at a special price of $9.99.
Jam11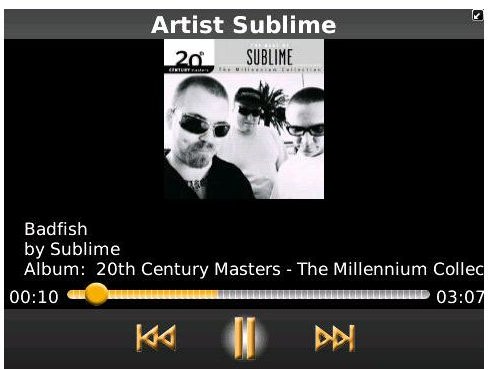 Jam11 is a new app, currently in beta, that allows users to stream their iTunes library to their BlackBerry devices. This iTunes remote for BlackBerry also streams over 40,000 SHOUTcast internet radio stations from around the world. To get started, download and install Jam 11 on your BlackBerry as well as on your computer that has iTunes on it. Within a few minutes all your iTunes song data will appear on your BlackBerry and you can listen to your favorite songs from your home computer as long as it's connected to the Internet. Currently it only supports non-touchscreen BlackBerry devices but will soon add touchscreen devices too.
Download: Free