Top Invoice Software for PC and BlackBerry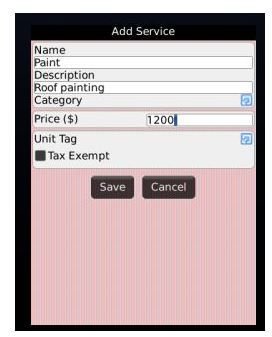 Keep Track of Your Invoices
Many of the options for invoice software for the PC and BlackBerry come at low prices or are even free. Find out below our top 3 picks for invoicing software for the PC and BlackBerry smartphones.
BB Invoice Manager
Offered by Vimukti Technologies, Invoice Manager is now in version 1.0 and has a file size of 128KB. This app works on most BlackBerry phones but check out the app at BlackBerry App World to make sure your BB is compatible. This is a great invoice app as it offers up invoice templates that you can fill in, create quotes and send them via email right from your BlackBerry. You can include your logo, configure tax rates for your area and even offer customer discounts. Edit and re-send invoices and even keep track of payments on invoices with this app. All quotes, invoices, tax rates and even inventory categories can be saved for future use and this app comes at a low cost of only $4.99—perfect for invoices on the go.
Business Apps Combo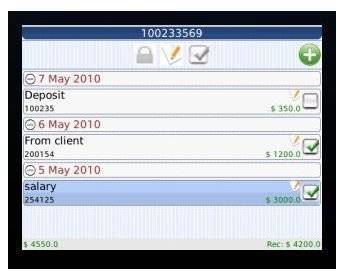 Also from Vimukti Technologies, the Business Apps Combo offers some additional features such as charts, graphs, and invoice management. Now in version 1.0 with a file size of 577KB, this BlackBerry invoicing app does everything Invoice Manager does and more. Keep a record of all your customers and create invoices from templates or images taken right from your smartphone. Obtain receipt totals and payments in a click and send quotes and invoices in either an email or CSV format. Keep track of who paid and when and what invoices are still outstanding. This app costs a little more at $7.99—but it can do it all. Check the link above to see if this invoice software app for the BlackBerry is compatible with your model—although most are. Customers love this app because the combo feature includes bank deposits and other necessary business tools such as account snapshots.
Smart Business Apps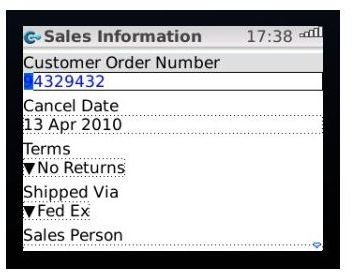 Offered by Canvas, Smart Business Apps for any BlackBerry model has a free 30-day trial, after that, you only pay for additional features used. Now in version 2.8 with a file size of 236 KB, the Canvas website offers details on how the pay as you go works. Invoices can be downloaded, modified, saved and sent via email to your customers. Saved invoices can be re-used and you can even export files to Excel or in a .PDF format. Although this app is initially free and does work on all BB models, it's best to review the flexible subscription plans from Canvas that can be modified to your specific business needs to curtail the costs of this app.
PC Invoice Software
Along with our top 3 picks for invoicing apps for the BlackBerry, we found some awesome (and affordable) invoice software for PCs as well. Below are our top 3 picks. What makes these top picks for PC invoicing is that all of the software programs below have the capability of exporting to compatible files to upload to your BlackBerry for easy emailing to clients!
Ezy Invoice 10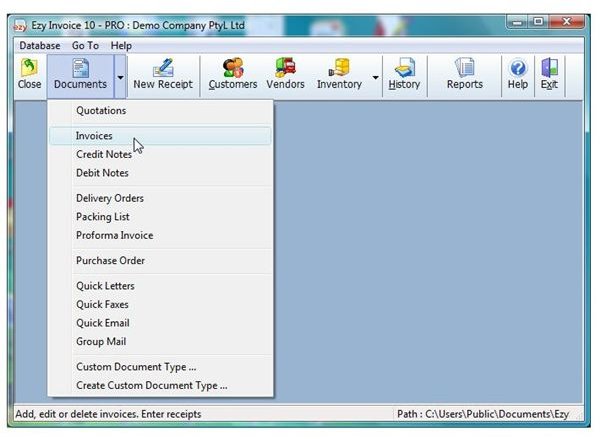 Ezy Invoice 10 made by EzySoft Development is a low cost alternative to more costly accounting software such as Quicken or Quickbooks. At a one-time cost of only $99, you can also download a free trial from their website. This is really an invoicing, accounts receivable and inventory software program all in one. You can create and save invoice templates, add your logo and even export to Excel or in a .PDF format you can easily email to clients or upload to your BlackBerry and send from there. It also includes features such as purchase orders, deposits made, deliveries, packing lists and even customized customer statements and fax and letter templates. Any invoice software that can export to BlackBerry compatible files is a dual-packed program.
Billing Tracker 4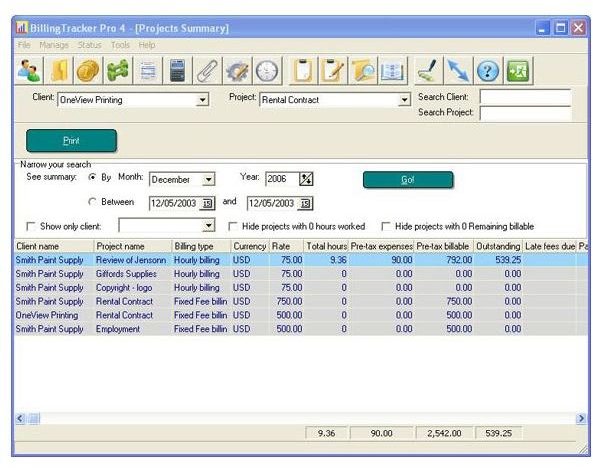 A little more costly at a one-time fee of $179 for a single user, Billing Tracker calls itself a billing and invoice software program. It pretty much does all you need including keeping track of inventory and offers a free download demo. Think time tracking here as well as invoicing and managing accounts. Those who bill by the hour or category can instantly find the client or invoice and add time worked quickly so invoices are correct. If your small business has more than one employee, you can even set various rates for each person and keep templates saved via personnel or client. Logos can be uploaded and you can backup online or locally. Files can be exported to CSV, .PDF or TEXT files for easy email sending. This invoicing software even includes pop-up reminders and detailed expense and client management. A multi-user account costs $199.
CG Invoicer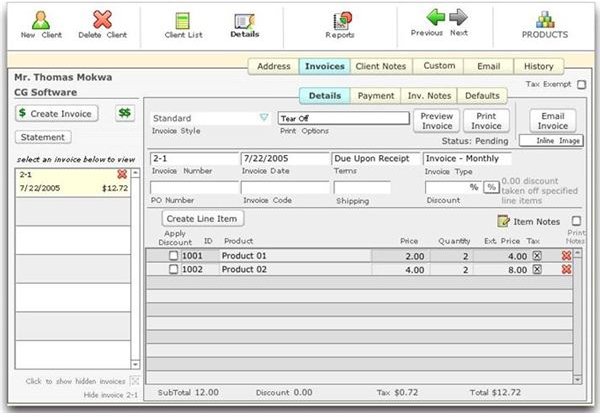 A modest $69 will get you this invoicing software called CG Invoicer. Not only can you create and send invoices, you can track orders and create sales reports and even quickly manage overdue accounts. A free demo is available so you can see, feel and touch this software before buying and you can easily email quotes and invoices right from your PC or upload to your BlackBerry smartphone. Not as complex as Billing Tracker, however, for the small or home business, this software is worth the price.
Wrap Up
Finding and using invoice software for PCs and BlackBerry is easy if you choose one of these top picks based on your needs and your budget. Each of these invoicing software programs for the PC and BlackBerry will make your life easier and the ability to export files to email formats your BlackBerry will accept makes any of these apps or invoicing software a great choice for your small business.
Screenshots by author courtesy of: