BlackBerry Fax Apps and Services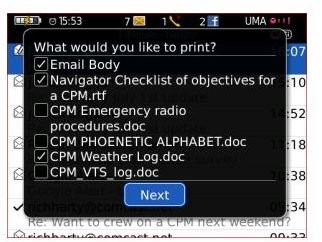 BlackBerry Fax
The wheels of commerce are unlike to stop turning simply because you are not at your desk. As a result it is important to stay-in-touch with business interests, to seize opportunities and to manage one's affairs. Even though faxing services are not as popular as a few years ago, for many it still is a very important means of communication.
BreezyPrint
This application is really a BlackBerry printing solution that has the ability to fax whatever can be printed. BreezyPrint is really a paid print service that enables a BlackBerry to print to any printer without having a direct connection to the printer, via Wi-Fi or otherwise. For the solution to work there has to be a client software install on a desktop in your network to which the target printer is attached.
Of course there is no need to install the desktop client if the company has a BreezyPrint Enterprise Server installed. You can download a trial version that will allow free printing for a limited period. Once that period has expired all the prints will have a BreezyPrint watermark, but in theory you could continue using the solution without paying, if the watermark is not a problem. The app can also fax a photo, email or attachment. In any case, you'll need to have fax page credits to send a fax. Here is a download link to the app.
MyFax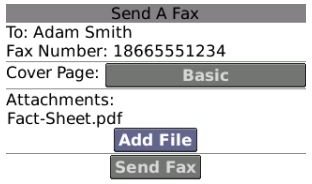 If you are looking for a simple solution that will allow you to send and receive a fax with your Blackberry MyFax should do just fine. As with other faxing solutions you need to enter the recipient's name, fax number (or search for it in the phone's contacts list), a brief message and any attachment that needs to be sent. You can review the status of any fax to determine if it was sent, is pending or failed to go through. You can also view faxes that you received using this app. However you will need a MyFax account from www.myfax.com to use the app. You may also signup for a 30 day free trial to determine if the service is right for you before making a commitment, in any case the app is free to download and use.
RingCentral Mobile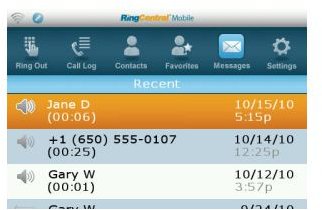 This is a cloud based business phone system that allows businesses to have a more flexible telephony system. In addition to being able to send and receive Internet faxes the app provides:
An auto-receptionist.
Call screening.
Call queues.
Music on Hold .
Visual Voicemail.
Advanced call management.
In essence the solution can be used to take calls, voices messages and receive and send faxes to anywhere you have BlackBerry service. The app is free and can be downloaded from this link.
EOffice - Microsoft Documents Edit, View, Fax and Print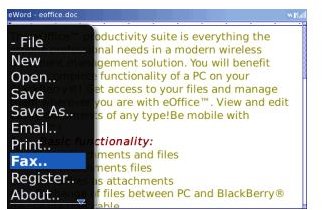 This is more than a BlackBerry solution for handling faxes. The app can also be used to view, edit, create and share, Microsoft Office 2007 documents. This BlackBerry Office application can be used to manage Word, Excel and PowerPoint Presentations with most models of RIM (Research in Motion) smartphones. And after you are done working on an Office file it can be sent to a printer or faxed from within the application. The app costs $14.99 and can be downloaded from this link.
Mail2Fax - Document Printing for BlackBerry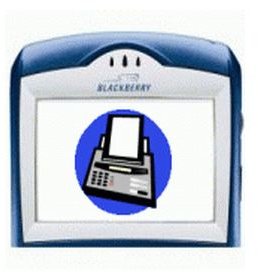 If you use this BlackBerry Fax service your emails will be sent via the Internet to a fax server that will then send the fax to its intended recipient. This is also a paid solution that requires that you pay for the faxing application as well. The cost is $12.95 and can be downloaded from this link.
Conclusion
Being able to send or view a fax using a BlackBerry is a powerful resource for getting work done, staying in-touch or simply being more efficient. While some BlackBerry fax applications are free it is understandable that others charge a small fee for a facility that has a global reach. What is more important is that these faxing solutions are reliable and work very well.
Image Credits: All images are the property of the respective app developers
myfax - BlackBerry send a fax application free
eOffice - BlackBerry Fax apps
BreezyPrint - BlackBerry Fax software
Ring Central Mobile - BlackBerry Fax application