Best BlackBerry Diet and Exercise Applications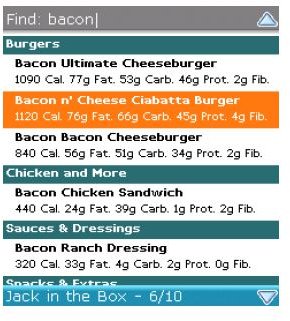 BlackBerry Applications: Diet
Just being aware of the nutritional value of the foods that you are putting in your body can have a very positive effect on your weight management goals and overall health. From weight to food and exercise tracking, these BlackBerry applications (diet) enable users to stay on top of their diets and better manage their health.
Fast Food Calorie Counter
Fast food restaurants are very popular because they are conveniently located, and their menus are quite tasty. Unfortunately, fast food dining
isn't a healthy eating option. Fast Food Calorie Counter has information on over 5,900 fast food menu items and allows you to see just how many calories, fat, fiber, protein and carbohydrates you are getting in each meal.
Unfortunately, this BlackBerry application for diet fans is not updated as often as it should be, so don't be surprised if you can't find some popular and newer items in the app. Some restaurants that the app has information on include: Arby's, Baja Fresh, Blimpie, Bob Evans, Bojangles, Burger King, Camille's Sidewalk Cafe, Chipotle, Chuck E. Cheese's, Church's Chicken, Cici's Pizza, Dairy Queen, Del Taco, El Pollo Loco, Five Guys Famous Burgers and Fries, KFC, Little Caesars Pizza, Long John Silver's, McDonald's, Papa John's, Pei Wei, Pizza Hut, Popeyes, Sbarro, Schlotzky's, Sharky's Woodfired Mexican Grill, Sweet Tomatoes, Taco Bell, Wendy's, Whataburger, White Castle
You can find a download link for the app here; it will cost you US$4.99 though.
Calorie Tracker by LIVESTRONG
If you are looking for a BlackBerry diet app that has a more comprehensive list of food items, both natural and those from popular restaurants, Livestrong's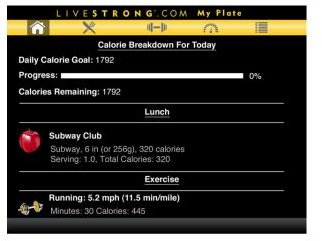 Calorie Tracker is worth some consideration.
With this app you can keep a diary of your weight (weight tracking) and even graph your progress. The app has nutritional information on over 525,000 items that includes the number of calories, carbohydrates, fat, cholesterol, and sugar content.
The app doesn't only tell you how much nutrition each item provides, but it has a large database of activities that can be used to estimate the number of calories you can burn doing various types of exercise. The app goes even further by allowing the user to calculate the net intake over a set period by recording food intake and the activities engaged in to estimate the net nutritional intake. The app is really a companion tool for members of The Daily Plate at LIVESTRONG.com, but at only US$2.99 it offers great value. You can find a download link here.
Diet and Calorie Tracker - Free From SparkPeople
According to comScore, SparkPeople.com is the most popular diet and fitness site. Diet and Calorie Tracker is a free resource from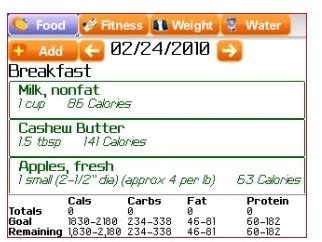 SparkPeople that offers thousands of healthy-living videos, recipes and articles. This BlackBerry diet application can help its users track their weight and fitness over time as well as their water and food intake. With its database of more than 1 million food items it is also a great resource for tracking calories and customizing meals to meet a weight loss, weight gain or weight maintenance goal. Amazingly, despite being such a valuable resource the app is free. If you want a copy you can download it from this link.
Calorie Counter for BlackBerry by MyNetDiary
In addition to tracking your calorie intake, and exercise program MyNetDiary is a great resource for tracking other important parameters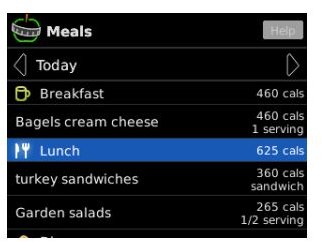 that can affect your health and appearance including: pulse rate, blood pressure and hip, waist and chest measurements. Once you enter the foods you had at each meal during the day and the amount of exercise you had, the app will calculate how many calories you will need to eat, or how much exercise you need to do to meet your goals for the day.
Some standout features include:
A recipes database.
A progress chart with daily analysis and reports.
Easy customization of foods and an exercise program.
Support for English and metric units.
The app doesn't have as extensive a list of foods and restaurants as do other apps covered here, however, the quality and accuracy of the information in MyNetDiary's database is enhanced by the fact that the database is not built by users but by the app's administrators. This app is also free and can be downloaded from this link.
GI and Calorie Counter
This app provides a range of recipes, a BMI (body mass index), a GI (glycemic index) as well as a Junk Food checker to help users achieve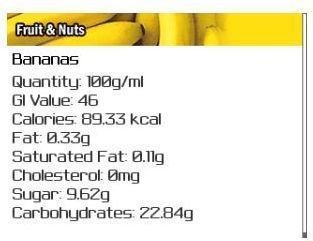 and maintain their ideal body weight. The app also offers nutritional information on hundreds of foods, while that may sound like a lot, compared to the hundreds of thousands that are included with other apps that we reviewed earlier, this BlackBerry diet app falls woefully short, especially considering that the app costs US$4.99. Nevertheless, you can download it from this link if you have the $4.99 to burn.
Image Credits:
Fast Food Calorie Counter
Calorie Tracker by LIVESTRONG - BlackBerry applications diet
Calorie Counter for Blackberry by MyNet Diary - BlackBerry diet exercise assistant
GI and Calorie Counter - BlackBerry diet software
Diet and Calorie Tracker – SparkPeople (BlackBerry diet journal)