What Are the Best YouTube Apps for the BlackBerry?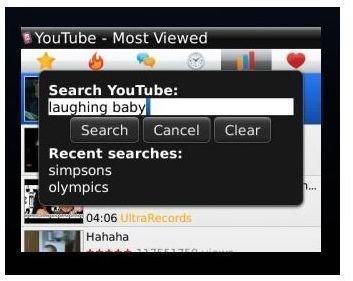 I Want My MTV
Well you may want your MTV, but most of their content can be found on YouTube these days. Busy schedules often prevent us from staying on top of the latest political issues, musical favorites, and of course, those ridiculously fun videos YouTube offers.
To help you stay connected with this video venue, I've taken a look at the top 3 YouTube apps for BlackBerry.
1. Player For YouTube
Offered by Smarter Apps, Player for YouTube is now in version 1.2.46 with a file size of 228KB. This free YouTube app for BlackBerry offers search, share, bookmark, browsing and play features and it works on all BlackBerry models.
Search for what you normally would if on your PC such as featured, top-rated, popular, and even most-viewed so you don't miss that video everyone's talking about. It plays videos over RTSP streaming or on Wi-Fi, depending on your BB model and you can even bookmark your favorites. If you have a YouTube account, you can login, add or remove favorites and even comment or send messages to other YouTube users.
This new version doesn't limit you to just the first 25 videos and you can also share videos with social networking sites like Twitter and Facebook along with sending quick emails of those must-see videos to friends.
2. XENOZU YouTube Player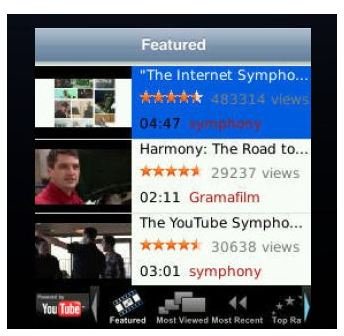 Also free and from XenZu Technologies, XENOZU YouTube Player is now in version 1.0.16 with a file size of 925KB. This YouTube app for the BlackBerry supports many BB models, but not all, check the link above at BlackBerry App World before downloading to see if it supports your model.
Unlike the free version of Player For YouTube, you can upload videos right from your smartphone. It offers full screen viewing, HD videos and has preset categories such as featured, most viewed, most recent, and top rated—or just search for a video. If you're looking for a BlackBerry YouTube app that is free and offers enhanced viewing—this app may not be for you—the streaming content is still controlled by YouTube so if the video on YouTube is bad, it's going to be poor on your BlackBerry.
3. Player For YouTube Pro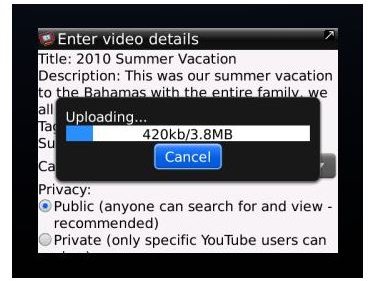 Released by Smarter Apps, this is the paid version of Player For YouTube appropriately called, Player For YouTube Pro. This paid app will only cost you $2.99 and is in version 1.2.46 with a file size of 227KB. This app may be right for you if you're into editing, and uploading videos as well as managing your subscriptions. While it supports all models, this app does require your BB has system software of 4.6 or higher in order for it to work. Other than the editing, uploading and subscription management, this app is pretty much the same as the free version.
So unless you can't wait until you get home to upload your latest video capture, the free version will probably work nice enough for you—it features all the options of the free app including, browsing and finding featured or top-rated apps.
BlackBerry YouTube Rumors
When searching the forums in BlackBerry), I really didn't find much hope for awesome YouTube apps for the BlackBerry. Some forum posts suggest using your browser is better than using an app itself, even if the app is free. Others are saying no matter what app you use, they are slow loading and hard to view on the BB, no matter the model.
Still, some of the latest BB users are relying on Vodafone—a company offering a YouTube app that will come with new BB models very soon, (whatever "soon" means is anyone's guess). On this rumor, all I could find were users complaining the app wouldn't load or that they couldn't find it on new BB models so whether it's out there remains to be seen.
For now, these are the top 3 YouTube apps for your BlackBerry (if you must see videos on the go). Expect more soon, however, as BlackBerry forums are full of comments on those aching for better YouTube apps—so there's bound to be more in the future.
Screenshots by author courtesy of BlackBerry App World.