Setting Up Verizon Email on Your Blackberry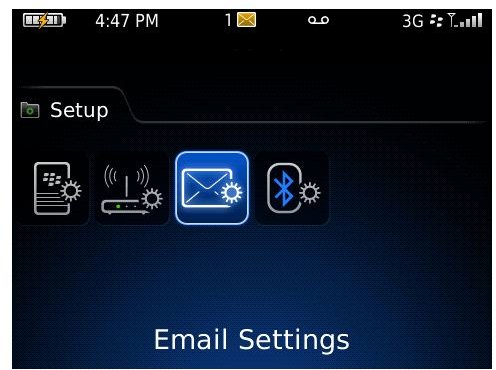 So you have purchased your first BlackBerry smartphone and are staring at it trying to figure out what to do first. Honestly, the first thing that should be done is the setup of your Verizon BlackBerry email accounts. Getting this process out of the way first will make learning how to use the phone much easier.
If you follow the steps outlined in this article and use the screenshots we provide as reference, you should have no problem setting up one or more email accounts on your BlackBerry smartphone. You will need a user name, email address, and password for the accounts you wish to setup on your phone. You will also need a BlackBerry account, which can be created from your phone. Once you receive the confirmation email you can begin the Verizon BlackBerry email setup.
Step One: Access the Setup Wizard
Every single BlackBerry smartphone has a feature known as the Setup Wizard. This will either appear automatically the first time you turn on your brand new phone or it can be accessed from the Setup folder on your phone's applications screen. In this folder you can setup your Wi-Fi, your Bluetooth, access the Wizard instructions and access email setup as well.
Step Two: Setup Email
Now you can begin to set up your Verizon BlackBerry email. Click on email setup once in the Setup folder on your phone. The screen below will be what you see on your screen. The screen says that you need to create a BlackBerry account to begin this process, which is what we discussed earlier in the article. Once a BlackBerry account has been created you can set up as many email accounts as you need on the phone.
The next screen that will appear on your phone will be the email setup page. This page will require you to enter an email account's username and password. You can setup email accounts from Verizon, Comcast, Gmail, Yahoo, MSN and any kind of account you can imagine, even work and school accounts. The usernames and passwords entered into the phone must match those that you enter in your computer when logging into an email account. Make sure you type in the password exactly how it is written, with capital letters and numbers, if they appear in your password.
Once you have entered in all of this information, click the 'Next' link and your account will activated by the phone and confirmed. A new email icon will be added to the home screen of your phone and will be titled using the name of your email account. For instance, the icon might be titled '[email protected].'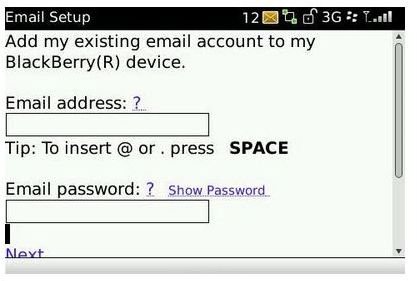 Data Plan
To be able to set up email accounts on your BlackBerry smartphone, no matter the model, the phone must be subscribed to Verizon's BlackBerry Data Plan, which comes with a monthly fee.