What is the Best BlackBerry PIM App?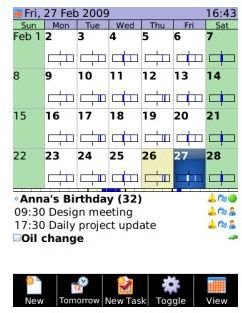 BlackBerry PIM
Installing a BlackBerry PIM app is a simple way to upgrade the plain vanilla personal information management features of your BlackBerry device. While some applications don't add much, by way of enhanced functionality, others provide advancements and features that many users find indispensable. Here is a roundup of the best BlackBerry PIM applications at BlackBerry App World.
Pocket Informant
If you need to keep several separate calendars and manage all your tasks and contacts from one application, then this is the BlackBerry PIM app for you. Pocket Informant provides agenda, daily, weekly, and monthly views alongside task and contact views, which make it easy to store detailed
meeting or project notes and enhance your record keeping for purposes such as client billing.
A feature that most users appreciate is the ability to assign colors and special icons to special task categories contacts and appointments, which makes it easier to see what has to be done at a glance. The application costs $12.99 and can be downloaded from this link.
IdeaMatrix - Notes Ideas and Memo PIM Database
.
This BlackBerry PIM application is idea management software. The app is designed to help users record their thoughts, ideas and utterances of wisdom. The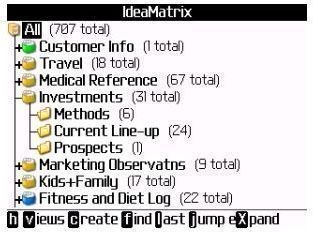 app then makes it easy and snappy to find those entries with its Indy search feature. IdeaMatrix stores an unlimited number of notes and ideas and makes them easy to reference by giving the user an option to save them in folders and categories according to their preference.
IdeaMatrix also has a wireless auto-backup feature that ensures that the data is recoverable even if the phone is lost or stolen. The application also supports REXdesktop which makes it possible to update the app from any internet-connected PC or Mac. Unfortunately, REXdesktop costs $24 per year to use, but IdeaMatrix can be had for a one time fee of $59.99. The app can be downloaded from the BB app store.
AddTo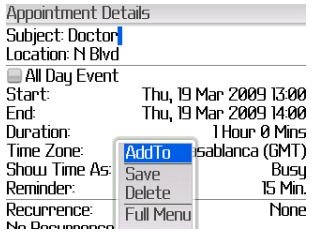 If you already like and enjoy your BlackBerry's native PIM applications but just want to enhance them you can consider using AddTo. This app allows the user to create tasks, memos, emails and SMS with just a single click. As a matter of fact, there is no need to copy-paste or switch between PIM programs to transfer data between any two applications as AddTo makes a seamless integration between virtually any two BlackBerry PIM apps. Therefore you can send a task or memo entry directly to email or vice versa without switching apps which greatly improves efficiency. The app costs only $2.99 and can be downloaded from the BB app store.
UnDelete
Since undelete is not a standard feature on BlackBerries this application can become indispensable. UnDelete captures and enables an undelete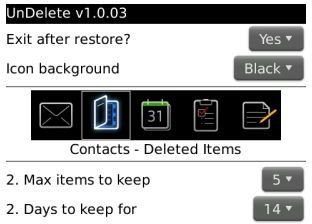 feature for contacts, calendar entries, tasks and memos. Indeed, this can be quite a handy feature for those who tend to be trigger happy. The app has an undelete menu which displays a list of the most recent deletes as well as giving the option to set the maximum number of days to keep each deleted item. The app is intuitive in that it keep a separate undelete list for each type of entry i.e. contacts, calendar etc. The app is relatively cheap at only $2.99 and can be downloaded from the BB app store.
Personal Assistant Premium
No roundup of PIMs for BlackBerry is worth its salt if it doesn't include a personal finance assistant app. Personal Assistant Premium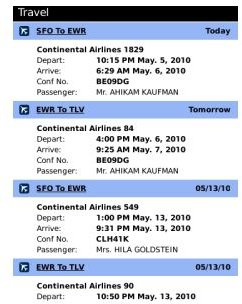 allows users to track essential personal finance information such as:
Credit card transactions.
Upcoming bill due dates.
Bank account status.
Bill statements.
A major advantage of using this particular BlackBerry PIM app is that there is no need to enter your personal information, the app automatically syncs with your accounts at financial institutions, billing and travel companies to bring the information, alerts and push notifications you need.
If you feel uneasy about losing such sensitive financial information while carrying it around on your phone, you will be happy to know that the software has a deactivation feature that can be accessed from pageonce.com to disable the app on the phone should it be lost or misplaced. The app costs $6.99 and can be downloaded from the BlackBerry app store.
Conclusion
BlackBerry Personal information mangers are designed to make it easier to manage contacts, memos, calendar entries and similar information that you might carry on a BlackBerry. Some solutions (i.e. Pocket Informant) are complete replacement solutions for native BlackBerry PIM apps while others such as AddTo enhance the current functions of installed PIMs. While some take a little effort to install and configure, once that process is complete the apps repay the user in terms of increased efficiency to complete routine tasks such as composing a simple email and inserting relevant information from tasks and memos.
Image Credits:
"blackberry pim app." All images are the property of the respective app developers