Using The Mobiola BlackBerry Webcam App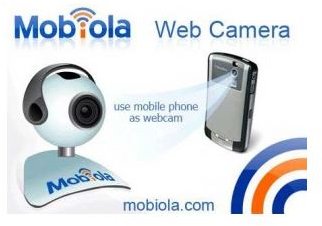 Use BlackBerry as Webcam
Mobiola Web Camera is a cool application that sets up your BlackBerry device as a high-quality wireless web camera. PC web camera is certainly a nice thing but taking it outside through your BlackBerry phone opens up a large number of opportunities for you to share. While within the Wi-Fi range, you can easily broadcast events as simple as walking in the backyard to friends and family living far away. Mobiola Web Camera does a great job in converting your BlackBerry device into a Wi-Fi or USB web camera for your computer.
Features of Mobiola
The software program converts your BlackBerry handset into a premium PC webcam.

It works with Yahoo, a VOIP service - Skype, YouTube, AOL IM, MSN, ICQ and lot of other service providers.

Mobiola is a mobile application that connects to your computer either by a USB cable or via WiFi connectivity.

It offers impressive video quality and video transmission speed.

You can use this software only via a USB cable on Blackberry Strom.

It's incredibly easy to install and configure.

The software is priced at $19.95 but it also come with a 7 day free trial.
Step by Step Instructions for Setting Up a BlackBerry Webcam
Visit www.mobiola.com from your computer to download the web camera software program for your Blackberry smartphone. Select one option; either 'buy' or 'download free for 7 days'. Once you click on one of these options, a screen will appear asking you asking you to choose the type of mobile phone you want to download it for, which is Blackberry in this case.
Mobiola Web Camera is simple to install and configure. It consists of two components, namely a client application for the Blackberry device and the PC driver for the web camera, which is compatible with most Window applications that can accept video feeds from a web camera.
Now, download and install the software your on PC. You don't need to connect your Blackberry device to the computer. In case you're using Vista or Windows 7, make sure to install it by running it as an administrator. For this all you have to do is right click on the installation icon and select 'Run as Administrator'. Then, let the software download and install itself.
Connecting Your BlackBerry Webcam
Next, visit the Mobiola website from your Blackberry device and scroll down the list of applications to reach the mobiola web camera download application for your smartphone. Select to download it on your Blackberry.
After installing both the applications, run the desktop version of Mobiola software program and at the same time run it on your smartphone. The program will prompt you with the options to connect. Choose between a USB cable and Wi-Fi connection. Once you have marked your selection, your Blackberry webcam is ready to stream videos.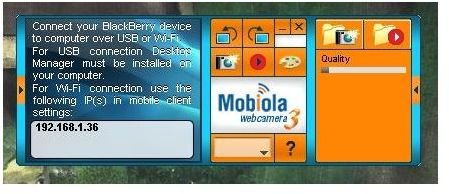 The video quality of the webcam depends on the quality of your handset. BlackBerry devices stream decent quality videos except for Strom 2, which experiences a lot of lags.