What is the Best BlackBerry GPS Application for Fleet Management?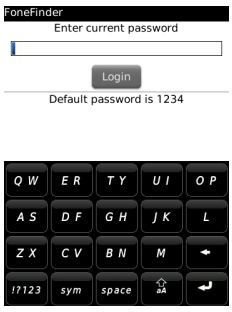 Keeping track of vehicle data such as mileage, maintenance history, fuel consumption and knowing where those vehicles are located at all times are important factors in properly managing a fleet of vehicles. Here are some of the best BlackBerry GPS fleet management applications.
FoneFinder (3 out of 5)
If you are looking for a simple app that you can use to track an asset or person, this is the app for you. Once installed on a BlackBerry,
FoneFinder will enable you to find where the phone is located in the event that you lose it, or if you want to track an employee or family member who is carrying it.
The idea here is that the phone will be in, or close to the vehicle you want to track. To determine the location of the phone just send a text or email to the phone and include the word "location" followed by a space and then the password in the subject line. It may take a few seconds for the phone to triangulate and discover where it is, but it's a simple solution that works.
You also have the option of making each location request you make to the phone a secret by checking the appropriate option in the app itself. Once you do so the carrier of the phone won't know that you are querying their location. The app costs $2.99 and can be downloaded from the BBM App Store.
DonlenDriver Mobile (2 out of 5)
This application is designed to enable fleet drivers to create, view, edit and delete information and data on the vehicle that they are driving. This application doesn't seem to be available for general download and use, though it is free. Instead, you will need to get a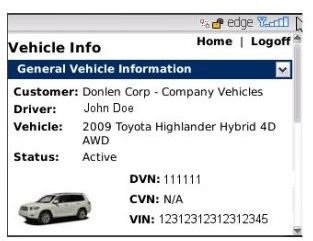 username and password from Donlen, which comes as part of their fleet management service.
While the app can store key vehicle data such as fuel consumption and maintenance history, that is key to determining the cost of operating the vehicle, it does lack basic GPS functionality that would have made it a standout among the other solutions we reviewed here.
We should be fair and say that DonlenDriver is a part of a suite of fleet management applications that is really meant to serve customers of the Donlen Fleet Management service. Therefore, you are only going to have access to the full potential of the app if you subscribe to that service. As we stated earlier, the app is free, it can be downloaded from this link.
ITrak-Q (4 out of 5)
This BlackBerry GPS application fleet management app works in a similar way to FoneFinder by tracking the phone and by extension the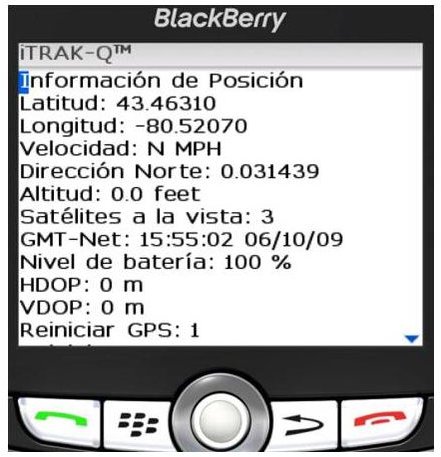 asset or individual that is carrying it. To use the service you will need to purchase the application on a monthly ($2.99 per phone) or annual ($29.99 per phone) plan and ensure that the phone will have coverage wherever it goes. This means that tracking service is available internationally and will work on most iDEN, GSM and CDMA networks, but roaming charges may apply.
Some features that may seal the deal for you include:
Facebook support for posting your location.
Viewing the location of any other group member from your phone or a PC.
International tracking.
Mode tracking (driving, hiking and sports activities) to optimize battery life and reduce data transfer.
iTrak-Q is an excellent BlackBerry GPS fleet management application if all you want to do is keep an eye on your fleet of vehicles, but you will have to look elsewhere if you want to track detailed vehicle information. Nevertheless, you can find download links at iTraq-Q.
Conclusion
None of these apps was designed to be a "Jack of all trades," but each does a fair job at tracking fleet assets. While some can be used to keep detailed information about maintenance costs and vehicle efficiency numbers such as mileage and maintenance history, others allow you to keep a track of where those vehicles are at all times.
Knowing where your vehicles are not only improves security but also allows the fleet manager to quickly reroute vehicles and plan new routes to reduce costs, improve efficiency and seize opportunities. Though iTrak-Q is the most expensive app, it has the most robust feature-set; this sets it apart from the other options we reviewed here.
Image Credits: "Blackberry gps application fleet management." App Developers