Rating Manufacturer or Grocery Coupon Apps for the BlackBerry - Part One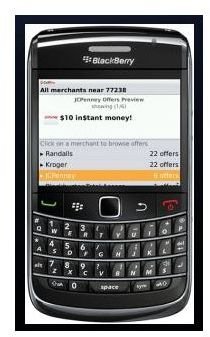 The App Coupon Gods
The all-powerful Coupon Gods make us race for our Sunday papers seeking out the very best of the best coupons for products we need and want. What if you could skip those shiny, glossy (and slippery) coupon ads and find manufacturer or grocery coupon apps right from your BlackBerry?
Behold BlackBerry's App World! We looked at some of these no-scissors required BlackBerry coupon apps, actually used them, and reveal the best and the worst.
Cellfire Grocery Coupon App (3 out of 5)
The Cellfire Grocery Coupon App, now in Version 3.8 with a file size of 208KB was released in June of 2010. This free app has some ups and downs when considering where to get manufacturer or grocery coupon apps for the BlackBerry.
First off, it tells you right away that Cellfire partners only with grocery stores that have reward or incentive cards—those ones that scan at the counter when you checkout. If your favorite grocery store has no reward incentive card, you may want to skip this app.
They are partners with over 4,500 grocers including Safeway, Smiths, Kroger's, and Giant Eagle and are adding more all the time. If you live in Florida, Minnesota, Wisconsin, Oklahoma, Iowa, and parts of New England you definitely want to skip this app—they have no grocery partners in these areas.
This app is only good in the US and supports all BlackBerry models and most carriers. As soon as I downloaded the app (less than 30 seconds) it informed me that I could save money on all sorts of items by saving the downloaded coupons to my store partner incentive cards. Next you have to register by entering your cell phone number, year of birth (boo) and zip code.
Because I live in a rural area, there was only one grocery store with an incentive card (Smiths) that I could use to browse only 25 coupons. I choose a couple: Pillsbury Rolls and Kix Cereal. Once you save them to your cart you are prompted to enter your secret incentive card code (that means I have to go find mine). Once your secret code is entered, you simply click next and the coupons selected are saved on your incentive card.
Once desired coupons are saved, you are told to wait TEN MINUTES before attempting to use the saved coupons—what if you're in a hurry? That's about all this app does. It does offer good items to choose from, but all in all, I'd skip this app unless you want to download all your coupons before you trek to the store; meaning you are more organized than I.
Valpak Local Coupons (5 out of 5)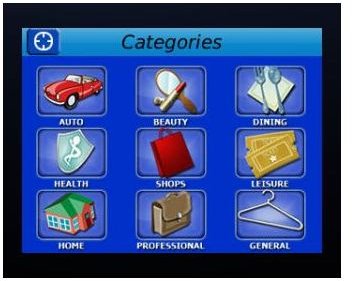 This manufacturer or grocery coupon app for BlackBerry, Valpak Local Coupons is in Version 1.1.2.1, file size is 568KB and was released in May of 2010 from our generous Valpak friends. The app took less than 15 seconds to download and once opened if you love coupons you'll get a feeling of pure joy! Consider this app a must have app.
The main menu offers categories like auto, beauty, dining, health, shops, leisure, home, and professional. They also throw in a general category, which must be a mystery! Because I'm a car dealer, I hit auto first. Surprisingly, there's no zip code entering and the GPS Gods find me right away. I quickly see I can get a deal at Expert Tires or Firestone Tires.
I choose the $25 off a brake service from Expert Tires that comes with a nice $35 rebate along with a map and a link to their website. To redeem this coupon, I only have to show the coupon to the great guys at Expert Tires which I guess means thrusting my cell phone in their face. Each coupon does have a specific number that is unique, however.
There are coupons for everything from Wal-Mart to contact lenses and you can even enter to win free getaways or promotional savings for cable or satellite services.
I like this app because it didn't need to know how old I was and found me through the GPS Gods. This app is for US users only and works on all carriers and BlackBerry models.
Wow Overwhelming Offers (1 out of 5)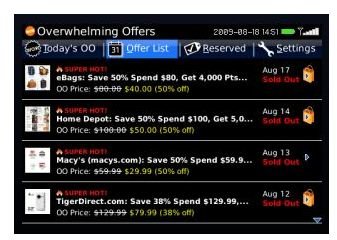 Created by Next Jump, Wow Overwhelming Offers for the BlackBerry is more of a savings device. Available in Version 1.3.0.1, file size is 452KB this app was released in December of 2009 (expect a new release soon). This free app works in Canada, the US and the UK on all carriers and BlackBerry models.
The app downloaded in under 30 seconds and you first have to accept the disclaimers (basically the overwhelming offers may not be guaranteed once you get to the store). The app gives you the option to become a "new user" or sign in without creating a user (which really doesn't work); it forces you to create a user name and password.
It took me 5 minutes to create a new user before I could even use this app and only had one offer in my area—to a movie theater and one for a drugstore that was in Atlanta (where I don't live so I guess the GPS Gods are way off here). You can have discounts such as the movie offer emailed to you and then check with your local movie plex to ensure they allow them.
This app gave me a headache, didn't know where I lived, and the promise of browsing without logging in can't be done. One last thing about the Wow Overwhelming Offers manufacturer or grocery app for the BlackBerry—I had to cold start my cell phone because it locked it up. Not so "overwhelming" as a shopping or savings app, but it does promise lots of offers for Black Friday (the day after Thanksgiving).
Summing Up Grocery Apps
I really hope that BlackBerry App World comes out with more manufacturer or grocery apps for the BlackBerry soon. I only chose to review 3 free ones because coupons mean saving money right so why spend any money on a coupon app? All in all, if you want an app that is easy to use and works well without offering up info on your first born, I'd go with the Valpak app—it's cool.
Screenshots by author courtesy of BlackBerry App World