How to Open Zip Files on a BlackBerry Curve and other Blackberry Models

BlackBerry Files
If you have a BlackBerry Curve, then you more than likely also have Documents To Go, which you use to view your Excel, Word and PDF files. There may be times when you would like to archive your files and view them again at a later date, or someone may send you zip files in an email. Therefore, I bet you would like to know how to open zip files on a BlackBerry Curve, right? First off, you should know that you will need an app to open the zip files. This article will provide you with a few apps, including a free one, and then a guide on how to open zip files on a BlackBerry Curve using the apps.
Just a note: Although this article says BlackBerry Curve, the procedure is generally the same on all BlackBerry smartphones. Just ensure that the app is compatible and that your O.S is higher than 4.5 in order to utilize the Documents To Go to view your unzipped docs.
BlackBerry Apps that Unzip Files (4 out of 5)
Yes, all the apps below have a 4 star rating and are highly praised by their users. They all possess the unzipping feature, but they differ in other aspects.
**FileScout** - the complete file- text- zip- and image-manager

FileScout is a file explorer for your BlackBerry and a complete filing system for your BlackBerry documents, you can create directories and move files around, but we are more concerned with its zipping and unzipping capabilities; mainly the unzipping part. You should, however, know that it does not support password protected zip files. Download FileScout for $6.99
BeamExplorer File Manager
BeamExplorer is the free file manager for BlackBerry that is on our list. Its aim is to help you to conveniently manage your docs and BlackBerry content as you would on a computer. Its zip and unzip utility is what we will be focusing on in this article. Download BeamExplorer Manager Here.
File Manager Pro - Zip and File Utility
File Manager Pro, claims to be the most advanced zip and file manager for your BlackBerry. It is also aimed at allowing you to manage your BlackBerry files in a manner similar to those on your PC, along with the bonus of zipping and unzipping files.
It is perfect for unzipping your email zipped files and then viewing them in Documents to Go. You can Download File Manager Pro for $4.99.
Dowloading Zip Files from Emails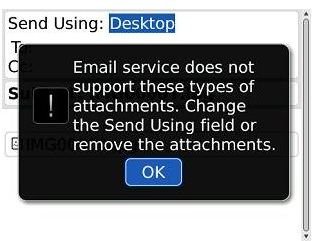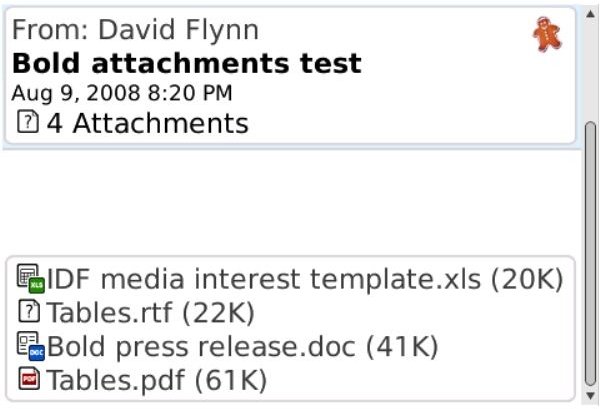 You can save your zip files on your BlackBerry with your desktop software, just so that you can access them on the go. But what about those files that you receive via email? Well you can view them too. First off, you should know that your BlackBerry does not support these files by itself, so when you make an attempt to download these attachments, you will be given an error message.
Go to the email that has the attachments that you would like to download, you will see the attachment and the number of attachments right below the date in the top bar. Select the attachments to bring up a menu, and then select Open Attachments to view them, if there is more than one. The zip file will be marked "whatever".zip, mouse over it and press the Menu key on your BlackBerry. You can then either select open attachment or download attachment. If you already have one of the above apps installed or any other unzip app, you can select Open Attachments to view them, but if the app is not yet installed, you will have to select Download attachments to save the files despite the error message. Once the files are saved in a folder specified by you, you can always unzip them later after you have installed your app. Below will guide you on how to open zip files on a BlackBerry Curve after they have already been saved.
Unzip Saved Zip Files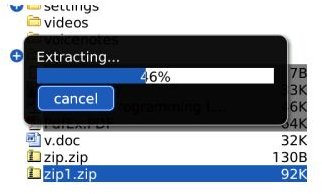 If the files are already saved on the BlackBerry, then you should use the unzip app to open them. In essence, you will go to the app and run it. This example will use the free BeamExplorer File Manager App, however they all work pretty much the same way. Find the installed BeamExplorer File Manager app and select it. Once the app is active, it will immediately bring you to your memory folders on the BlackBerry and you will choose the path to your zip file. You will have the option of selecting Memory Card or Device Memory and follow through to your file. Once the zip file is located, select it and the extraction process will start automatically. An extraction bar will show your progress and when it's complete, you will notice a new folder with the name of the zip file present. Your files are now unzipped and saved in that folder. You are now free to view them.