Understand your Blackberry APN and Learn How to Configure APN Settings for Blackberry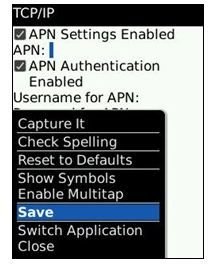 What is APN?
An APN has two main parts that work in conjunction with each other to provide mobile users with service. They are the Network Identifier and the Operator Identifier. The Network Identifier refers to the external network in which the GGSN (Gateway GPRS Support Node) is connected. This component is mandatory as it also works alongside any network a user may opt to use. The Operator Identifier finds the specific packet domain in which the GGSN is found. This component is entirely optional.
BlackBerry APN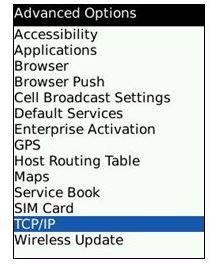 RIM, the developers of the BlackBerry smartphone, use APN to route traffic to BlackBerry users. On the other hand, RIM does not support GPRS APN which powers many applications like Google Maps or most non-RIM IM program. These will need their own personal GPRS APN. These applications are not sent through the RIM network. They instead use a generic GPRS connection.
Some applications require a direct route to the Internet in order to provide updates to the service or information. In order to have these applications gain access to the Internet the BlackBerry APN will need to be configured. Along with the BlackBerry APN, the user name and password will have to be edited in order to gain access to the Internet via a wireless/Wi-Fi router.
Finding out your special BlackBerry APN requires easy investigation into your local carrier network by looking online or accessing your TCP settings, found in your BlackBerry mobile phone.
How To Configure the BlackBerry APN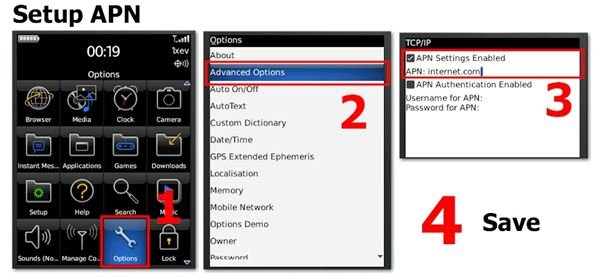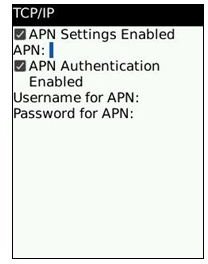 In order to promote some third party applications there will be a need to configure the APN settings on your BlackBerry in order to access a wireless connection. Firstly, the BlackBerry OS will need to be updated. Earlier versions of some BlackBerry smartphones have older versions of RIM's operating system. OS 3.8 or later will do. Downloading a later version of the BlackBerry OS is easy and simple. There are many links available online for version 4.0 and later.
Now, on to configuring your BlackBerry APN and its default carrier information. Find the options menu and enter the TCP section. The reason for updating your BlackBerry OS is that earlier versions of this system may not have this option. Upgrading the OS is thus very important. Within the TCP options there will be an APN entry. Some are already filled; if this is the case leave these entries completely blank. If there is a user name entry then leave the password field empty. Inside the TCP menu there will be an entry for the Gateway IP address which should be left as is. After these steps have been followed, resetting the BlackBerry smartphone by shutting it off and taking the battery out will do the trick.
Once it has been reset, and rebooted, run the BlackBerry's Internet software. All third-party applications in need of wireless access will run perfectly. There are some applications, on the other hand, that may need to have a gateway IP address and APN information although this is very uncommon.
Conclusion
RIM has created the BlackBerry to work within its own data service which is very useful and innovative, although some applications require further network assistance. Configuring the BlackBerry APN can prove helpful in these cases although much tampering may prove futile. It is best to look at your specific carrier's information as they may vary.