How to Use a BlackBerry as a Modem

If you own a BlackBerry device with active cell phone service, you can easily use your BlackBerry as a modem to connect your laptop or PC to the Internet. All you have to do is connect your BlackBerry phone with your PC or laptop via a USB cable. Once you have done this, make use of the BlackBerry desktop software to supervise your Internet connection so that you can connect to the Internet with your BlackBerry device. Here are the step by step instructions to set-up a BlackBerry as a modem.
Install BlackBerry Desktop Manager Software
The first step is installing BlackBerry Desktop Manager software. You can either download this software on to your computer from RIM's website or from the CD that came along with your BlackBerry mobile. You will require the latest software version to use your BlackBerry as a modem. This software makes sure that you have installed appropriate drivers that will allow your BlackBerry handset to use your computer to download and upload Internet data via a dial-up connection. If you find that you are running an older version of the BlackBerry Desktop Manager, upgrade the software to the latest available version from the BlackBerry website.
Creating Web Access Point Name (APN)
Open your Windows 'Start Menu' and look for 'Settings'. Within the Settings find 'Control Panel' and from there open the 'Phone and Modems Option'. Here specify your area code and the telephone numbers required to access the Internet and click 'OK'. From here, choose the 'Modems' tab from the available options, select 'Standard Modems' and view the 'Properties' tab. Once the Properties window is open, click on the 'Advanced' tab and look for the field labeled 'Extra Initialization Commands'. In this field type: +cgdcont=1,"IP"," Your Internet APN". In case you don't have your APN; get in touch with your wireless carrier and find it out. Or you can also find your APN by clicking the 'Options' icon of your BlackBerry, then clicking 'Advanced options' and 'TCP'. If the APN has been saved in the device, it will be listed here.
Once you have filled the Extra Initialization Commands, click OK. Again click OK, when the Phone and Modems Options tab reappears.
Configuring the Dial-up Network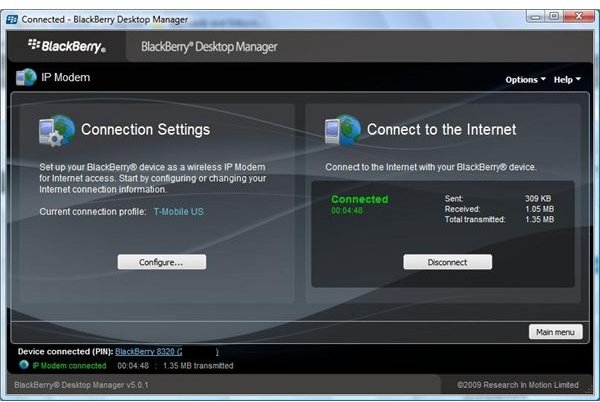 To configure a dial-up network on your Windows computer, click 'Start' and then select 'Control Panel'. Now click on the 'Network and Internet' tab and then the 'Network and Sharing' tab. Here find and click on 'Set up a dial-up connection'. Search for the field marked 'Dial-up phone number' and type in '*99#'. Take the username and password from the cell phone provider and use 'BlackBerry' as a 'Connection Name'. Find and open 'Dialing Rules' to check if your BlackBerry modem is listed here, and then hit 'OK'. Now connect your BlackBerry device with your computer via a USB cable and open the BlackBerry connection software. Find 'Networks Connection' and choose the BlackBerry connection. Enter your username and password and click 'Dial'. You'll be instantly connected to the Internet through your BlackBerry device.
References
BlackBerry Support Forums, https://supportforums.blackberry.com