BlackBerry Skype Apps Compared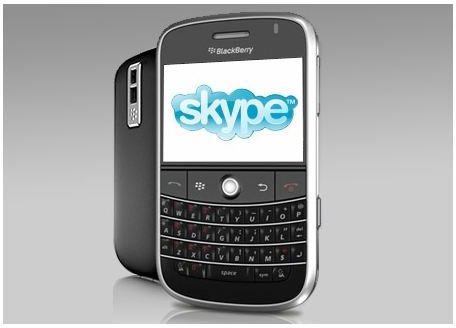 Skype has millions of users worldwide and as such it should not be surprising that there have been BlackBerry Skype apps created for Skype users on the go. Many apps were created to support Skype along with the other popular IM providers, but Skype eventually developed their own app specifically for the BlackBerry OS. This article will provide you with a list of BlackBerry Skype apps, including the one made by Skype, and indicate which one stands out above the rest.
IM plus All-in-One Messenger Pro by SHAPE Services (5 out of 5)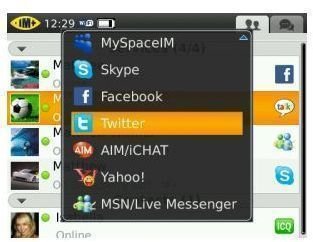 This app does exactly what the name suggests; it allows you to use your BlackBerry to chat to your family and friends across different messenger platforms including MSN, Yahoo and of course, Skype. This article is focusing on the Skype aspect and what this app has to offer in regards to the Skype IM.
First of all, there is no cost to use this to send your Skype messages, after you subscribe, you will be able to opt in for their speech recognition feature where you can dictate instant messages and send them to your family and friends.
The Skype user interface is friendly and not exactly limited, because you will also be able to utilize your Skype group chat the same way that you do with Skype on your PC. You can send photos and files as well.
Many of the other BlackBerry Skype apps would have received a higher rating except for the fact that they drain your battery very quickly. IM Plus All-in-One Messenger Pro has come up with a solution to that dilemma. You can leave your IM in Push Mode, which will mean that it will send your messages to your BlackBerry email inbox and you can reply to them immediately if you like.
This product is usable once your BlackBerry OS is 4.6 or higher. This app is not endorsed in any way by Skype, but serves well to bring Skype to you. It is a bit costly, coming in at $39.99 USD, but most users will agree that it is worth the price. Download IM Plus All-in-One Messenger Pro.
IM plus Lite (5 out of 5)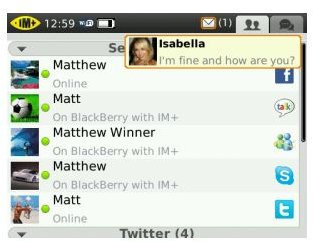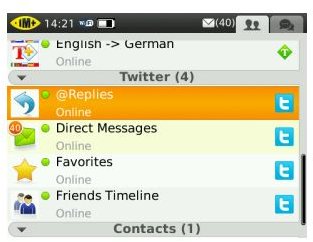 The IM plus Lite app is a free version of the aforementioned All-in-One Messenger Pro. It provides the same opportunity to utilize many other IM platforms through the one app at no cost for messages. The Lite version is now optimized to support BlackBerry OS 6 and so even more BlackBerry users can now take advantage of this software. Additionally, you can check the history of your past conversations on your computer by visiting https://plus.im.
It still integrates group chat for Skype and files and photos can still be sent; the only major difference with this Lite version and the one previously mentioned, is that this version is absolutely free. So go ahead and Download IM plus Lite for free. While IM Plus Lite is free, you have to understand that the developers would prefer you to buy the paid version, so you will be constantly asked to upgrade to the paid version to utilize the service better. These interruptions usually happen in 30 minute intervals if you are constantly using the app.
.
Nimbuzz (3 out of 5)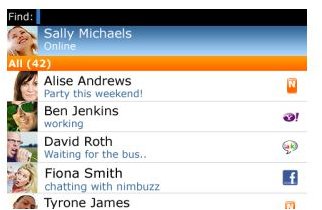 Nimbuzz, like many others, is an instant messenger app that supports all the popular IM platforms and allows you to message your friends from Yahoo, MSN, Skype and many others from a single interface. Nimbuzz has even integrated a few social networking messenger systems into the mix, including the ever popular Facebook.
Nimbuzz will automatically find your friends that are already using the application and provide you with suggestions so that you can start talking to them right away. It also keeps a chat log so that you can fall back on your messages if you need to at any point.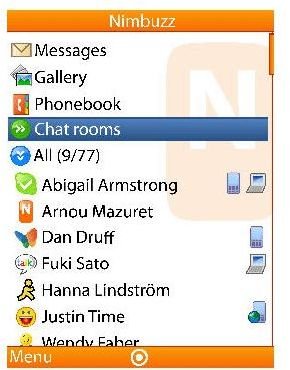 The app only has 3 stars because users have complained of having numerous issues when they try to use Facebook chat. Some claim that their names do not show up, but instead a code is seen in that field. Others claim that it makes their BlackBerry run slower or even freezes it all together. A common complaint is the drain on battery life, but then again almost all Multi IM apps have that problem and there are still many users who give this app 5 stars. So Download Nimbuzz if you want to try it yourself, or follow them on Twitter to get more info.
iSkoot for Skype (BlackBerry) 1.1.60 (4 out of 5)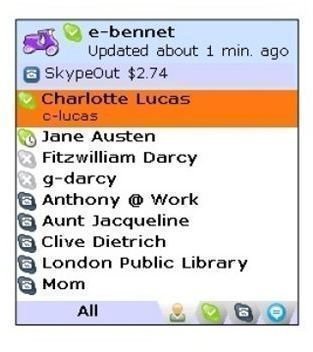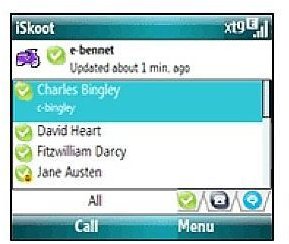 iSkoot for Skype is one of the few external IM apps that is made specifically for Skype only. It is also one of the only apps that claims to be able to allow you to make and receive Skype calls as well as chat. They have even added some of the Skype features from the PC version such as emoticons and group chat. Additionally, iSkoot claims to be a light app and as such it will not take up loads of your phone's memory and slow it down and or make it freeze. It also claims to not quickly diminish your battery power as most of the other similar apps do.
There have, however, been reviews and complaints from iSkoot users who claim that it does not load very quickly and that the Skype calls are not very clear. But who knows? Maybe those bugs have been fixed in this iSkoot for Skype 1.1.60 Download.
WebMessenger Mobile for Skype (4 out of 5)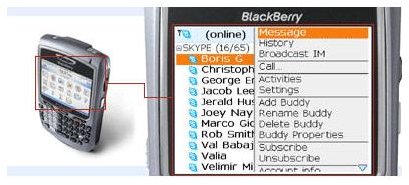 WebMessenger Mobile for Skype is intended to give you access to your Skype friends on your mobile phone. You will be able to see if and when your friends are available and chat with them by sending Skype messages. You can even PING or BUZZ them by clicking on them and they will know that you're there giving them a shout or requesting their attention. If you have a SkypeOut account, you can use it with this app on your mobile and make Skype calls to anywhere in the world. The rates for the calls are low and there is no additional cost to use the app. Just the push of a single button can start your calls and you can add up to 20 new contacts on your mobile Skype account. It even supports 3 way calling and group sessions.
To use this app, however, you will also need to install WebMessenger Mobile for Skype Desktop Plug-in on the computer in which your desktop version of Skype is running. Download WebMessenger Mobile for Skype for free.
Skype Mobile for BlackBerry (3 out of 5)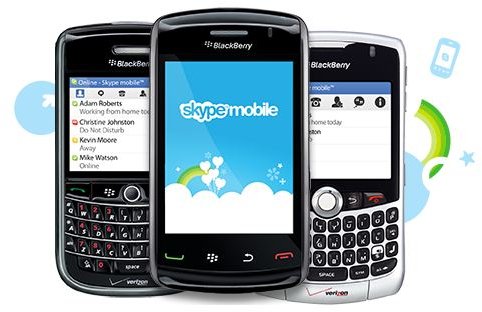 The long awaited Skype for BlackBerry was launched only a few months ago and almost everyone seems to have a problem with it. The first two major issues have been raised by people who do not have the app at all and that is because they can't even get the app. The issue is that only people in the United States with a Verizon BlackBerry can use this app. Not all BlackBerry phones or Android phones are supported either.
It is very irksome to many people who have been living in anticipation, to be told (paraphrasing of course) that they have to move to the States and get a Verizon cell phone before they can use the official BlackBerry Skype Mobile App.
For those of you, however, who happen to meet all the prerequisites, you will be happy to know that you get the same Skype rates as before. No extra costs are added on your mobile. Additionally, the Skype to Skype, Global calls and IM from your Skype mobile do not affect the minutes on your wireless plan.

There are even free Skype to Skype calls on your Verizon Wireless 3G smartphone just as it is on your regular Skype. If your phone has what it takes, get Skype Mobile for BlackBerry here.
The Best App for Skype on BlackBerry
Ok, so the choices for BlackBerry Skype apps are not exactly abundant, but there is always one that stands out above the rest. In this case, that one BlackBerry Skype app will have to be IM Plus Lite. The IM Plus All-in-One Messenger Pro would have probably taken home the gold, but it costs almost $40 whereas the Lite version is free. Every BlackBerry Skype app that was reviewed above has its pros and cons, some of them seem to have 30% pro and 70% con, but the IM Plus Lite stands out as long as you are aware that you won't be able to make Skype calls. iSkoot offers that service, but no one has commended it on that as yet. The official Skype for BlackBerry also offers that service and the quality is great, so they say. But if you do not have the right phone on the right network, you are left out in the cold.