BlackBerry Pro Football Apps – Top Ten Sports Apps for BlackBerry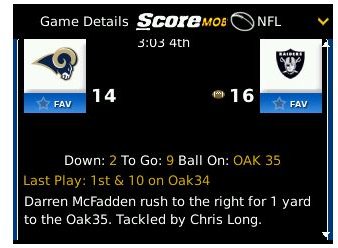 Pre-Season to Super Bowl with BB
For American football fans and BlackBerry owners the best way to prepare for the season is to stay continuously updated with the latest news. Casual or hardcore fans can benefit from the convenience and in-depth coverage that many of the available sports apps for smartphones like the BB offer. These applications allow users to access game scores and headlines from their favorite NFL teams while on the go. Discover the top ten BlackBerry Pro Football apps to download and use through the Super Bowl or all year round. This list compiles the best sports applications for fans of the National Football League available on various BlackBerry models.
Top BlackBerry Pro Football Apps to Download
Score Mobile is an app that focuses on the scores of every game. Users can select NFL or other sports categories to retrieve the most current game scores and in-depth highlights. Easily browse through all the games' final scores using the track pad and click for more details. Although this application isn't fancy with huge team logos and player photos it features a clean user-friendly interface that lets users quickly find the live game information that they're looking for. The condensed quarter blow-by-blow summaries are great for fans that aren't able to watch the game.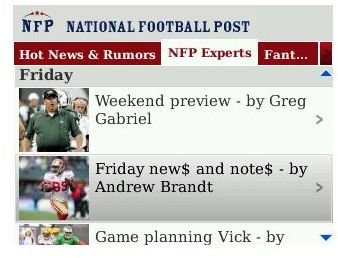 National Football Post has a mobile app for their NFL news website. Fans can access full articles on daily game analysis, headline stories, and rumors by NFP experts. Fantasy quick hits by Joe Fortenbaugh are also available. The app features an option to customize feeds to specific teams or sections on the site to save valuable time. There's also an option to email, tweet, tag or post interesting articles on Facebook using your BB.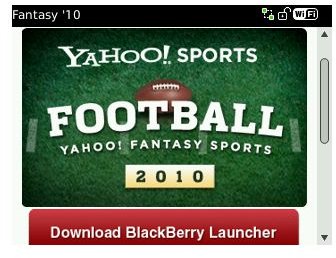 Yahoo! Fantasy Football is an app for mobile users on the go that are obsessed with their Fantasy Football teams. Similar to the website, players can watch the signature hour-long live show with Rick Schwartz and expert reporters around the world as they weigh in on the latest injury analysis, roster picks, scores, and top ranking quarter-back players. This free application has a lot of settings that have to be customized before the app runs smoothly without interruptions. Once set up it's easy to maneuver.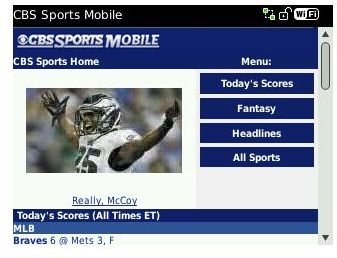 CBS Sports Mobile is another powerful app that lets BlackBerry users scroll through headline news, game scores, or watch CBS sports videos featuring recaps of the latest games. Sign up to create and view your Fantasy Football team. Receive player injury updates to stay informed. This app has a large amount of web information which can result in slow page loading.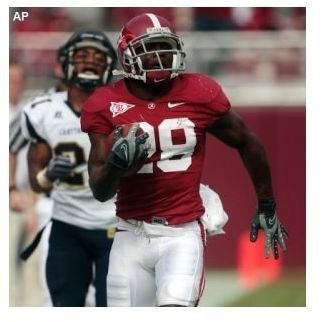 Football Season Pass College and Pro is an app that solely focuses on CFL and NFL headlines. This is a good application for individuals that closely follow College as well as Pro. View articles featuring upcoming player's personal stories, pre-game analysis, and other insider info. Users are only allowed to choose one specific team to get updates on. Fans of multiple college or NFL teams might want to shop around for other BlackBerry Pro Football apps.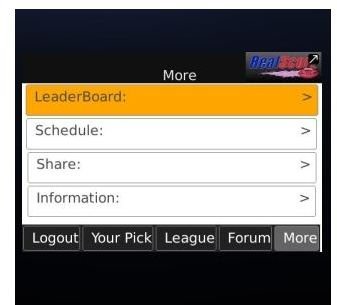 RealScorz Football is an app that lets users participate in a mobile version of Fantasy Football. Users select the American football teams that they think will dominate each week and the points they'll score. Compare results with other fans across the globe or lead your own custom league.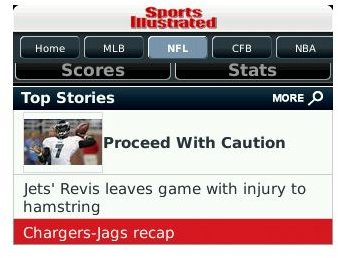 Sports Illustrated SI is an app for readers of the popular sports magazine and SI website. It's a high quality application with a streamlined interface. BB users can read the latest SI Columns, view photos, get scores, and stats. The ability to personalize making only the teams and sections of the website that you're interested in appear enhances the application.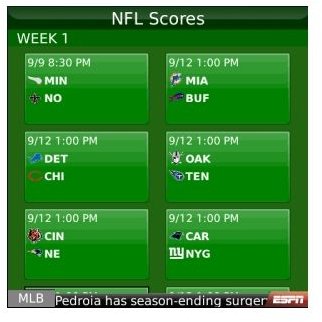 ESPN Fantasy Football 2010 is a mobile app from ESPN sports center. Like most BlackBerry Pro Football apps it is based on an interactive website and users are able to access all of their online features on the go. This is a wonderful application for individuals that participate in free or premium Fantasy Football leagues on the site. Manage your fantasy roster, retrieve live scoring updates, and adjust your lineup at any time. There's also a feature that allows mobile access to the league message board to help stay up-to-date.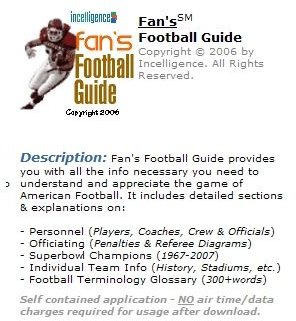 Fans Football Guide is an app specifically created for novice fans to learn the game of American Football. Get caught up on Super Bowl Champions from 1967 to 2005. Browse various team histories, official rules, and a glossary with lots of advanced football terminology. This application is reasonably priced for such an in-depth look into the sport. Anyone trying to get into the sport this season will enjoy all the fascinating information.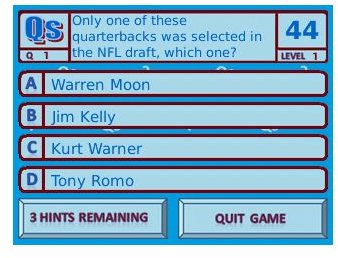 MobileQs Football (American) Trivia is the expansion pack app for MobileQs original trivia application. It's designed to be one of the more entertaining BlackBerry Pro Football apps where users test their knowledge of the sport. Answer over 300 challenging questions on a diverse range of NFL topics. Learn new facts about players, teams, coaches, and the league as you play. Users must select the correct answer within 60 seconds to move on to the next level. There's also an optional hint feature to use when stumped. BB owners have to own the original MobileQs Trivia app for this bonus NFL addition to function properly. Everyone can stay in the game with any of these sports oriented BlackBerry apps.