BlackBerry Apps: Quit Smoking with your BlackBerry

Quit Smoking with a BlackBerry App
Many apps are developed for BlackBerry devices every day and a large percentage of them are completely useless. But here are 5 BlackBerry apps that have been designed to help you to quit smoking. Each app endorses its own strategy and techniques to help the user to gradually quit smoking.
No Smoking (5 out of 5)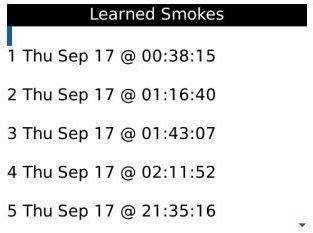 The No Smoking application is one that is designed to help anyone who wants to quit to kick the habit. It aims to slowly minimize the number of smokes that you have during a given day. The app has two modes; the initial one is the learning mode that allows you to find out exactly how many smokes you have daily along with the amount of money that you spend on them. Once you have fully grasped the severity of your addiction, you can move on to the actual quitting mode. When you have entered this mode, the app will provide you with a tailor fitted quitting schedule based on the information that it received from you during the learning process. The best thing about this app is that it provides you with enough time to gradually quit smoking; it does not have a short 3 phase routine like the patches do.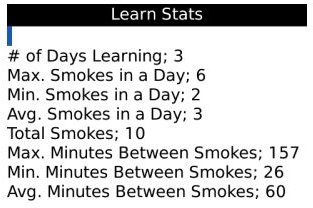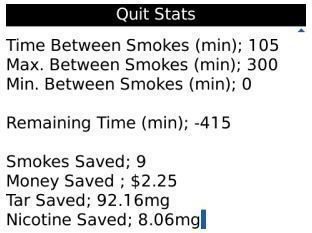 The 3 stage programs cause a severe drop in nicotine levels whereas this app allows you to drop them gradually over a period of time. As a matter of fact some people did not even realise that they were cutting back so much until they reviewed the data or had already quit. The makers of the app understand that the process will still be a difficult one and they've provided motivational tips to keep you confident and focused when you feel like falling off the wagon. The statistics are also a motivation within themselves as you will learn to review your highs, lows and money saved during your journey to success. This No Smoking App Download only cost $9.99 and can save you hundreds from cigarette purchases or lack thereof.
Quit Smoking (3 out of 5)

This quit smoking app is not much of an app it is more of a book written by a man who was himself a 20 year veteran smoker. He managed to quit smoking after all that time and has set about sharing his techniques with the rest of the world via this book. His technique involves certain psychological steps that involve you firstly determining why you want to quit smoking as well as giving a rank to each smoked cigarette and its importance to your way of life. Then on to the gradual reduction of the number of cigarettes that are smoked daily until quitting is achieved. Once this part is covered a safeguard is practised to prevent a smokers' relapse. All this and more is detailed in the book associated with this app and the Quit Smoking App Download comes at a cost of only $4.99 USD.
Smoke Tracker (4 out of 5)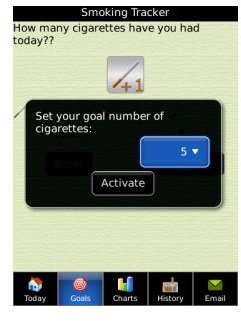 The technique behind this application is pretty simple, yet effective. As the name implies, the Smoke Tracker will aid you in monitoring the number of cigarettes that you have in a day. Its purpose is to allow you to gradually reduce your consumption of tobacco until you have reached the point where you consume no more. The onus is on you to set a goal for yourself, but ensure that it is practical and achievable, then start tracking your smoking statistics then review them in a graph pattern.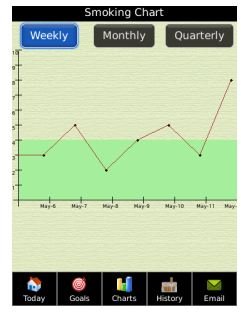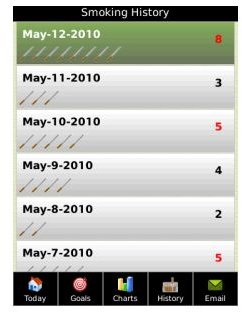 It is capable of tracking your smoking habit for up to three years if you find it exceptionally hard to quit and if your doctor is in on the healing process it can provide reports to him or her. The Smoker Tracker Download can be obtained for $3.99 USD.
Cravings Manager (4 out of 5)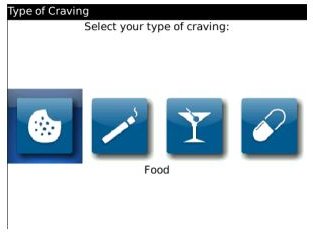 The Cravings Manager is a multipurpose app that can be used to reduce the consumption of any addictive substance. It can also be used if you are attempting to lose a few pounds. You will more than likely still have those tempting moments where you want to grab a smoke, but now you have Cravings Manager to help you resist those urges. The application comprises a feature that allows you to develop and keep a list of reasons for you to quit as well as a list of educational, motivational and funny quotations that will inspire you to keep on going. Based on your input, you will be able to obtain immediate feedback on the number of times you have actually given in to your cravings or lack thereof. You will also be able to input your own list of craving triggers, so that you have an idea of what it is that sets you off and make adjustments to avoid them.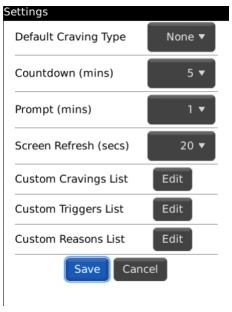 Additionally, you will be able to develop a pictorial support team and scroll through them to keep you motivated; anything that reminds you of why you are trying to quit is a good start. You can even use this app for other issues in conjunction with the smoking, such as alcoholism or obesity. Buy the Cravings Manager for $2.99 USD.
Quit Smoking Hypnosis (4 out of 5)

Hypnosis has been used for many things including attempts to quit smoking. This technique has now been brought to you in a BlackBerry application called Quit Smoking Hypnosis. The session provided in the tape will allow you to walk away with a fulfilled feeling with a lack of irritability or emptiness. You can Download Quit Smoking Hypnosis for $1.99 USD.