The Most Haunted BlackBerry Themes for Halloween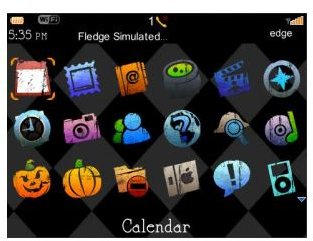 BlackBerry Themes for the Upcoming Halloween Season
This Halloween has many people in a frenzy trying to find BlackBerry themes to match the celebration. There have been many new BlackBerry phone versions released within the past year and many BlackBerry themes for Halloween to accompany them. Among the many themes on the internet just a few are perfect for the eerie season.
Trick or Treat (4 out of 5)
The Trick or Treat haunted BlackBerry theme can be purchased for $6 and features a bottom dock and animated icons. Each icon is turned into a Halloween inspired design and can be used on most BlackBerry mobiles. It comes with at least three background choices including illustrated pumpkins and a black and grey checkered pattern. Check the reference section at the end of the article for this and all other download links.
.
Halloween Pumpkin (5 out of 5)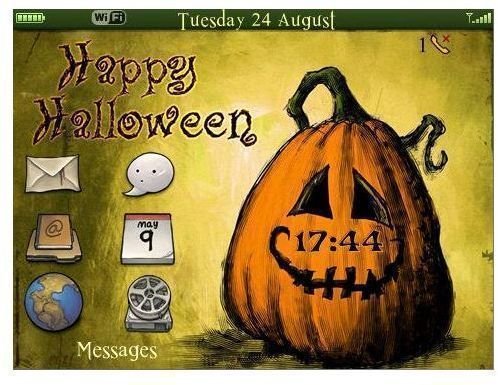 For users that are interested in an old and grungy look you can find that with the Halloween Pumpkin theme for BlackBerry. The icons bounce when selected and all have unique designs similar to the main theme. The background is of a smiling pumpkin and bat silhouettes. Like many other BlackBerry themes for Halloween it has at least four additional backgrounds.If you like this Halloween theme, get it from your App World or use the download link provided.
Boo: Happy Halloween (4 out of 5)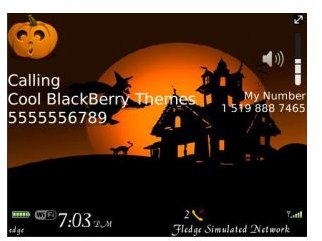 This Halloween theme features customized icons and a scary background image of a ghastly ghost and witch with a menacing demeanor. It also features a bottom dock and its icons bounce around with eerie movements. This orange and black theme costs $6 and can be downloaded via the link provided.
Darkness and Evil (5 out of 5)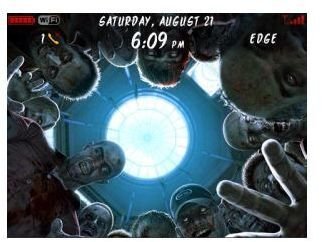 This dark and spooky theme for BlackBerry mobiles costs $6 on the BlackBerry website. It the one of the most macabre BlackBerry themes for Halloween featuring ghoul and zombie faces that are scary enough to frighten the most diehard horror fanatic. It also has three background choices and changes the usual horizontal bottom dock to a 'U' shaped dock.When you scroll over an icon, it will glow to let you know which one you are about to select. You can get this scary theme via the link given in the reference section or through your BlackBerry App World.
Haunted House Theme (4 out of 5)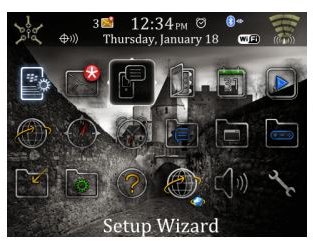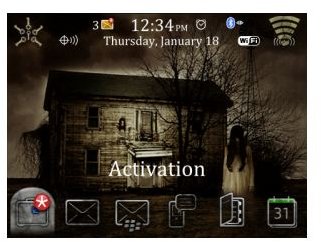 This theme like other BlackBerry themes for Halloween is both colorful and creepy. Crooked houses and bats are surrounded by an eerie blue sky and bare trees. The theme encases the bottom dock icons in blue and adds some animation to make it even more creepy. It is available for purchase via the download link.
Haunted House Theme for BlackBerry (5 out of 5)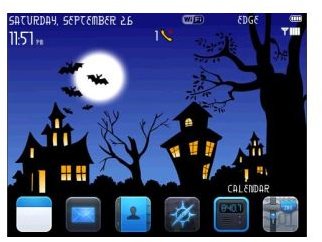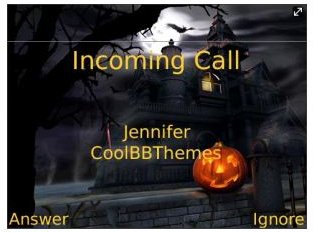 This theme is very similar to the aforementioned Haunted House Theme, but this is one of the better haunted BlackBerry themes because everything changes. When you enter the menu, you will notice that all the icons have developed an eerie blue glow and the images for some of the icons have been altered. You have three different backgrounds; one includes a haunted house setting that seems to be more on the cartoon side and another background is also equipped with a haunted house, but the animated picture looks more haunting and realistic. The third background is one of a witch flying on her broom and the fonts on the main and menu screen have been altered as well. This theme sells for $5.99 and can be obtained via the given download link.
Cold Blooded (5 out of 5)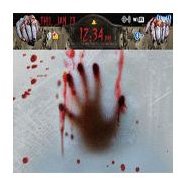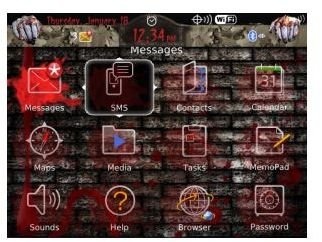 This app is incredibly bloody. It features a zombie's hand positioned by the signal and battery level areas as well as animated icons doused in blood. Whenever the battery or signal levels are depleted a finger gets chopped off. This theme has five different backgrounds to choose from and works with most BlackBerry mobiles. It can be purchased at Blackberry App World for $2.99 USD. The link can be found below.
Ghostly Skull Theme (4 out of 5)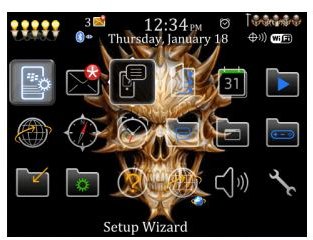 This, like the Cold Blooded theme, is just as scary. It also has five different backgrounds and a customized signal and battery meter as well as a specialized font. The battery meter is actually changed to a spooky chandelier and as the battery dies the lights go out. It can be purchased for about $4 dollars via the given download link.
These BlackBerry themes for Halloween are surely perfect for the horrific holidays. There are also free themes available for download across the net although the haunted BlackBerry themes above are the cream of the crop. Look at the screen shot associated with each theme and then decide which one you would like to use to creep out your friends and family during the upcoming Halloween Holidays.
References