The Top Fun and Simple BlackBerry Software: Top 50 BlackBerry Apps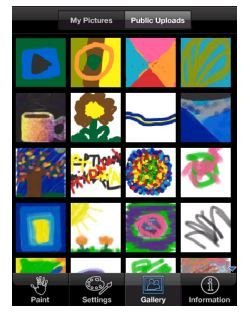 Introduction to the 10 Best Fun and Simple Apps
Some BlackBerry software applications tend to bog down your BlackBerry as they overwork the memory, or they will overload you with hundreds of menu options for you to sift through. You won't find anything like that on this list. These are the 10 best fun and simple apps and all of them can be used and understood without a manual or help file. If you don't see your favorite application listed here, check out the other four top 10 articles in this series of the best 50 BlackBerry apps.
10. Make A Mess
While only available on touchscreen BlackBerrys, this application is just too much fun to leave off this list. Make a Mess lets you fingerpaint right on the screen. The process is as simple as it can be, just choose a brush size and a color, then start painting. Once you are done, you can upload the picture to an online gallery, or share it with your friends. This BlackBerry software has a corporate sponsor, as you'll see when you clean your canvas, but that helps keep it free.
Get Make A Mess from the AppWorld.
9. Daily Horoscope

Daily horoscope is a no-frills horoscope program, and it excels in being just that. Instead of bogging you down with extra information and options, it just gives you access to your horoscope with an interface that is simple to navigate and understand. The horoscopes are updated daily and you can have the program send you a message to remind you to check your horoscope once it has been updated. Daily Horoscope is currently available for free.
Get Daily Horoscope from the AppWorld.
8. Lister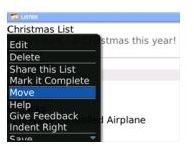 Lister is an advanced version of the memopad that already comes on your BlackBerry. But where memopad is just a place to list items, Lister gives you a ton of functionality as well. With this app you can sort your items within the list, paste entries from other parts of the BlackBerry, set due dates that come with reminders and even send the list to someone else. Lister allows you to stay on top of all the things you need to do with a simple and easy-to-use interface. Lister is available for free.
7. Battery Watch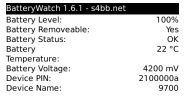 This BlackBerry software is as simple as it gets, built for those times when you need more battery information than the home screen can give you. The app lists your battery level, status, temperature and voltage. Out of all of those, you really only probably need to know your battery level, but since the app is free and it takes almost no memory to run, there is really no downside to it and you get to know exactly how much battery power you have left.
Get Battery Watch from the AppWorld.
6. Screen Muncher Free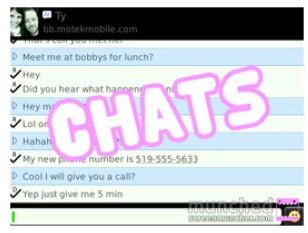 Screen muncher takes a snapshot of your BlackBerry screen and lets you save it as an image, so you can share it with others or reference it later. The program is available on any screen where a menu can open, or you can map the Screen Muncher app to a convenience key and quickly take a snapshot of absolutely anything on the device. The application does leave a small watermark on the picture, but if you upgrade to the $0.99 version, it will remove the mark.
Get Screen Muncher Free from the AppWorld.
5. 3001 Wisdom Quotes

When you really need some words to live by, 3001 Wisdom Quotes gives you, you guessed it, 3001 of them. The quotes come from a range of people throughout history and were selected because they were especially insightful and inspiring. You can start each day for eight years with a different quote, or just sit down for hours and soak in some of the most thoughtful comments in history. XIMAD also has a fun 5001 Amazing Facts app, but the quotes one gets the nod here because of the impact some of these words have had.
Get 3001 Wisdom Quotes from the AppWorld.
4. In Case of Emergency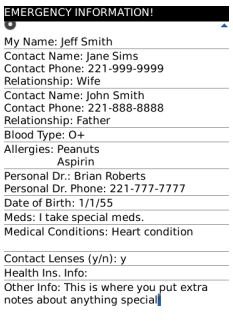 The main purpose of In Case of Emergency is to have a fast-loading page that contains your medical and contact information, in case something happens to you. The program can store your allergies, current medications, blood type, emergency contacts, your physician's information and more. The application uses a big red cross symbol as an icon, so it's easy for anyone who picks up your phone to find. In the right situation this app could save your life, and that's not too bad for something free.
Get In Case of Emergency from the AppWorld.
3. Whippoh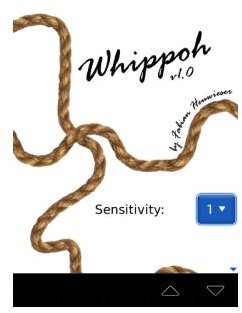 It's a whip program – for your BlackBerry. Whippoh uses the accelerometer in your device to let you use a virtual whip. When you use it correctly, it makes a whipping sound, but if you don't make the right hand movement, you get a failed sound. You can also recreate the whip sound through a hotkey if you don't want to make the motion with your BlackBerry. There is nothing useful or revolutionary here, it's just a fun little app that you and your friends can laugh about.
Get Whippoh from the AppWorld.
2. White Noise

Plenty of people have trouble falling asleep in absolute silence, and white noise is an indispensable app for those that do. The application plays background noise through the speaker so that you can get to sleep in an otherwise silent room. The app gives you a choice of ocean sounds, crickets chirping, a clock, a fan, rainfall and more. The application also lets you adjust the volume of the sound to your desired level. White Noise is currently $2.99, but there is also a free version that only has static as a sound option.
Get White Noise from the AppWorld.
1. EasyBartender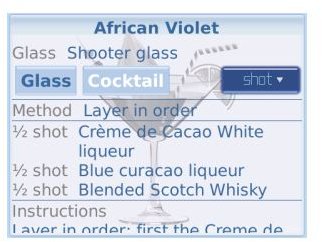 EasyBartender is more than just a list of mixed drink ingredients, it gives you complete instructions on how to make over 12,000 different drinks. Each drink includes the ingredients, how to prepare them, how to garnish them and what kind of glass to serve them in. It also includes a picture, so you can see what the correct drink looks like. The application has a "My Bar" feature that lets you input your available alcohol and it will tell you what drinks you can make. This app is a must for anyone who wants to do more than just mix vodka and orange juice. The app retails for $7.99, although it has been on sale for $2.99 for some time.
Get EasyBartender from the AppWorld.
This post is part of the series: Top 50 Blackberry Apps
Five different top ten lists that cover the best applications available for BlackBerry devices. The sections are: Overall, Free, Games, Productivity and Utility, and Simple and Fun.