Top 10 Productivity and Utility BlackBerry Applications: Top 50 BlackBerry Apps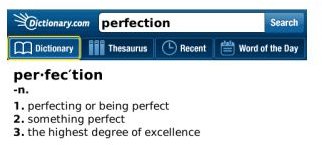 Introduction to the Top Productivity and Utility Apps
Your BlackBerry is already a fairly robust device, but it takes so much work to create the BlackBerry software, that not every feature is as robust as it could be. This is where productivity and utility apps step in and help you make the most out of your BlackBerry experience. The apps in this list help you get around your BlackBerry, get access to information and fill in the gaps in features that are already on your device. If you don't see your favorite app here, be sure to check out the other pages in this top 50 BlackBerry applications series.
10. Dictionary and Thesaurus
If you ever find yourself at a loss for words, this app has 325,000 definitions and 275,000 synonyms to help you out. Dictionary and Thesaurus is run by the good folks at Dictionary.com and will let you always have a dictionary right in your pocket. There aren't a ton of bells and whistles, but the app works so well there doesn't have to be. Just type in the word to look it up or to find synonyms. You can also see Dictionary.com's word of the day. This is one of the handiest BlackBerry applications to have on your phone. The best part of all is that it's completely free.
Get Dictionary and Thesaurus from the AppWorld.
9. RingScheduler

RingScheduler lets you schedule a time each day for your BlackBerry to change the way it rings. This helps you prevent missed calls because you forgot to change your phone from vibrate to ring, or getting woken up in the middle of the night because the device was still set to ring. Not only can you set a time for the whole sound profile to change, you can have certain calendar appointments and contacts always ring or vibrate, regardless of the current sound profile. RingScheduler is available for $2.99.
Get RingScheduler from the AppWorld.
8. YouMail Visual Voicemail Plus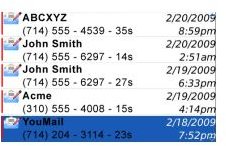 Visual voicemail is the wave of the future and YouMail has been riding that wave for some time now. This app gives you a list of all of your voicemails, letting you find any one in particular to listen to. You can play them one at a time, in any order, or simply delete them without listening. YouMail also gives you access to your voicemail on any computer that is connected to the Internet. YouMail is completely free to download and use.
Get YouMail Visual Voicemail Plus from the AppWorld.
7. WiFi File Transfer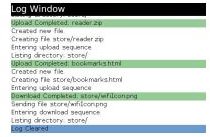 WiFi File Transfer lets you move information between your BlackBerry and your computer with ease. When the application is running on the BlackBerry, you will be given an IP address. Just use that address on a computer that is also using the same Wi-Fi network, and you can view, edit and move files between your BlackBerry and your computer. While there are plenty of ways to get files from your BlackBerry to your computer, none offer the convenience and ease of this app. WiFi File Transfer is available for $4.99.
Get WiFi File Transfer from the AppWorld.
6. Call Control Blacklist Lite
Call Control Blacklist will help save your sanity by blocking any unwanted calls from reaching your device. The invaluable BlackBerry application uses a national blacklist that they constantly update to keep telemarketers from reaching you. With this app you never even need to know you were getting called. In addition to the community blacklist (free version gets a 100 entry sample of this) you can add phone numbers to the list to block calls from certain people. The "Pro" version has a few more options, but unless you are getting slammed with marketing calls, the "Lite" version should be just what you need.
Get Call Control Blacklist Lite from the AppWorld.
5. Bloomberg Mobile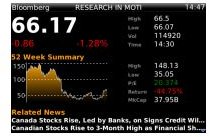 Bloomberg is one of the world's leading brands in financial information, and this app delivers exactly what you would expect. Bloomberg Mobile give you in-depth (for a free app) information on stocks including company descriptions, relevant news and price charts. You can also create a list of your own stocks that the app can track. There may be more robust stock analysis tools out there, but for the average investor this free application will be everything you ever need.
Get Bloomberg Mobile from the AppWorld.
4. Nice Office LITE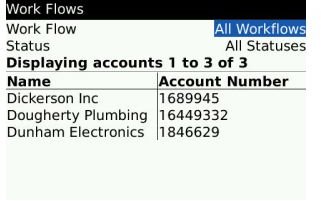 Your BlackBerry already operates like an extension of your office, and Nice Office LITE takes this to a new level. Nice Office lets you store forms and documents online, for protection, and then send those documents to your contacts and customers. It also keeps a record of when and how you last contacted each customer, so you can easily see if you need to follow up or reach out to them. This app even lets you record sales figures so you can track your performance right from your device. Nice Office LITE is available for free.
Get Nice Office LITE from the AppWorld.
3. MultiAlarm Pro

When the standard BlackBerry alarm just doesn't cut it, there is MultiAlarm Pro. With this app you can set as many alarms as you need and have them recur weekly, daily or even hourly. The app lets you choose the alarm sound, including from MP3 files on your BlackBerry, and you can also set the volume of the alarm. You can determine the length of each snooze button press when you set up each alarm. MultiAlarm Pro is the best alarm app I have seen for any phone, and at some point almost everyone will find a use for it. MultiAlarm Pro is available for $3.99.
Get MultiAlarm Pro from the AppWorld.
2. deToday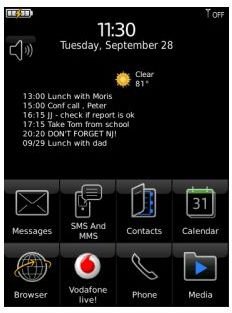 A simple yet ridiculously helpful BlackBerry application, deToday lets you place your calendar appointments on the home screen so you can always see them by just glancing at your device. The app works regardless of your theme and updates immediately if you change you calendar entries. The app also works if you have multiple calendars, showing all of your appointments on the home screen. DeToday make your life just a little bit easier, and is available for $4.99.
Get deToday from the AppWorld.
1. Blurts Pro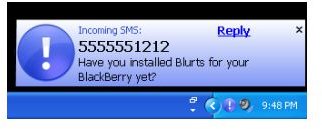 Blurts Pro realizes that much of the time your BlackBerry may be in your pocket or your bag while you are on the computer, and that if you get a message or a phone call, you have to dig it out to see if it is important. The app solves this issue by having your BlackBerry connect via Bluetooth to your computer and whenever you get a call or SMS, it displays the information right there on your desktop. The Blurts Pro software even lets you send SMS messages from your computer. Blurts Pro is available from $5.99, although they recommend that you install the free version first, to ensure your computer and your BlackBerry are compatible.
Get Blurts Pro from the AppWorld.
This post is part of the series: Top 50 Blackberry Apps
Five different top ten lists that cover the best applications available for BlackBerry devices. The sections are: Overall, Free, Games, Productivity and Utility, and Simple and Fun.