Top 10 BlackBerry Games: Top 50 BlackBerry Apps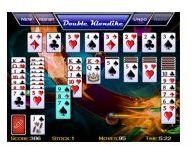 Introduction to the Top 10 BlackBerry Games
It's fairly obvious that different people like different kinds of games, so creating a top ten list that everyone will agree on is almost impossible. That being said, this list of the top 10 BlackBerry games has a good variety of strategy, sim, sports, action and puzzle games, so there is sure to be something here that you will enjoy. If you don't see your favorite games here, be sure to check out the other sections of this list of the top 50 BlackBerry apps, since it may have made the list of best overall or free applications.
10. Aces Solitaire Pack 2
Solitaire may be the best way to kill some spare time, and Aces Solitaire Pack 2 will more than meet your desire for some quick card action. The game features over 40 versions of solitaire including favorites like Klondike and Free Cell. The game has online leaderboards for certain games which are updated daily, so you can compete with players around the world. The animations are smooth and the customizable backgrounds add to the overall quality of the game. Aces Solitaire is currently available for $4.99.
Get Aces Solitaire Pack 2 from the AppWorld.
9. Bubble Breaker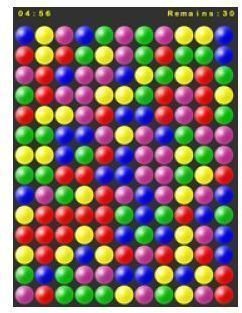 Bubble Breaker has been around in one form or another for years, and the game is still just as fun as when I first played it. All you have to do is select a bubble, and then all the like-colored bubbles around it pop. Pop the right combination of bubbles to allow huge blocks of color to form and score massive points when you pop them. While the game is extremely simple, you will find yourself playing again and again as you try to clear all the bubbles. This BlackBerry game is available for $0.99.
Get Bubble Breaker from the AppWorld.
8. Number Cruncher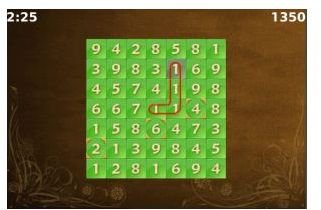 Don't let the name of this game fool you, there's no real math required here. Number Cruncher is a cross between Sudoku and Bejewled, in that you have to form sequences of numbers on a game board in order to score points. When you form the sequences, those numbers disappear and the board adjusts downward. Combine huge sequences with bonus tiles to generate the highest scores possible. Anyone who enjoys these types of strategy games is sure to enjoy this one. Number Cruncher is currently available for free.
Get NumberCruncher from the AppWorld.
7. Final Fantasy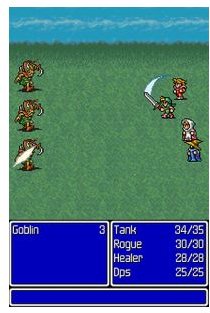 Old school RPG players will love this throwback to the way games used to be. The story may sound familiar, and the graphics may look 1990, but it's all part of the charm of this game. Your party can be made up of six different character classes, each with their own special combat abilities. The combat is exactly like you remember it in the old Final Fantasy games, turn-based and strategic. If you have never played an old RPG game, then Final Fantasy may seem a bit antiquated, but if you grew up on these types of games this is a must-have. Finally Fantasy is currently available for $4.99.
Get Final Fantasy from the AppWorld.
6. Farm Frenzy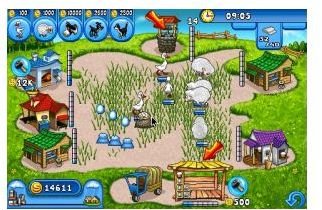 I've gone on record about how much I like this BlackBerry game before, and I'll continue to do so here. The game combines a resource management sim with some fast-paced action to wind up with an extremely fun overall experience. You play an unseen farmer who has to manage his chickens, sheep and cows in order to create the correct resources for each level. There are enough twists and turns to make each board exciting, and 48 different boards you can play. Farm Frenzy is available for $4.99, although you can also find a free trial in the AppWorld.
Get Farm Frenzy from the AppWorld.
5. Pixelated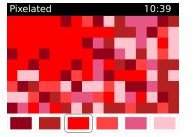 Pixelated is a simple strategy game that will have you wondering where the hours went as you try to turn the screen one solid color in as few moves as possible. The screen starts out a jumbled mess of different colored pixels, and you have to use the colors on the bottom of the screen to turn the top-left pixel, and all adjacent ones that match its color, a new color. You continue until the entire screen is a solid color. It seems simple, but it requires a good amount of strategy to get it done under the 21 allowed moves. Pixelated is currently offered for free.
Get Pixelated from the AppWorld.
4. 3D PBA Bowling 2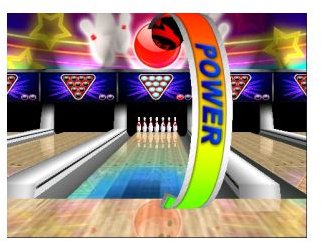 How does a bowling game make the top 10? By having great graphics, fun gameplay and a good number of options and difficulty levels to truly customize your bowling experience. The game uses an OpenGL 3D engine to provide some of the best graphics you will see in a BlackBerry game. This is also more than just a generic alley that you can throw a ball down. You can play as some of the best players in history in bowling alleys around the world. You can also customize the type of lane and the oil pattern. 3D PBA Bowling is currently available for $4.99.
Get 3D PBA Bowling 2 from the AppWorld.
3. Next Dual Pack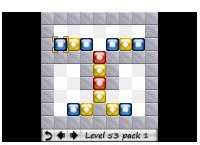 Next is probably the easiest game to learn on the BlackBerry, and one of the hardest to complete. All you have to do is move colored blocks around, and once two of the same color touch, they disappear. Your goal is to erase all of the blocks on a level, and it gets very difficult very quickly. In the dual pack you get a total of 128 levels and my hat's off to anyone who can conquer them all. Next is one of the ultimate puzzle games available for the BlackBerry.
Get Next Dual Pack from the AppWorld.
2. Tiki Towers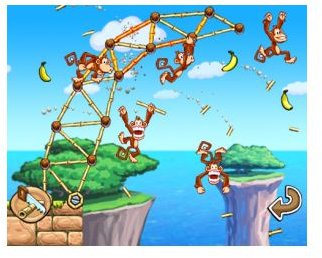 Tiki Towers combines amazing graphics, fun gameplay and a barrel of monkeys to create this enjoyable strategy game. Each level has you building and destroying structures as you try and get the monkeys to safety. If you aren't careful, your structures will collapse sending your monkeys to a horrible death. The graphics here are stunning for a BlackBerry app, the physics engine is realistic, and the gameplay is enough to keep you playing for a long time. Tiki Towers is currently available for $3.99.
Get Tiki Towers from the AppWorld.
1. Druglord Wars 2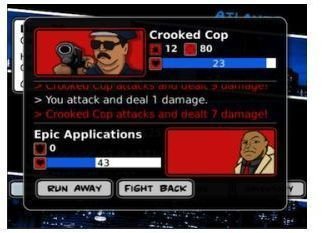 Druglord Wars 2 is the sequel to the popular Druglord Wars game, and the changes from the first game have only made this one better. The goal of the game is to start from nothing and build the biggest drug empire that you can. Along the way you'll fight against dealers, cops and other cartels as you amass your wealth at their expense. In addition to the regular game mode, you can play in an unending mode just to see how far you can grow your empire. You can also compare your top scores with people around the world in the online leaderboard. Druglord Wars 2 is available for $2.99.
Get Druglord Wars 2 from the AppWorld.
This post is part of the series: Top 50 Blackberry Apps
Five different top ten lists that cover the best applications available for BlackBerry devices. The sections are: Overall, Free, Games, Productivity and Utility, and Simple and Fun.