The Top 50 BlackBerry Apps: Top Overall Apps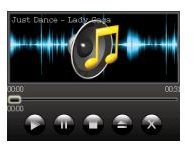 Whittling down 10,000 BlackBerry apps to just ten was no simple task, and as always opinions will vary on just what constitutes a top application. I factored in functionality and price to create a list that everyone could find something useful on. I also discounted BlackBerry apps that are now included, or have their functionality duplicated, in current BlackBerry releases, unless the stand-alone app is significantly better. If you don't see you favorite here, be sure to check out the other sections in this top 50 BlackBerry apps series.
This app lets you take MP3 files and turn them into ringtones, right on your BlackBerry device. The program lets you select a start and end point for the ringtone, and lets you fade in or out of the song. You can use any MP3 file that you have on your BlackBerry or your memory card. For anyone who has had to go through the hassle of creating ringtones on their computer and sending them to your device, this app is a godsend. The app is easy to use and runs without any problems or hiccups.
Get MP3 Ringtone Creator from the AppWorld.
9. Hotel Tycoon Resort
Taken for what it is, you might not think a hotel management sim would crack the top ten BlackBerry applications, but the surprising depth and strategy of this game are enough to make me give it this honor. You play a resort manager who has to build your business in order to meet a predetermined set of goals for the level. This is a free-form building game, so you can set up your resort any way you choose and the consequences of your decisions will become quickly obvious. If you hate simulation games, then this might not be for you, but for anyone else this is surely a keeper. Hotel Tycoon Resort is currently available for $0.99.
Get Hotel Tycoon Resort from the AppWorld.
8. Touch Flashlight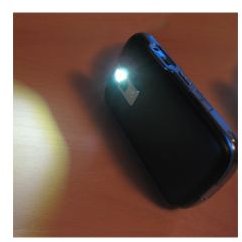 One Touch Flashlight is as simple as it is effective. There are no bells and whistles here, just an app that turns on your BlackBerry's camera flash, and keeps it on as long as you need it. With this app, as long as you have your BlackBerry, you have a powerful flashlight to find your things and your way in the dark. The flashlight stays on as long as you have battery power, so you can also use it to help you work in dark places, like a car engine or under a desk. The app is currently priced at $0.99, which is just about right considering its simplicity and how useful it can be, in the right situations.
Get the One Touch Flashlight from the AppWorld.
7. Mobile Checkbook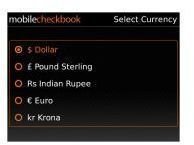 Even though you probably don't cut too many checks these days, the concept of a checkbook is still an important one. Mobile Checkbook is a simple app that lets you keep track of your financial transactions so you always have an updated record of your bank accounts. Just enter your transactions as you make them, and Mobile Checkbook will adjust your account total. The app can track as many accounts as you need, and can also email you a record of your transactions. The app currently costs $4.99, but you will save more than that the first time the app keeps you from overdrafting your account.
Get Mobile Checkbok from the AppWorld.
6. BlackBerry Protect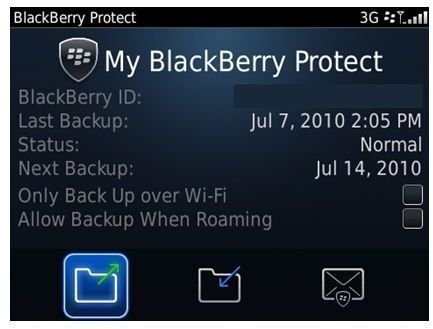 How does an app in the beta stages make the top 10? By being an all-in-one security solution for non-corporate users, and because RIM is going to offer it for free. BlackBerry Protect lets you back up your data wirelessly at regular intervals, so you don't lose your information if you forgot to back it up to your computer. The app also lets you lock, erase and locate the device on a map, all from a dedicated web site. You can also trigger a loud ringer, for those times when you know your BlackBerry is nearby but you just can't remember where you left it.
BlackBerry Protect is currently in beta.
5. QuickLaunch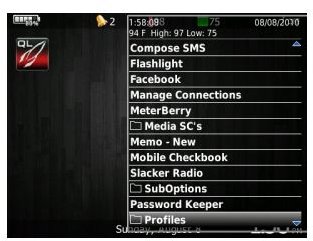 Navigating through your BlackBerry can sometimes be a little frustrating, especially if you are just jumping through the same three or four applications all the time. QuickLaunch comes to the rescue by allowing you to create a menu of your favorite apps, videos, websites and features, and then access them with just the touch of a button. Once you start using this amazing app, you will wonder how you ever navigated around your BlackBerry without it.
Get QuickLaunch from the Appworld.
4. The Weather Channel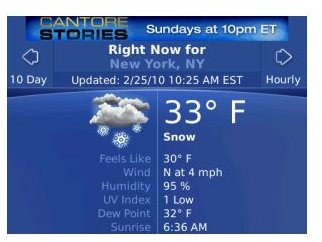 The biggest name in weather also has one of the best apps on your BlackBerry. With The Weather Channel, app you get instant access to local conditions, including everything that you will need to plan your day. If you need them, the application also offers detailed weather maps and full special weather statements. The application links up to your calendar and address book, so you can quickly check the weather without opening the entire application. The Weather Channel also offers a paid app with a few more features, but the free one takes this place on our countdown.
Get The Weather Channel BlackBerry App from the AppWorld.
3. Poynt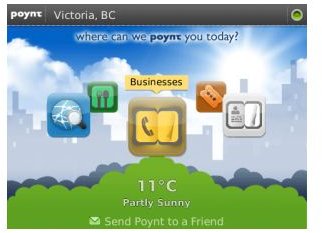 If the Poynt application only let you search for local business, restaurants, movies and weather, it would still be a pretty good app. However, the application goes a huge step further by letting you interact with the results of your searches. If you look up movie times, Poynt will link you to reviews you can read and trailers you can watch. When you search for restaurants, you can make your reservations online, all from the application. Poynt even lets you map out the route to your destination using BlackBerry Maps.
2. Google Maps

Google Maps is the ultimate map application, doing everything you could possibly want from this type of program except for navigation (which is only available on Andriod devices). On top of pinpointing your current location on high quality maps, Google Maps gives you driving directions, mass transit directions, different information layers and even Google Street View. If you ever need to use your BlackBerry to get around, you need this app.
Find instructions to get Google Maps here.
1. iTookThisOnMyPhone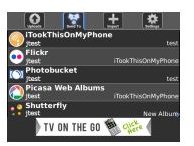 iTookThisOnMyPhone emerges as the cream of the crop because of its ease of use and how it integrates your BlackBerry into the rest of your life. This application will automatically upload every picture and video you take to their secure hosting server. From there you can use the application to upload the file to a number of social media and imaging sites like Facebook, TwitPic, YouTube, Flickr, Photobucket and Shutterfly. The application can also tag each photo or video, so you can remember exactly where you were when you took it. You can access your photo library from your BlackBerry, or from any web browser.
Get iTookThisOnMyPhone from the AppWorld.
This post is part of the series: Top 50 Blackberry Apps
Five different top ten lists that cover the best applications available for BlackBerry devices. The sections are: Overall, Free, Games, Productivity and Utility, and Simple and Fun.