Facebook for BlackBerry Apps

Facebook for BlackBerry
Facebook is one of the top social networking sites in the world today. It allows millions of friends and families to connect with each other over one single network via an internet connection. People are able to share photos, music, messages and much more. Because of its vast and growing popularity, Facebook is also mobile. The user is able to utilize Facebook on their compatible cells phones with the use of an app. The BlackBerry is also the leader in its class and as such there have been many apps created specifically for use on a BlackBerry smartphone. Therefore it should come as no surprise that many Facebook for BlackBerry apps have been created. Below you will find brief reviews for some of the best Facebook for BlackBerry apps and a conclusion as to which one stands out above the rest.
Facebook by Research in Motion (4 out of 5)
Research In Motion or RIM is the maker of all BlackBerry smartphones and they have taken it upon themselves to make their own Facebook for BlackBerry app. The application is free and incorporates the basic Facebook services that are often used by visitors, such as message sending, poking your friends, inviting friends, writing on your friend's walls and even uploading photos directly from your BlackBerry. With this app you will never have to miss out on your most basic social Facebook activities as you can take part in them while you are on the go.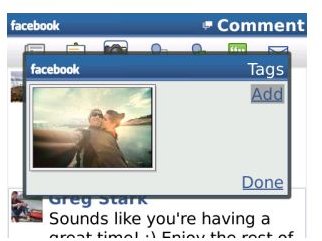 The best part about all of this is that it is completely free. You can download it through the BlackBerry App World on your BlackBerry mobile phone or through this Download link.
Facebook Contact Sync by Virtuosity solutions (4 out of 5)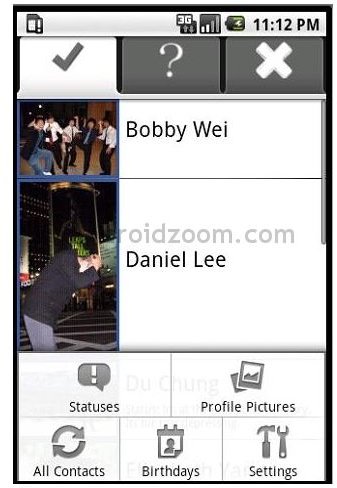 There are often times when you wish that your contacts from your cell phone and your Facebook contacts would simply become synchronized and you would have all your friends and family contacts in one place. Well now you can with this particular Facebook for BlackBerry app. The Facebook Contact Sync allows you to download all your current contacts from Facebook into your BlackBerry's address book. As a matter of fact, you can download their pictures as well to match with each name for each contact. Depending on the privacy settings of your contacts on Facebook, you may even be able to sync additional information such as phone numbers and email addresses.
In comparison to the regular Facebook application, this particular app does not need to consistently connect to the internet; it downloads the information straight to your address book where it is stored. This way your battery will also last longer as it is not constantly working. Additionally, the Facebook Contact Sync app downloads the contacts very quickly and does not take a lot of time downloading them one by one. You can log in, start the synchronizing feature and within a few minutes all your Facebook contacts will be synchronized with your phonebook contacts and stored in your address book. It is really quite simple and this app can be downloaded at this Download link for $2.99.
FIM Chat Launcher (5 out of 5)

This Facebook for BlackBerry app is very popular among the Facebook community because its main focus is one of the pinnacle services offered on the Facebook network, and that is use of the Facebook chat feature or Facebook messenger as it is commonly called. The fact is that Facebook messenger is often used by members of the Facebook community as a means to constantly stay in touch. It is a quick and easy way to communicate and best of all, it's free. Therefore it only makes sense that this particular service should be available on mobile devices. The sad thing is that not many other Facebook apps support Facebook messenger. They provide all the other basic features, but the truth is that many Facebook users do not often utilize those other services; they mostly spend time on Facebook chatting with family and friends. Without that feature a Facebook app is incomplete. The FIM Chat Launcher is one of the top BlackBerry apps and it even states that their messenger app works faster than the actual online Facebook messenger so if messenger is what you crave you can get the app at this Download link for only $4.99.
Facebook Mobile by Getjar (5 out of 5)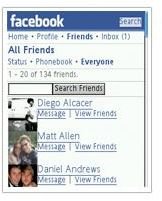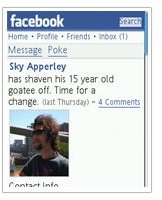 This is a fairly new Facebook mobile app and is slowly but surely becoming one of the favorite Facebook for BlackBerry apps out there. This app has the look and feel of your regular online Facebook page, but only in a mini format. You will have access to your home page with the list of updates and feeds, you will have access to your profile page with all your latest updates and wall posts, you will have your friends page where your friends will be listed in a single column format that allows you to see their status and your inbox tab is also present so your messages are never far away. The Facebook mobile app is really a mini Facebook and if your screen was wide enough, you would probably forget that you were using a mobile app. This app is also completely free and can be downloaded via this Download link where you will be asked to select your phone brand and model as this app is compatible with many different mobile phones, not just the BlackBerry.
Conclusion
Above you have been given a short review on the four most popular dedicated Facebook for BlackBerry apps, but only one app can come away as being the best. Each application has a high rating because they perform well at what they are built to do, but are their built in features enough to satisfy the needs of a Facebooker on the go? Research in Motion made their own Facebook app and as such you expect that their app should be top class with extended features as they are also the makers of BlackBerry phones. Facebook Contact Sync is a great Facebook app, but it is not a complete Facebook app and it does not do anything besides syncing your contacts. It does, however, do its job very well and many people have been trying to do that for a long time. The previous Facebook app has the same features but users claim that it does not do it nearly as fast or as well as the Facebook Contact Sync. The FIM Launcher is also an incomplete Facebook app as its sole purpose is for you to utilize Facebook chat. It does not support photo uploading, status updating or wall posting, but it has one of the most important and sought after features that Facebookers use. Facebook, mobile is referred to by reviewers as the mini Facebook, which would indicate that it has the look and feel of the original Facebook network, but it also lacks the messenger option that many Facebookers are looking for.
In essence, all of the above apps are not without their shortcomings, but if you are a true Facebooker, you will not settle with just syncing your contacts and you will not settle with only talking to them on messenger, you'll probably want to do all of these things so why not grab all of these apps?