Best BlackBerry GPS Tracking Software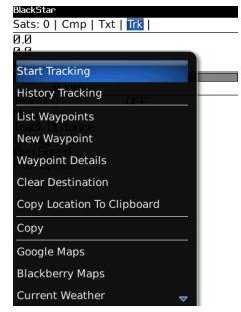 BlackStar
BlackStar is free BlackBerry tracking software that allows you to keep track of your location using latitude, longitude, and altitude. You can also record your speed, direction, and distance to your destination. With this app you can also record, and export your data for trips, exercise, or just to track where you have been. Click here for BlackStar for BlackBerry!
GPS Monitor
The GPS Monitor app allows you to connect your BlackBerry to an external or internal Bluetooth GPS receiver for your convenience. You can also view real time GPS information for the BlackBerry including latitude and longitude along with a timestamp. You can also view the direction and speed of the BlackBerry user. Click here for GPS Monitor for $2.99!
GPS Tracker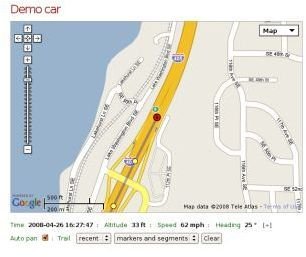 GPS Tracker is a free, simple, and easy to use app. You can use it to track your BlackBerry device, using the web to view the BlackBerry location in real time, which is ideal if your phone has been lost or stolen. You can also share your location with friends and family which is ideal for camping trips. You can also export your data to various formats depending on your computer's compatibility. Click here for GPS tracker for your BlackBerry!
MobileTracker for Blackberry
With MobileTracker, you can record your GPS location as well as the time you were there. You can also use Google Earth to view your location and publish it for your friends and family to view. Your data can be tracked using latitude, longitude, and altitude, along with a timestamp. MobileTracker can be downloaded for $4.99. Click here for MobileTracker for BlackBerry!
LifeInPocket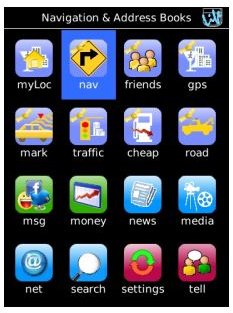 The LifeInPocket app is the ultimate GPS tracker and offers the following features: car finder, family locator, gas finder, GPS navigation, local searches, traffic, and more! With the voice navigation feature, this app offers simple and efficient directions and allows you to view other direction apps to cross check your directions. You can also view your family and friends with the real time GPS feature. This app is also an ideal all in one app as it offers financial information, news, sports, a dictionary, flight tracker and more! Best of all, it's free! Click here for LifeInPocket for Blackberry!
SendAFix – Find Your Phone with GPS
With the SendAFix BlackBerry tracking software app, you can send your location to your friends and family or view the locations of others using your BlackBerry or PC. Based on your location and using GPS, SendAFix will find your position and send a map to the recipient. If GPS is unavailable, SendAFIx will use cell towers as an alternative to locate your position. SendAFix also allows you to recover your lost or stolen phone. SendAFix is available with a free trial of 3 days or 30 uses. Click here for SendAFix for your BlackBerry!