Where to Find BlackBerry Astronomy Program Apps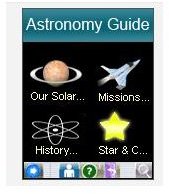 I did a search for BlackBerry astronomy program apps on my BlackBerry Verizon Storm and found none and also checked out BB's App World to no avail. Seems back in 2007, an astronomy app Starry Nights was available from Simulation Curriculum Corp, but their web page says the BlackBerry edition is "back in development," and they will "post (the product) as soon as it's available." A sad thing for astronomers and hobbyists because this app was free.
Astronomy Guide App
If you have a Curve or Pearl, there is one BlackBerry astronomy program for most models and most carriers from Handango. At a cost of $9.95, Astronomy Guide Version 1.0 downloads in three seconds with a file size of 117KB. The main menu offers a variety of things to do and includes planet facts on our solar system (even kicked out Pluto remains), information on stars and constellations, space missions, and astronomy history facts.
The app offers a lot of neat stuff for astronomers including mean surface temps and gravity, and radius, volume, mass and density for each planet. Users can get real facts on NASA space missions (past, present, and future) and if you're an astronomy history buff, this app is loaded with info from the ancients including Greek astronomers and the first pioneers that explored the field.
If you want star and constellation facts, find the 26 brightest stars and the 15 closest stars along with best viewing times. Check the website to make sure it's compatible with your BlackBerry model before downloading this BlackBerry astronomy program app.
This best download website for this app offered by Mobifusion is CNET.
Screenshot by author courtesty of https://www.handango.com
MicroSky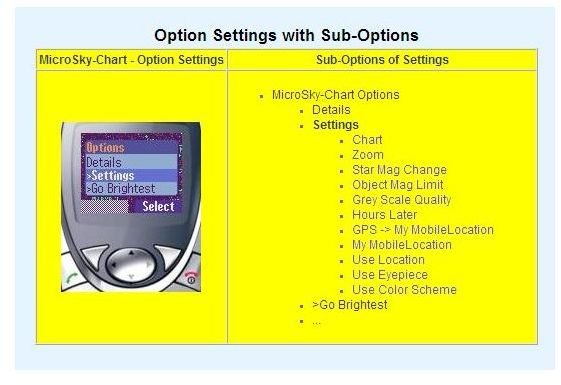 BB users looking for more Blackberry astronomy program apps will find only one other from MicroSky (https://www.upto.org/microsky/index.html) in Version 3.2 Beta. This file size is 59KB and you can choose one of two downloads (Microsky.jad or MicroSky.cod). Once the program is downloaded to your BlackBerry, you'll need to use their installer MicroSky.alx; both the downloads and installers can be found here.
The app is free and according to MicroSky's website this planetarium app retrieves star charts and can display up to 2.5 million stars, 8,000 deep sky objects, planets, and constellations. You can customize the settings to zoom in on your favorites. The user manual offers some neat tips on how to use this app. Only the Beta version 3.2 will work for any BlackBerry so skip older versions you see on MicroSky's website.
Screenshot by author courtesy of https://www.upto.org/microsky/v3.2/blackberry/index.html
Future Astronomy Apps
Both the BlackBerry and CrackBerry forums have a lot of threads from users looking for BlackBerry astronomy program apps; most of the ones posted have links that go nowhere.
I suspect, however, with so many people chatting about astronomy apps for the BlackBerry, more will become available—especially the anticipated Starry Night app from Simulation Curriculum Corp, so check their link here often to see when this app is re-introduced.