The Best BlackBerry Curve apps

This article will be focused on the BlackBerry Curve smartphone and the top apps in the top categories. It will be a summary of the top ten BlackBerry Curve apps.
The BlackBerry Curve smartphone is separated into four current sections, which include three separate series. There is the Curve 3G which stands alone and the 8300, 8500 and the 8900 series. Below you will find a listing of categorized BlackBerry curve apps geared towards making your BlackBerry experience, more fun and/or productive.
Business Blackberry Curve Apps – Top Apps 1 & 2 (5 out of 5)
**
Buzz Off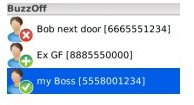 Some people may not see this as a business application as such, but it has made many lives less stressful, including those business people who wish to avoid annoying and unnecessary phone calls. The Buzz Off app will block any phone number that you want it to block and it can even block those "unknown" or "private" calls. Not only will the app block the phone calls, it can even prevent them from leaving a message on your phone by picking up the call and then hanging it up right away. Depending on your own regional needs, you can even block an entire area code and no call starting with that area code will come through.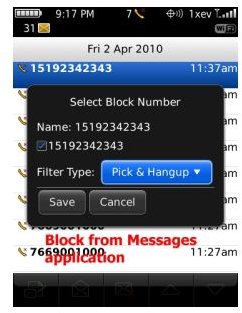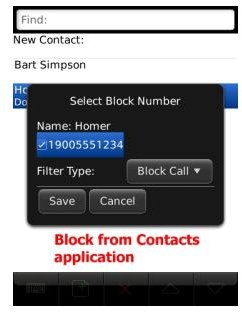 You can manually enter the number that you wish to block, or select the number or numbers from your messages, your call log or your address book on the phone. You will simply locate the number and select the "block caller" option from within the menu, then select the block type that you wish to activate. There are different settings for blocking, one of which is the "Do not disturb". This allows you to block your incoming calls for a certain time period, when you cannot, or do not wish to answer your phone. This is great for business meetings and such.
You can download this app through your BlackBerry App World on your cell phone or get it via this Download Link. It's a 4 star app that is going for the low price of $2.99

Remote Print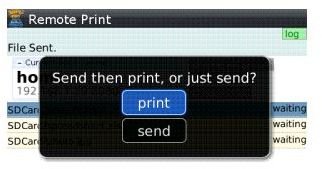 This is one of those BlackBerry Curve apps that scream "productivity". The remote print app does exactly what the name suggests, it allows you to print a file or document from your BlackBerry straight to a printer without cable connection. You can print directly from your emails, your Word and Excel files and any other text and image files that you have stored and wish to print. With this application, you can even send files from your BlackBerry to your computer without printing them.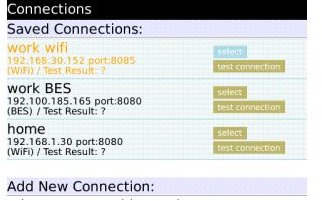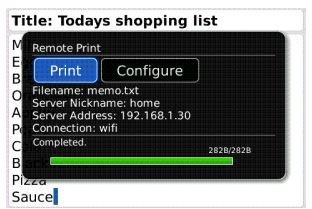 While this is a great BlackBerry Curve app, not all Curve models will be able to utilize it. The fact is that this app uses Wi-Fi technology to remotely send the information and not all BlackBerry Curves are equipped with Wi-Fi. Additionally, the app is not yet made for use with Mac computers so even if your BlackBerry does support Wi-Fi, you will have to ensure that you are using it with a PC.
The process of using this app is actually quite simple. It is a two part application that includes the BlackBerry app itself that will be downloaded to the phone and the mini PC application that will be installed on the PC that has the attached printer that you wish to use for printing. Once the applications have been installed and a connection is established, you can go right ahead and print directly to that printer or send files directly to the PC. The mini PC application can be installed on more than one computer and you can connect to all of them if and whenever you want to. This app is now available for $4.99 coming from a price of $12.99. Get it via this Download Link.
IM & Social Networking App - Top App 3 (4 out of 5)

FIM Chat Launcher
This app is a Facebooker's dream. Many people stay in touch with their friends and families through Facebook chat, but previous Facebook apps only allowed you to view profiles and update your status. Never before has there been an app that allows you to constantly stay in touch through Facebook messenger. Not only that but FIM Chat Launcher claims to work even faster that the chat on Facebook itself! Try this app for $4.99, the reviews are favorable thus far and it rates at 3 ½ stars. It can be downloaded from this Download Link.
Weather App – Top App 4 (5 out of 5)

BeWeather
If you have ever searched for, or used, any of the weather related BlackBerry Curve apps out there, you will have probably noticed that many of them are more geared towards the United States, if not solely created for the US. The BeWeather app is truly international and is one of the best weather apps that the BlackBerry can employ. No subscription is needed to continuously utilize the app and the weather information is provided by Weather Underground. You will have access to the current weather conditions in your area such as the temperature, pressure, wind, dew point and humidity. Along with a long range forecast of 7 days, you will receive high/low temperature readings and precipitation probability. Or you can view a 24 hour forecast accompanied by the temperature, wind, precipitation probability and humidity. You can view the weather from different forecast angles including, hourly, daily and current.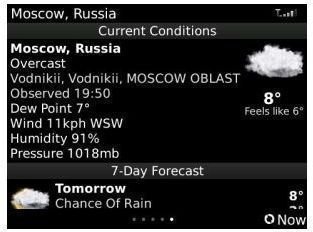 You can even track your location using your phone's GPS, but not all Curves are equipped with GPS, so only some Curves can use this particular feature. In addition to being able to add custom webcams and different media links such as video, HTML and weather radio, you can customize your homescreen icon to show the current conditions. There are many more features available with this app. You can view them and purchase the app from this Download Link for $9.99. Additionally, they offer a 3 day trial, but it is best to get the trial download directly from the Source Website.
Education App – Top App 5 (4 out of 5)

5001 Amazing Facts
There aren't many BlackBerry Curve apps in this category, but this app is all you need. It can be used as a game of "did you know?" or simply be read just to gain some knowledge.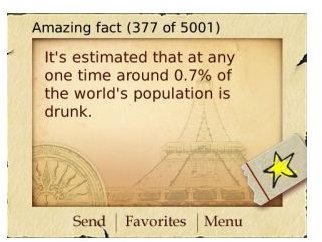 Reviewers have dubbed it very interesting and even a little bit addictive. You can even email your favorite facts to a friend and flag the ones that you find interesting as "favorites". There is also a Lite version, which provides you with 300 facts, you can try that first and upgrade later if you wish, but 5001 facts are better than 300 and the app will cost you less than a dollar. It is priced at $0.99 and can be found via this Download Link.
Games Apps – Top Apps 6, 7 & 8 (4 out of 5)


Pinball Deluxe – Action Game
You do not have to be a pinball fanatic to get addicted to this game. This pinball app is loaded with great pinball features such as flippers, plungers, slingshots, roll over, targets, ramps, tilt, nudge and many other mini games. The animation is smooth and those flippers never hitch with a rate of over 25 fps (flips per second). Play to unlock the Haunted mansion where you can then play with 2 pin balls. The arcade section has mini games such as Truck Attack and the Mirror House mini game that uses the controls in reverse. This game is for everyone and is available in five different languages including English, French and Spanish. If your Curve has an operating system of 4.2.1 or higher, you will have no problems using this app and it can be downloaded from this Download Link for $4.99.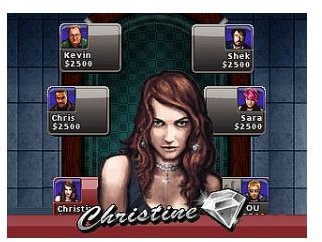 World Series of Poker: Hold'em Legend – Card Game
Everyone knows that poker in itself is the most popular card game in the world. Solitaire is a close second but poker is more recognized. It should then come as no surprise that a poker app is rated in the top spot, especially in the gaming area. This particular poker app has its ups and downs, depending on who you talk to, but once you get all the facts, you will see why it rates among the best. You can play in World Series poker tournaments in virtual Las Vegas casinos and the artificial intelligence for this game is very good as stated by actual players. The greatest thing about this game, however, is the real time multiplayer platform that it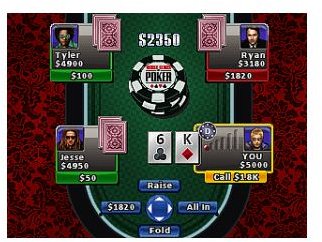 facilitates. You are able to play with different poker players from around the world and showcase your scores on the leader board as you aim to be in the number one spot. There have been some complaints about logging on to the multiplayer section, but you have to remember that it is online and you will need a good connection to play, otherwise you may have trouble logging on. Once you are on, you will not have to worry about finding opponents as there are many players just like yourself who are already online and waiting to start. Initially, this app was priced over $5.00, but now you can get it for $2.99 from this Download Link.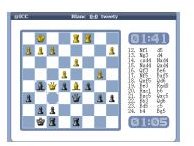 ChessLand – Board games
When searching for board game BlackBerry Curve apps**,** your top choice will usually boil down to the type of board game that you like to play. You will find Monopoly, Cribbage, Scrabble, Backgammon and more. But Chessland is running away with the prize at this point. This app has a 5 star rating mainly due to the fact that it is the only chess app with an interface that supports FICS and ICC on a BlackBerry. Additionally, you can connect via various paths including Wi-Fi, BIS, WAP and Direct TCP. You can play with other people from around the world and get rated as the best if you can make it there. You can even observe a game and have a discussion on it with other players. Additionally, you can learn from your mistakes by recording and reviewing the games that you have already played. For $3.99, you can start playing chess online or against the computer by downloading it from this Download Link.
Utilities - Top App 9 (5 out of 5)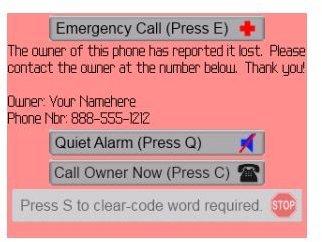 WheresMyPhone
This is one of the top BlackBerry Curve apps, but is also recommended for every BlackBerry out there that can support it. The WheresMyPhone app is for people like me who often misplace things. So whether you lost or misplaced your BlackBerry, or it was blatantly stolen; this app will be tremendously helpful to you. If your BlackBerry is missing, you can activate an alert on by sending an email or an SMS. This email will be sent to any of the email addresses that you activated on your BlackBerry phone. You can even send the email from the same address that you are sending the message to. You would have already created your unique username for the app and you will place it in the subject of your email followed by START. This will activate an alert on your phone. Even if your phone is on silent, it will make a piercing sound that you can't miss. Additionally, it will generate a message, which usually states that you, the owner of the device has reported it missing and you have the option of providing a callback number for the person to get in touch with you. You have the option of changing the message to whatever you want it to say.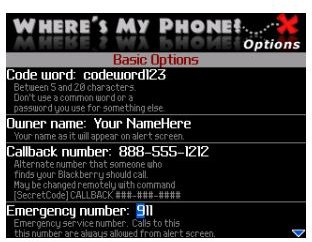 For those of you with BlackBerry Curves that support GPS, you can also track the whereabouts of your phone with this app. This will be done by activating a "locate" alert that will work with your GPS to find your phone's location. You will also be able to remotely download your contacts and other information from your phone if you do not think that you will get it back or to maintain your privacy. The good news is that there is also a free version of this app that allows you to utilize most of the alerts and features, but if you want to get the GPS feature, then you will have to pay the $3.99 for the full version (Where My Phone Pro), which is well worth the money. Get this BlackBerry security app through BlackBerry App World as long as your Curve has operating system 4.2.0 or higher. Download Link.
Entertainment - Top App 10 (4 out of 5)


Ghost Radar™
Entertainment apps will vary; some will actually be entertaining, while many of them will simply provide you with information on places where you can go to be entertained. This app is more on the fun side and as such it truly fits in as one of the top BlackBerry Curve apps in entertainment.
The Ghost Radar is a mobile app that is designed to locate paranormal activity. It is said that the app uses the sensors on your BlackBerry to locate paranormal activity. The developer claims that the app works in a similar way to regular paranormal equipment which makes an analysis by the measurement of sounds, vibrations and electromagnetic fields. The good thing about this app is that, unlike regular paranormal equipment, it is not easily fooled by sporadic bursts of normal magnetic fields, sounds or vibrations and it only picks up the interesting patterns. Some people will say that it's a fake, while other will swear that it really works; well, whether it works for real or is simply a sham, they all agree that it is fun. For more info on how to use the app and to understand the readings, visit the website but first you can download the app from BlackBerry App World for $2.99. Download Link.
Conclusion
Enjoy your BlackBerry Curve to the fullest with the use of these paid, but inexpensive apps that can easily and quickly be downloaded. There are numerous BlackBerry Curve apps available, but the ones listed above are among the top rated in their categories because of their features, their functionalities and their accessibility. Price is never really a factor among top apps as the apps on a whole are not expensive to begin with.