Top Five BlackBerry Security Apps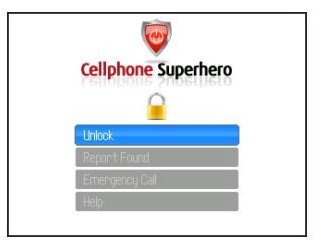 Data Security and Recovery
With Data Security and Recovery, you can lock your BlackBerry if it's ever lost or stolen. You can also locate its whereabouts online with Data Security and Recovery. Once you register your BlackBerry, you can protect your valuable data and if your phone is ever lost, you can set off an alarm so it's easier to find. The makers of Data Security and Recovery also work with insurance companies to locate your phone or if it's unable to be found, they'll provide you with a new one. Try Data Security and Recovery for free!
Lookout Mobile Security
This app offers free antivirus protection for your BlackBerry, back up of your valuable data, and a "Find My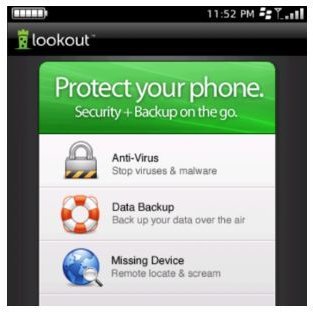 Phone" feature. It runs in the background of your phone to protect it against viruses, malware and spyware. You can visit Lookout Mobile Security online to access your data and restore it. If you've lost your phone, you can also access the website to pinpoint exactly where it is on a map and activate an alarm to find it. If you aren't able to find your phone, you can remotely delete the data to ensure your personal files are deleted from the phone. Try Lookout Mobile Security for free!
Mobile Security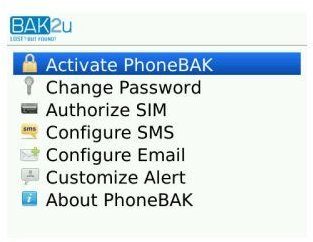 You can download the BlackBerry security app, Mobile Security to protect your valuable data if your phone is ever lost or stolen. With this app, you can wipe out your confidential information, such as your contacts, email, phone logs and more, using the Mobile Security website. You can also track down the thief by sending text messages or an email to their location. Try Mobile Security for free for 30 days or pay $9.99 for unlimited access.
SmrtGuard Mobile Security
SmrtGuard offers device protection for your phone all for free. You can track and find your Blackberry if it's lost or stolen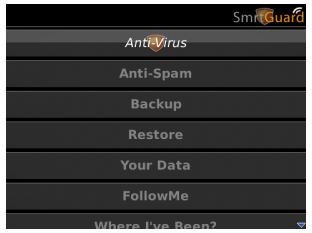 and even lock it to prevent unauthorized use. SmrtGuard comes with the ability to block unwanted calls and if you are ever in a situation where you need emergency assistance, with a press of a button, an email, text message or phone call is sent for help. For those parents that would like to track their children, this app allows you to track their every move. Try SmrtGuard Mobile Security for free!
With SmrtGuard PRO, you have perhaps the most complete BlackBerry security solution. You can have access to all of the great features of SmrtGuard but with virus and malware protection too. You also have access to remote back up, the ability to restore to a new device and remote wipes via the web. You can choose the SmrtGuard Pro 6-month subscription for 19.99 or the 12-month subscription for $39.99.
WaveSecure Mobile Security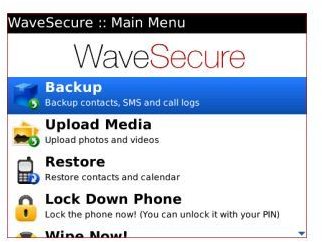 WaveSecure allows you to back up and restore data remotely, store text messages, your contacts and call logs online using a secure website. This app comes with a 7-day trial that can be upgraded online at WaveSecure and if you are in the unfortunate circumstance of losing your BlackBerry, you can locate it, track the person and their location if they attempt to insert their SIM card into the phone. You can also lock your BlackBerry and sound an alarm to warn the thief. Click here to try WaveSecure!