Free BlackBerry Bible App for the Divine Life On-the-Go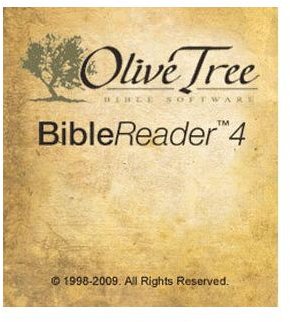 BlackBerry Bible Apps
A free BlackBerry Bible app can keep you close with your faith even when you are on the go. There are several BlackBerry Bible apps, some of which are free while some can be purchased. Premium BlackBerry Bible apps often have a trial version that will let you try out the app for free. Usually, trial versions have the complete set of features except they do not contain all the chapters of the Bible. In this article, we will take a look at some of the totally free Bible apps as well as some premium apps with trial versions.
Olive Tree Bible Reader 4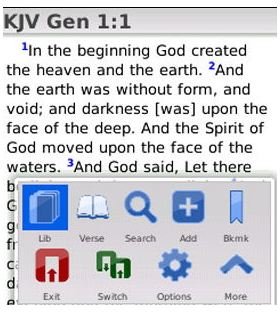 This Bible Reader is offered for free by Olive Tree Bible Software. This application is compatible with iPhone, Android, Palm OS, Windows Mobile and of course, BlackBerry. There are also hundreds of premium and free Bibles supported by this reader which can be downloaded directly from the Olive Tree official website. This app lets you explore the Bible in an efficient way by giving you the ability to search for any particular verse by making use of the 3-tap Verse Chooser feature. It also offers continuous scrolling which lets you read chapters without having to transition between chapters via clicking buttons. The search feature is very accurate and always gives relevant search results. This app stays and works in your BlackBerry device even if you are not connected to the Internet, giving you the chance to explore the Bible wherever and whenever.
Free Download (Visit Download Page)
YouVersion Customized Bible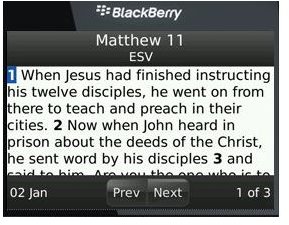 This Bible app works on all BlackBerry devices and can connect with Facebook and Twitter. It lets you study all parts of the scripture without taking up much of your BlackBerry's memory. Since it does not take up a lot of your phone's memory, you are left with more room for other apps or your personal data. Aside from letting you take a look at any part of the Bible, this app also offers a one-year Bible reading plan that will help you go through all parts of the Bible in one year. The app also gives you the ability to connect with the Bible community at YouVersion.com where you can share photos, videos and blog posts. Several translations of the Bible are available in the app, giving you the chance to explore the Word of God in the form of your preference.
Free Download (Visit Download Page)
The Holy Bible
This American Standard Edition of the Bible is included in this app and it can be accessed through an intuitive user interface. There is also an included glossary of biblical terms for people who need to know the meaning of some of the words included in the Bible. Jumping between books is also an efficient process because it only involves one click. You can download the demo or you may purchase the full version to your BlackBerry phone.
Price: $9.99 (Visit the Download Page)
Noah Bible Study Viewer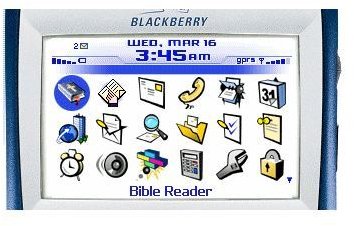 One of the first Bible apps on the BlackBerry, the Noah Bible Study Viewer app takes pride in giving Bible access to BlackBerry users with high quality features like hierarchical bookmarks and support for media cards. Several translations are available and can be accessed through a very intuitive user interface. Taking down notes on the pages itself is one feature that is very convenient for people who are serious about their Bible study. The search feature is incredibly fast while still providing the whole text of the terms that were searched for. All of these features and more are all available even without a connection to the Internet. You can download a trial version of this app and try it for free for 10 days.
Price: $19.95 (Visit the Download Page)
The Illustrated King James Bible
If you want to read your Bible with illustrations to keep things fresh and more interesting, this app can help you with that. It offers the whole King James edition of the Bible and several illustrations to accompany the verses. It is not a free BlackBerry Bible app, but it is worth the purchase price. If you are not convinced, you can download the demo version first to see if you want to purchase the whole app.
Price: $9.99 (Visit the Download Page)
You may also want to check other recommended applications like the Top 5 Apps that Use the LED and the Best Stopwatch Apps for your Blackberry phone.