Blackberry Apps for the Outdoors - Bird Guide - GPS - Weather Monitoring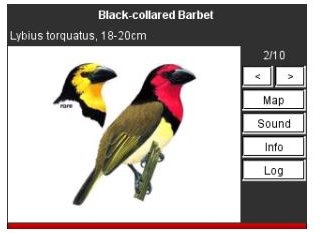 Outdoors activities don't have to be physically exerting. Consider doing some bird watching and you will be surprised how much distance you can cover and calories you can burn without realizing it. Whether you like to go bird watching, fishing or hunting these apps can help make the activity successful.
Sasol eBirds of Southern Africa
It is unfortunate that the BlackBerry platform has not attracted many developers of bird guide apps. However, if you are a twitcher and are
willing to travel to Southern Africa for your next bird watching experience you may want to consider using the Sasol eBirds of Southern Africa BlackBerry app.
The app features the images, text descriptions and general location of over 950 species of birds in the Southern African Region. The app helps users to identify birds based on their beak shape, size, color and habitat. There is even a personal listing feature for recording the birds that you have seen. The app can be purchased and download for $29.99.
Waterfowl Call
If you hunt or like watching waterfowls you may find this app helpful. It has a crystal clear recording of over 19 waterfowls for you to take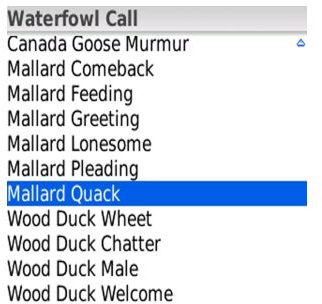 on your next hunting or observation trip. One drawback that this app has is that it isn't loud enough to reach birds that are some distance away. But if you like to practice making the calls yourself and want a reminder of what the calls really sound like this could be just the solution you were looking for. This Waterfowl Call costs $2.99 and can be downloaded here.
WeatherBug
Whether you are going fishing, having a picnic or planning a hike, it is important to know what the weather is and will be up to. WeatherBug has
live weather forecasts (up to 7-days), detailed radars and maps, camera views and severe weather alerts for the location you are headed to and for your current location. In addition to showing the current weather status, WeatherBug shows how conditions have been developing with time-lapse images from over 2,000 cameras. The app, not only gives you the option of seeing current weather conditions, but also helps you share that information with family and friends as well. The app is free to download.
River Stages
If you are in the continental United States and will be fishing, swimming, hiking or camping along a river course it is a good idea to be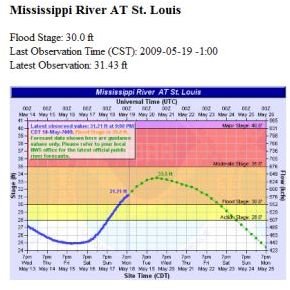 aware of any flooding that could occur. River stages forecasts the various stages of flooding and water levels, which is great for determining if a river is dry, low or even crossable. To get the water level for an area that a river runs through, you will need to select the state and area, the app will display water levels for the section of a water body that runs through that area. The app can be particularly useful for staying safe during rainy times when rivers tend to swell. The app costs $6.99 and can be found on the App store at this link.
Traxx
If you need to monitor and record your speed, distance traveled, and course taken. The Traxx app is flexible and ideal for all sorts of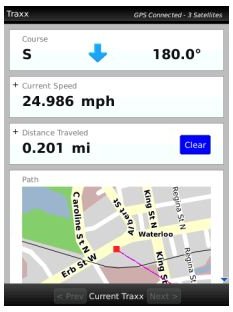 outdoors activities, whether they be fitness oriented or for sport. Some activities for which Traxx is particularly suited include site-seeing, running, hiking, cycling, fishing and hunting. Before you start the activity set your starting position and the app will record your current speed (MPH or KMH), and direction and allow you to save and review the path that was traveled on the map. The Traxx app can be found on the BlackBerry App store for $4.99.
ALLSport GPS
If you are serious about your level of fitness, then you will want to keep a track of how you are progressing. AllSport GPS works like a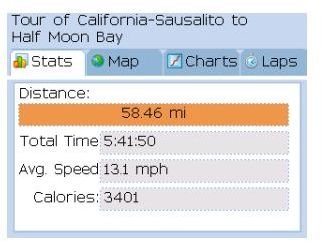 personal trainer to track all your workout and fitness stats including time, speed, calories burned and distance traveled with the help of your phone's GPS. Once you start using the app you will be able to review your progress, compare your results with others at trimbleoutdoors.com and even share you exercise routine with other users. Other features enable you to:
View your speed and elevation on a graph.
Race against your previous records.
Share and exchange runs, hikes and rides with friends.
The program is available in English, Spanish, Italian, German and French and can be purchased for $19.99 or you can try the 7-day free trial version.
Calories Burned Calculator
If you are interested in the amount of calories you burn while you are out cycling, running or hiking. The Calories Burned Calculator will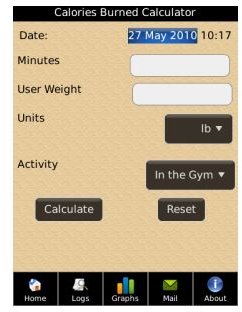 estimate the calories you have burnt using basic information such as activity, duration and body weight. In addition to the calculator, the app also has a list of activities and the average calorie use if they are done for a set period, intensity, and time interval. The Calories Burned Calculator costs $2.99 and can be downloaded from the BlackBerry App store.
Conclusion
The apps in this roundup can assist in properly planning your outdoors activities, they can retrieve and monitor important information such as weather warnings and forecasts, and they can even find birds to observe. There are many other outdoors apps available for BlackBerry phones but these are some of the most popular among users.
Image credits: