Top Personal Finance Software for BlackBerry – PMIs and Others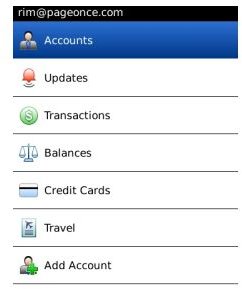 Ideally, we all should spend some time to sort out our finances on a routine basis. Ensuring that you are getting the best loan deal, reviewing bills, seeing to it that those bills are paid on-time and ensuring that there is enough to pay for them are all important matters, but who has that kind of time. Stay on top of your finances with these top-rated finance apps for your BlackBerry.
Personal Assistant Premium
This app is a multi-talented tool for monitoring credit card transactions, investment portfolios, bank accounts, bill payments and their due
dates among other things. This app stands above the other personal assistant financial apps by automatically syncing all your banking, billing and travel accounts from several institutions, so you don't have to do it manually.
As a security measure, Personal Assistant Premium can be temporarily deactivated if the phone is lost or misplaced. To deactivate BlackBerry access to the service go to pageonce.com to stop the phone from accessing your sensitive data. The premium app costs $6.99. However, there is a free version but it does have real-time flight information, the 4-digit pass code security, and you will have to view ads. The app can be downloaded from the BlackBerry App store.
Loan Analyzer
This is a PMI calculator for BlackBerry devices that is an ideal companion for finance students, real estate agents, loan brokers and those who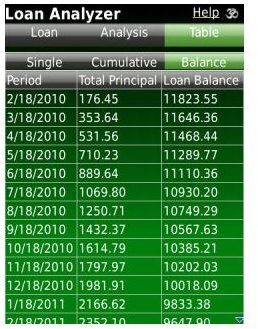 often need to analyze various loan offers. The app has a simple interface for calculating and analyzing several variables that are attached to loans, in order to determine what option is best. The loan calculator can be used to determine actual interest rates, repayment periods, monthly payments, interest on the loans and early payment options. Loan Analyzer costs $2.99 and can be found at the BB App Store or can be downloaded from the developer's site.
Looks Great – Mortgage Payment Calculator
This is an easy way to calculate monthly mortgage payments and determine how changes in interest rates, loan amounts and the loan period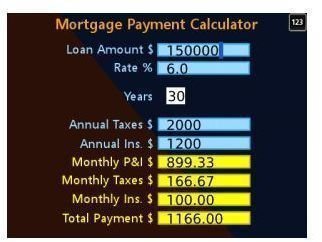 affects the total that has to be repaid. The calculator also allows you to factor in taxes and insurance costs to see how those variables will change the terms of the loan as well. To reduce the number of clicks required to get the information you need, the calculator computes the figures as you enter each piece of data. The PMI calculator BlackBerry app costs only $2.99 and can be found on the BBM App store.
Mobile Checkbook
This is a great app for keeping track of multiple bank accounts without setting foot into your local bank. This is one of the best selling finance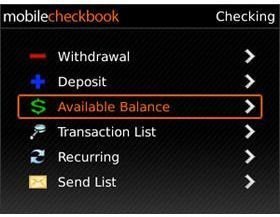 apps on the BlackBerry App Store, and for good reason. You will not have to worry about whether you have enough money to cover upcoming expenses as Mobile Checkbook makes it easy to check account balances in real-time, on an unlimited number of accounts, from wherever you are.
The app can also be used to schedule recurring transactions and reconcile account balances, as well as review recent transactions on your accounts. If you want to do more detailed analysis on your account transactions, the app allows you to download the transactions in Excel or Quicken file extensions via email. The app normally sells for $9.99 but is now on sale for $4.99; it can be downloaded from the Mobatech website.
Receipt Organizer
Now, we all know that we should keep those receipts for proper accounting, expense tracking and tax reporting, but who likes to stuff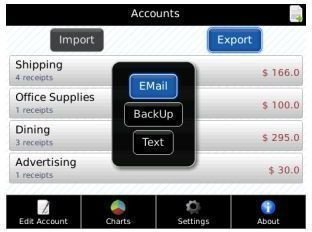 their wallets and envelopes with scores of receipts? With Receipt Organizer you have the option of quickly entering the total of the expenditure, assign it by category, record the name of the charging business and even take a photo of the receipt so you don't have to keep it. The software earns the $4.99 asking price by allowing you to graph your expenditure in bar charts and allowing you to export the data to email or a backup file. Receipt Organizer is available at the BlackBerry app store for $4.99.
From ensuring that you have enough to meet your obligations, to ensuring that you are getting the best deal on a loan, these applications will help you stay on top of your finances. They do so by making it convenient to access information when it is needed and even make it fun to enter the data in the first place.
Image credit: Each image is the property of the respective app developer.