Blackberry Free Financial Software Downloads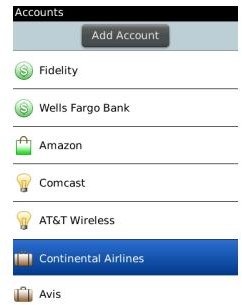 Here are some great financial applications for your BlackBerry phone to help you stay on top of your expenses, bank accounts and investment portfolios. The best part, these financial apps are all free to download and use.
Personal Assistant
Keeping track of several banking and checking accounts, investment portfolios, as well as the due dates of your bills can be challenging, to say
the least. Just like a real red-blooded personal assistant would, the Personal Assistant BBM application handles all your data entry and account syncing tasks automatically, once it is setup to access your information online. It then presents an easy to read summary of all the financial matters you need to attend to, or would like to review. If you want to track flights in real-time, have a pass code for extra security and get rid of the ads, you will have to pay for the Premium version. These inconveniences not withstanding, all other features work just fine. Here is a download link to the Personal Assistant app.
Smart Investor
We all know that diversification is a key part of any well-crafted investment strategy. But how do you determine just how much to allocate to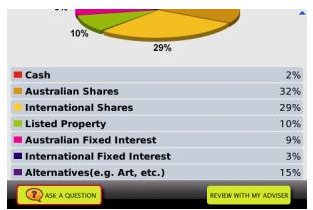 each asset class? The Smart Investor Blackberry app will help you answer that question by helping you to understand your risk profile and suggest an investment style to help you reach your goals. While the developers of the app are quick to point you to their disclaimer statement about using the app as your sole tool for determining your investment strategy, the app does help its users to allocate their investment funds among fixed interest securities, cash and private equity. The app can be downloaded at the app store.
Morningstar Blackberry App
It is amazing that feature-rich financial software like this is available for free. With the Morningstar app you can do detailed analysis on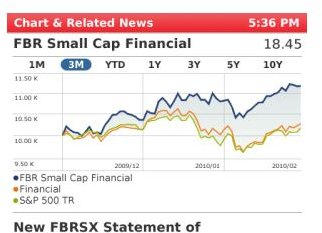 various stocks, mutual funds and ETFs that trade on the US and Canadian markets from the convenience of your BB smartphone, at no charge. Major features of this free financial application include the ability to:
Create, edit, monitor and sync your Morningstar watchlist and portfolios.
View charts of stocks, mutual funds, indexes and ETFs in real time.
Stay abreast of the latest market news.
Get investing ideas.
Access the Morningstar Market Barometer and data on each Morningstar category.
Get real-time quotes.
View Morningstar Ratings.
While the app is free, you will need to have a Morningstar account to access premium analysis on various investment vehicles. The app can be found at the BB App Store.
Y! Finance Blackberry Application
The Yahoo Finance app is a free tool from one of the largest Internet services. The app allows users to keep track of the happenings on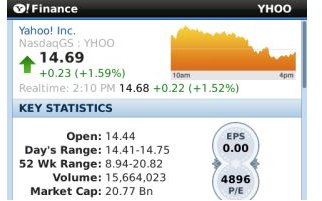 several financial markets including, commodities, stocks and the Indices. Some features of the app include:
Market summary of daily news and market conditions.
Daily market statistics on the high and lows of an instrument, and their performance as compared to their competitors.
Manage and monitor your Yahoo portfolio.
See and compare graphs of various securities.
The Yahoo Finance app is free and can be found on the BB app store.
BlackBerry: Free Financial Software Downloads
While these apps are free, many of them have premium versions that can add significant functionality to your arsenal of financial tools. Even so, all of these apps are quite competent in executing the tasks for they were designed to accomplish.
Image credits: The property of the respective app developer.
Personal Assistant-free financial software for BBM-pic
Smart Investor-Blackberry free financial software download-pic
Morningstar-free financial software blackberry-bbm apps-pics
Yahoo-Personal financial software free download-Blackberry-pic