What's the Best BlackBerry Storm Mileage App?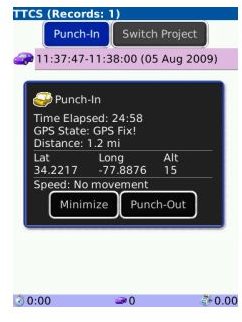 BlackBerry Storm Mileage Apps
Whether you get reimbursed for your business travel, or if you just need to keep an accurate record for tax purposes, tracking your mileage every day can be a royal pain. If you have a BlackBerry Storm, or really any BlackBerry device running OS 4.0 or later, there are a number of different applications that you can download to help you. These applications range from simple database software, where you enter your starting and ending odometer readings, to complex software that uses your Storm's GPS to automatically track how far you have gone. With all the available mileage applications in the BlackBerry App World, you are sure to find one that suits your needs and your budget. If you want some help in narrowing down the applications, check out this list of BlackBerry Storm mileage apps.
Mileage Genie
MileageGenie uses the GPS function on your BlackBerry Storm to record the distance that you traveled during a day. All you have to do is punch in at the beginning of the day and then punch out at the end, the program tracks how far you traveled. Once you punch out, you can add notes to the entry to help remind you where you went and why. MileageGenie can export your data into XLS, CSV and PDF formats, and you can save your information to your SD card, in case you ever need to wipe your BlackBerry. MileageGenie is available from the AppWorld. for $29.99, but there is a free trial available.
VQ Mileage Tracker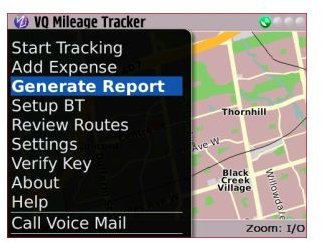 VQ Mileage Tracker stands out from other BlackBerry Storm mileage apps, in that the application will automatically track the time and distance every time you drive your car. All you need is a car that has Bluetooth functionality, and the application starts tracking whenever your device connects to your Bluetooth. Once you are ready for the information, the program can send you an email with the date and time of the trip that includes the physical addresses that you drove to. You can even set it up to send the reports automatically every week, month or quarter. It's the ultimate hands-off application and available from the App World for $9.99.
MiMileage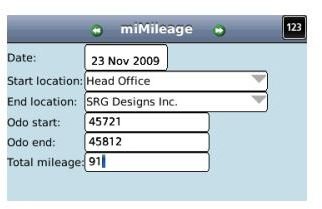 If you just need a simple program to track your mileage on your Storm, and don't want to pay for fancy GPS integration, MiMileage may be the way to go. The interface is extremely simple and very intuitive with just a few screens that you can navigate through. You have to enter the odometer start and stop values, and the program calculates your mileage and organizes the entry. You can select multiple entries and have them emailed to you. It's a bare bones program, but for $3.99 it's fairly priced. MiMileage is available from the Blackberry App World.
Mileage Tracker Pro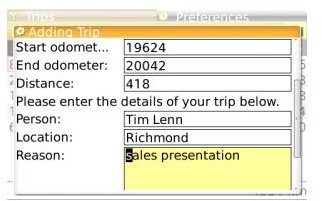 Mileage Tracker Pro allows you to record a number of mileage and location details right on your BlackBerry Storm. You can record odometer readings, location, date and add notes about the entry. If you pay the $9.99 yearly fee, you can also sync your entries to an online database where you can create a number of different reports and export data in XLS format. If you don't want to utilize the online database, your device can still email you with your mileage reports in PDF format. Mileage Tracker Pro is available for free from the App World, although after 30 days you have to pay $9.99 a year to access all of the features.
trackIT: Vehicle Edition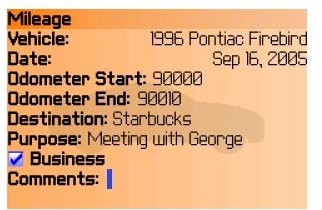 TrackIT is one of the more complete mileage apps for the BlackBerry Storm because of all the additional things it can do. TrackIT can track information for an entire fleet of vehicles, making it ideal for users who need quick access to information on more than just a personal vehicle. The program will track mileage, fuel, additional expenses and a maintenance scheduler that is based on the vehicle's odometer reading. TrackIT can give you a graph of your mileage and expenses, or it can export its data to an HTML or CSV file. TraciIT: Vehicle Edition is available for $14.99 from the App World.