Best Weight Loss Apps for BlackBerry Phones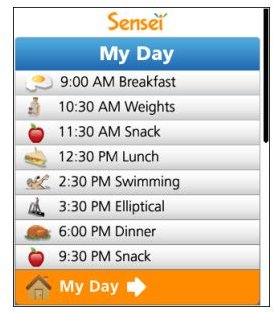 What Can a Blackberry Do For You?
Many people who have never used a BlackBerry often wonder what a BlackBerry can do for them. Well, those people can wonder no more, and hopefully find a specific BlackBerry phone that fits their needs. BlackBerry smartphones can do almost anything the user wants it to do, so long as the user downloads the specific applications needed to perform the activities desired. BlackBerry smartphones allow users to stay connected to family members, friends, the office, school, and many other places through email, instant messaging, and other social media features. All of these options are available through applications that can be downloaded to the phone. Are you trying to lose weight? Do you own a BlackBerry? If so, we have three cannot miss lose it apps for BlackBerry that will get you on the right track when it comes to shedding the pounds.
Weight Loss Sensei
The Weight Loss Sensei, one of the best weight loss applications available for BlackBerry smartphones, costs $9.99 to download for a one time fee. This application, once installed and running, allows users to track their daily activities. This includes logging each meal of the day, logging weight lifting regimens, and logging other exercise regimens. The program will create a sensible meal plan for the user to follow, provide the user with healthy food recipes, and create grocery shopping lists based on where the user likes to shop or eat.
Weight Loss Hypnosis Program
The Weight Loss Hypnosis Program, with a download fee of $2.99, is an audio application designed to hypnotize the user into losing weight in the event that healthy eating, dieting, and exercise do not work for them. This program helps users reduce their hunger, or desire, to eat in between meals or late at night, which can cause weight gain. Eating late at night, prior to going to bed, is the worst time to eat because the person becomes inactive and the food sits in the body. The exercise session of this application will also make the user want to go out and exercise because this audio section will enhance your desire to do so.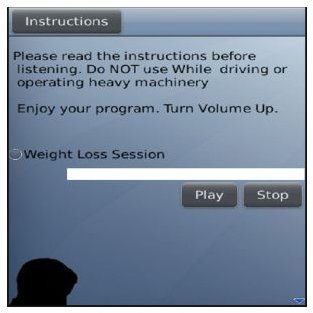 100 Weight Loss Tips That Really Work
So you are trying to lose weight but just cannot seem to find something that works to your liking. Well, look no further because we have the 100 Weight Loss Tips That Really Work application for your BlackBerry smartphone. It costs $15.99 to download but it is worth every single penny. Per the preview page on the BlackBerry App World website, the following are some of the tips offered by this application to the user for losing weight:
Scoop out the inside of a bagel to reduce your carb intake.
Don't read or watch TV while eating.
Stock up on good carbs such as oatmeal and whole-wheat pasta.
Choose popcorn instead of potato chips.
Walk before meals to decrease your appetite.
Eat protein when indulging in bad carbs.
Put exercise on your to-do list every day.