BlackBerry vs Android: Which is Better?
BlackBerry or Android?
Even though large number of consumers are opting for smartphones, the primary driver for the smartphone market is enterprise and small businesses. All the smartphone devices available in the market offer sleek designs, touch control, web browsing, multimedia designs, basic multi-tasking and advanced messaging options. While buying a smartphone, consumers are driven by product design, brand and price, however businesses are driven by applications, manageability and security issues.
Today, RIM with BlackBerry and Google with Android are two of the leading smartphone providers. In some ways, there seems to be a battle going on between these two. Meanwhile, BlackBerry has a strong lead in the business sector; Google has entered this battle with its Android OS. Yet, only one can emerge victorious. Let us compare the two and find out who wins the BlackBerry vs Android battle.
BlackBerry vs Android
Despite starting out as a business device, the BlackBerry brand appeals to a large consumer audience. BlackBerry has the best email platform and is a runaway leader in smartphone security. It has catered to businesses since its inception. It would not be wrong to say that BlackBerry has created the smartphone phenomena. The backend infrastructure that BlackBerry developed gave the enterprises and their IT departments a reason to deploy smartphones. BlackBerry offers centralized device management for IT departments with its BlackBerry Server Enterprise (BES) and Blackberry Server Enterprise Express (BESx) on the backend. It has an easy to use keypad or touchscreen, great display and long lasting battery life. A BlackBerry is a tough phone that can stand rough usage without easily breaking or scratching.
Last but not least, BlackBerry has a well built network of third party vendors who develop enterprise class services and a line of business applications for BlackBerry devices. Unlike Google Android, RIM's only line of business is its BlackBerry smartphone, so it won't risk taking an eye off its competitors and losing momentum.
On the other hand, the competitive advantage that Google Android has over BlackBerry is that it is the first truly open and comprehensive mobile platform. The Android's ability to customize provides its users the benefit of having a wide range of applications, although this will depend on the carrier. The latest Android smartphone processors are faster than the BlackBerry processors and they ship with very good browsers that even support Flash Lite. Android has proven to be quite popular among consumers and device manufacturers. Its market share in the US has more than doubled from 2.8% in 2009 to 7.1% in the first quarter of 2010.
Android Risks
Despite the success, Android is likely to face many problems. Android's open source software is plagued by many security issues. Android based devices could be at high risk of being hacked and the user's personal data could fall into the wrong hands. Perhaps, the biggest drawback is its open security business model that lacks code signed certificates and security keys. This model allows any application to install and run thereby increasing the risk of being attacked by spyware and malware.
Statistics
Today, BlackBerry phones are more popular than competitor devices.

As of January 2010, RIM has approximately sold up to 100 million mobile phone devices. RIM is the leader in the smartphone market with 43% market share contrary to the industry rumors that Android has wiped out the BlackBerry market share. Whereas, Android only makes up 7.1% of the market share.

116,667 BlackBerry devices were shipped daily as compared to 65,000 Android devices per day during the first quarter of 2010.

According to Myxer's March 2010 mobile content download statistics, RIM's BlackBerry accounts for 63% of the total smartphone downloads from the site, outpacing Android with 14% of the total downloads.
Conclusion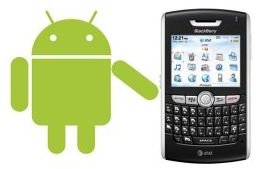 The Android is clearly a user friendly, multitasking and easily customizable device whereas BlackBerry is an unbeatable email platform that wirelessly synchronizes contacts, calendars and notes. BlackBerry devices are for someone who uses a lot of email and relies more on a physical keyboard, though RIM has entered the touchscreen segment with its Blackberry Storm 2. Its simple navigation, synchronized calendars and lesser applications attract many users. In contrast, Android is primarily developed for touchscreen interfaces. Android is for someone who does not rely much on mails and prefers a personalized phone that offers an array of applications.
Let's face it, RIM's BlackBerry has the lead in all the factors we discussed and it's a terrific industry and consumer standard device whereas Android is more app centric. This functional device is the Numero Uno in industry use. Therefore those who want a secure and manageable smartphone device should look at getting a BlackBerry, the winner of our Android vs BlackBerry comparison.