BlackBerry Curve 8330 Google Map Guide and Review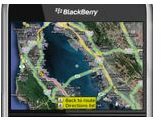 Google Maps for BlackBerry
Google Maps is a GPS-based application for your BlackBerry smartphone that lets you use your BlackBerry like a Garmin or TomTom style dashboard GPS. While it is a nice free app you can download, it isn't quite as accurate as I expected it to be on my BlackBerry Curve 8330. I found that while it was great for estimating arrival time and providing area maps, it does not do so well at street level. On a recent trip to Florida, it got lost when I turned off a main road and into my friend's neighborhood. It still helped me to get in the general vicinity of where I needed to go, but the GPS became slightly less dependable in the residential area, although I will admit that I was using it inside a moving vehicle. That being said, the BlackBerry Curve 8330 Google Maps application is great free software for BlackBerry owners who don't want to spend a hundred or more dollars on a GPS that they may not use very often.
Enable the BlackBerry GPS
Before you can use Google Maps on your BlackBerry, you will need to enable your GPS. It may already be turned on depending on the configuration of your phone, but sometimes it is turned off in order to save battery power. In case you didn't know, leaving the GPS turned on will deplete the battery more quickly. The same goes for iPhone battery power consumption.
To enable the GPS on a BlackBerry Curve 8330, scroll to the Options (wrench) icon and press the navigation ball, then go to Advanced Options and select GPS. On the GPS option screen, make sure it says Location On next to GPS Services. Press the arrow button to back out of that menu and it'll ask you to Save your settings, then your GPS will be turned on.
Download Google Maps for BlackBerry
To download and install Google Maps onto your BlackBerry Curve 8330, just open up the BlackBerry web browser and go to https://m.google.com/maps and click the 'Install Now' link at the top of the page. At the next screen, click the Download button and it'll start loading. You will have to reboot the phone when it is finished.
When you first open Google Maps, it may ask you to set your permissions for the app. Make sure everything is set to Allow, then press the arrow button and save the settings. It will make you accept the user agreement, and then you can use the software.
How to Use BlackBerry Curve 8330 and Google Maps
Once Google Maps is loaded, it will show your location on a map noted as a blue dot. It should also show how accurate the location information should be. On my BlackBerry Curve 8330, it fluctuated between a 10 to 50 meter accuracy while indoors.
To zoom in on the map, press the letter I (-) key and to zoom out press the letter O (+) key. You'd think the keys would be the other way around like pressing the plus sign to zoom in, but it's backwards. As you zoom in, you will see more detail like street names.
To view your options, press the dotted BB key to the right of the scroll ball and it will pull up a menu of choices. You can search the map, view the actual satellite imagery of your location, and more. Just know that it's a lot slower in satellite view because of all the image data being transferred. You can also select Layers to get more information on the map, such as Wikipedia entry information for nearby locations.
If you want to get directions to somewhere based on your current location, choose Select Destination and either enter the address or visually locate it on the map. Google Maps will then tell you how to get there and how long it will take for you to arrive, plus you can view the map to show your progress. It's great for road trips to give you an idea of when you'll reach your destination. If your BlackBerry screensaver kicks on while looking at the map, just press the spacebar to bring it back up.
(Image credit: Google.com)
Safety Note
If you are using Google Maps on your BlackBerry in place of a regular GPS, please be careful while driving. It is easy to be distracted by your phone while driving, and safety is more important than getting somewhere on time. It is preferable that you have someone else using Google Maps so that you can focus on the road and not your smartphone.