Learn What BlackBerry Bold Has To Offer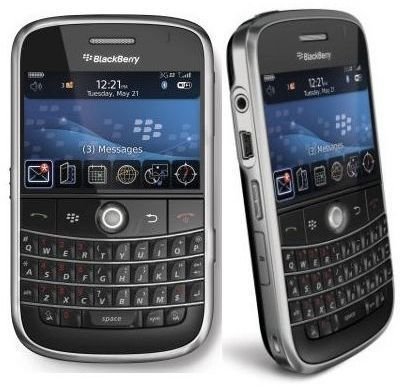 BlackBerry Bold
The BlackBerry Bold has been getting a lot of positive reviews from many satisfied users. Its good mix of features and user friendly interface has made it one popular BlackBerry model.
Design (4 out of 5)
The BlackBerry Bold has dimensions of 4.5 inches in length, 2.6 inches in width and 0.6 inches in depth. It weighs 4.8 ounces, which is not exactly slim and sleek by any definition. Although the phone is not the slimmest of BlackBerry models, it does not mean that it is badly designed. It comes with a black chassis and silver trimmings which should attract any mobile phone fanatic. Its leatherette texture bereft of plastic provides a more sophisticated look.
The display of the Bold is not to be scoffed at. It has a half VGA, 2.75 inch non-touch LCD screen capable of showing up to 65,000 colors at a resolution of 480x320 pixels.
On the left side of the handset are the mini USB port, headphone jack (3.55 mm), expansion slot for microSD and a shortcut key that can be customized. On the right spine is a volume toggle as well as another shortcut key. On the back is the camera lens.
User Interface (5 out of 5)
One of the strengths of the Bold is its updated user interface. Icons are easy to identify, so users won't have any problem in browsing the menu even if it is their first time handling the phone. The home screen is also fully customizable, enabling users to change background images, themes, or adjust the font size and type of their device.
Underneath the screen are standard controls such as Talk and Power buttons, a shortcut to the menu, a back button and the familiar trackball navigator. Thanks to the wider size of the BlackBerry Bold, the buttons are also larger and thus easier to press. The Bold comes with a full QWERTY keyboard that has good-sized keyboard buttons with a nice, tactile touch. Users should have no problems inputting text messages and e-mails with this keyboard.
Features (4 out of 5)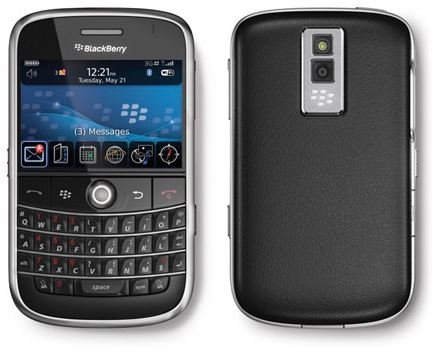 The Bold is the first ever BlackBerry handset with HSDPA capability, bringing users the benefit of accessing the Internet at broadband-like speed. Using the BlackBerry Bold, owners can expect speeds of up to 2 mbps.
Other basic features of the Bold include speakerphone, voice dialing, speakerphone, speed dial, and the customary multimedia and text messaging. For voice calls, the phone features an advanced ambient noise reduction technology that cancels background noise for optimum voice call quality.
The BlackBerry Bold has an impressive address book that is capable of storing multiple phone numbers home and email addresses, as well as job title. Users can also assign polyphonic ringtones to each entry. The phone also comes with Bluetooth connectivity as well as GPS and Wi-Fi. The Bold comes with a browser that can display full web pages, allowing users to view in two ways- column and page views.
The handset also comes with an advanced email function that can be synced with various email platforms such as IBM Lotus Domino, Microsoft Exchange, Novell Group Wise, allowing users to get their corporate email instanteneously. The Bold likewise has a spell-check function that can check for errors in memos and emails. The email function can also view various file formats such as Word, PowerPoint, Excel, JPEG, PDF, and GIF, amongst others.
The integrated media player of the Bold can support various video and music formats, such as WMA, MP3, MIDI, AAC, MPEG, DivX4 and WMV. The media player has a search function and allows repeating and shuffling of songs, as well as the creation of playlists.
There is also a 2 megapixel camera in this handset that has video recording, 5x zoom and flash functions. With the integrated GPS function of the BlackBerry Bold, users can also geotag their photos.
Performance (4 out of 5)
The camera of the BlackBerry Bold can be counted upon to deliver decent photos, with sharp and clear images, although colors can be washed out. The video quality is also not as impressive as some other top end phones, with some pixelation.
The BlackBerry Bold delivers in terms of voice calls. Users can expect clear and loud audio levels during voice calls, with minimal background noise.
With its 624 MHz processor, the Bold delivers a faster performance compared to other BlackBerry models. Users should expect prompt launching of apps with this handset.
However the BlackBerry Bold doesn't have the fastest web browser in the market. For those who want a more seamless mobile surfing experience, getting another handset may be ideal. The Bold though makes up for it with the good audio quality of its media player.
Verdict (4 out of 5)
The Blackberry Bold gets a lot of points for its easy to use interface. Users will not have any problem browsing through the menu and apps of the device thanks to its large keyboard. The Bold though is not appreciated for its mobile Internet. Still, the BlackBerry Bold is definitely a nice mobile phone to have.