How to Use Your BlackBerry: A Guide to Getting Started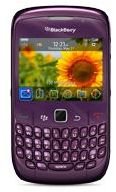 Beginning with the basics
Most of you are reading this because you have gotten your first BlackBerry, and want a head start on using it. For those of you who still haven't made up your mind, here is a little background.
So, What is a BlackBerry? It is one of those essential questions to ask before you go out and spend the money on a BlackBerry, and here we cover the basics of what makes a BlackBerry special. There is a reason why people decide to get a BlackBerry rather than another smartphone, and this article explains some of the features - the best reasons for your decision.
Once you realize the BlackBerry is your best personal choice, many of us wonder exactly how the BlackBerry works. Push email is an innovative concept, even if people kick themselves now for not thinking of it themselves, but there is more to how a BlackBerry works than just keeping you in touch with everyone who wants to contact you. Here you can read about Explaining BlackBerry Technology - How does a BlackBerry Work, anyway?
OK, whether you knew when you started this article that a BlackBerry was in your future, or we have persuaded you with this collection of articles, it now comes down to deciding which one you want. For First Time Buyers: A Simple Step-By Step Guide For Buying Your First Blackberry , helps to narrow your choices to the features you really want and need.
product image from BlackBerry site
Changing themes
Your BlackBerry comes with a generic theme, and it probably doesn't express your personality as much as you would like. We walk you through the basics with BlackBerry Home Screen Image and Theme Customization. A Simple How to, with directions for changing the theme and the background on your new Blackberry.
How To: Choosing Backgrounds for the Home Screen on your BlackBerry provides you with even more information about putting up something you choose yourself in place of the background that Research in Motion sent along with your device.
In Kristina Daguia's article on BlackBerry Themes Worth Paying For, you can read why she thinks there are themes worth spending money to get, rather than trying every free theme available. In her article she reviews her top 5 choices for themes that are worth the price.
Mail, Email, and more mail
BlackBerry Messenger is probably the first message application you will use once you start with your BlackBerry, and this article on Learning How to Use Blackberry's Messenger will walk you through exactly what you need to know to get started.
After that, there are other email programs it will help you to integrate with, and Bright Hub gives you the basics of working with some of them.
It is hard to go through life today without having some interaction with Microsoft products. Here, we teach you to set up and Sync your BlackBerry with Outlook. This step by step guide will make things easy for you.
Bright Hub also reviews LogicMail, a free BlackBerry app that lets you work with IMAP, POP and SMTP email clients.
Now, you have mail coming out your ears- and a lot of it needs to get sent to the circular file, so you don't have a copy of every message you ever sent. Read How Do I Delete Sent Messages from My BlackBerry and free up some space.
Spam, Spam, Spam, Spam
Monty Python immortalized processed meat in a can- and if you don't want overly predigested pap in your email, we have some solutions for you. Besides setting up filters on your email, you can also block phone spam- or just unwanted calls.
In this straight forward article, learn about Enabling and Disabling Call Forwarding on your BlackBerry. When that is not enough, this article can help as well. BuzzOff: How to Block Calls on Your BlackBerry is a way to help you maintain your privacy in this increasingly connected world we live in.
Work made easier
In this round up of articles covering everything that a new BlackBerry user might find handy, we didn't leave out the business side of your life.
This Review of Expense Manager for BlackBerry covers practically every expense you can think of- and no doubt some you have'nt considered yet. It can be used by any BlackBerry with OS 4.0 or higher.
Are stocks an integral part of your business, or your hedge against the future when it comes time to retire? With this free Mobfolio app to keep an eye on your financial investments, you will keep as much peace of mind as the stock market will let you.
An alternative to Mobfolio is Y! Finance For the Blackberry. This stocks monitoring application allows you to graph, compare daily graphs, check your morning stock prices daily, and it can also sit up and beg. Well, no, it can't beg. But with this to keep finances in order, you won't be reduced to begging either.
In this group of business software, I want to include an article on The Best of the Free Google Apps for the BlackBerry. We went through and looked at them, and here are our informed reviews, to help you in your decisions of which you need.
Fun, Games, and Multimedia choices
5 fun Freeware games to play on your BlackBerry - whether for you or your children will keep you all entertained. For one with a little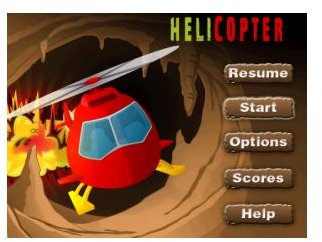 more sophistication, try this Helicopter game.
More? We have more for you. Here are several different multimedia applications you can try out to see what suits you best. Want iTunes? Here is information about the BlackBerry Media Sync. How Do I Put iTunes Songs On My BlackBerry?
Pictures? Here are a couple choices for putting your favorite snapshots as the icons on your BlackBerry, and when you are tired of fooling around with MagicIcon, you can set up a slideshow of your entire family - or your last vacation.
image from linked review of Helicopter game for BlackBerry
Millions of Apps!
Well, maybe not millions. The articles here will get you off to a great start fitting your BlackBerry to your individual tastes. If you want more, take a look at the article on the Ultimate BlackBerry Apps, and enjoy.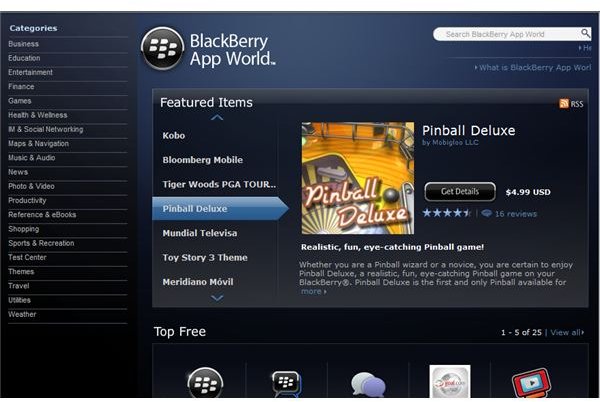 Image from BlackBerry App World screenshot