Online Sources for Blackberry Curve Themes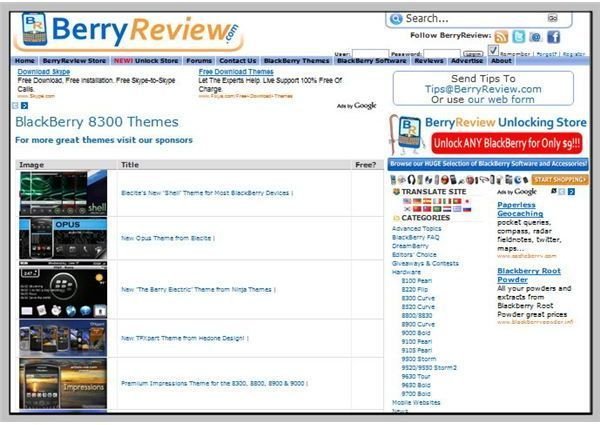 BlackBerry Curve Themes
There are several websites out there that offer downloads or instructions to download BlackBerry Curve themes but most of them do not offer any information on what users can expect from the themes. Here are 5 recommended sources for free or premium BlackBerry Curve themes that are reliable and helpful in terms of theme information.
BerryReview
BerryReview is a website that offers reviews of BlackBerry phones and downloads for BlackBerry apps including themes. It has a section for BlackBerry Curve themes that offers short descriptions, reviews, preview images and download links. Most of the reviewed BlackBerry Curve themes are premium ones but there is a considerable collection of free themes in there too. The site also has a forum board where users can talk about BlackBerry themes. Communicating with the other members of the site's community provides users more feedback on which BlackBerry Curve themes they should download for free or for a price.
BlackberryThemes.net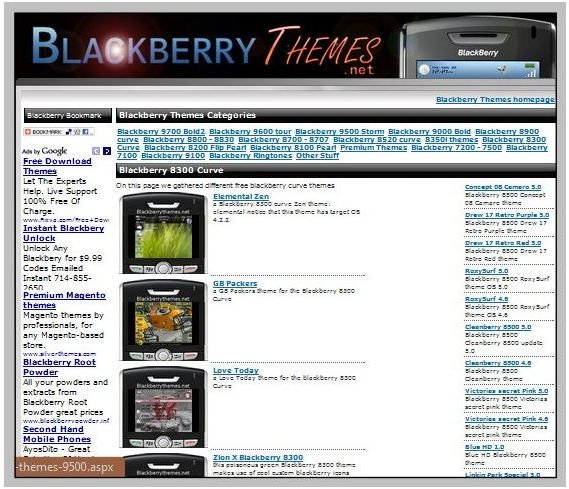 BlackBerryThemes.net offers several themes for various BlackBerry products including the BlackBerry Curve. Most write-ups for themes do not contain much information about the design and features of the theme but they do provide several preview images so BlackBerry users can get a clear view of what they can expect if they download and use a particular theme. The site provides download links for the themes. Some links are direct download links while others just redirect to another website containing the download link.
Blackberry Theme Park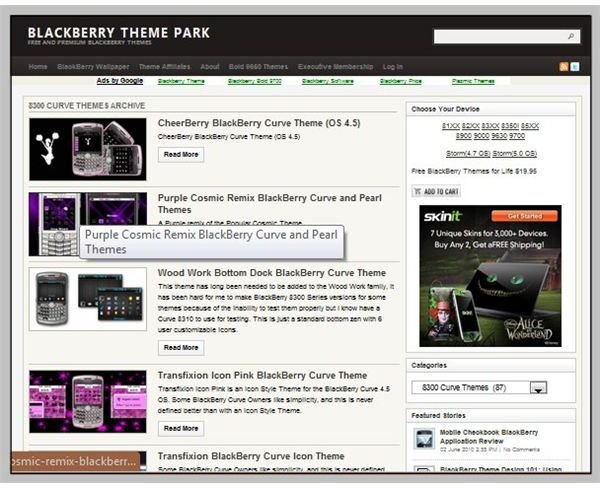 BlackBerry Theme Park is dedicated solely for premium BlackBerry themes. It includes a section for BlackBerry Curve themes. Each theme page includes a short description, several preview images and technical specifications like operating system compatibility. The members of the site's community offer their own feedback on each theme page. Other helpful components of the site include theme recommendations based on the current theme being viewed, theme-related articles and tutorials, and BlackBerry smartphone wallpapers.
Gemblock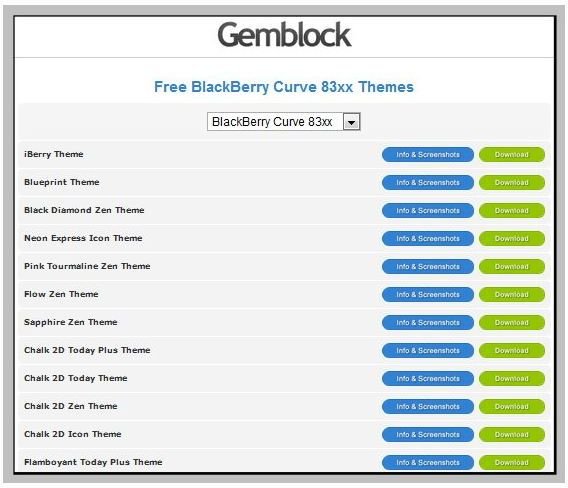 Gemblock only features free BlackBerry themes. It supports several BlackBerry smartphone models including the Curve. It only contains a few BlackBerry Curve themes but these themes are high quality and each theme page includes a description of the theme, several preview images, a list of theme features, an indication of whether it is also compatible with other BlackBerry smartphones, and a download link. Since this is a site that offers free content, it does have some required tasks for users to accomplish before they are given the chance to download a theme for free. These required tasks often involve short surveys of the email address of the user.
Themes4BB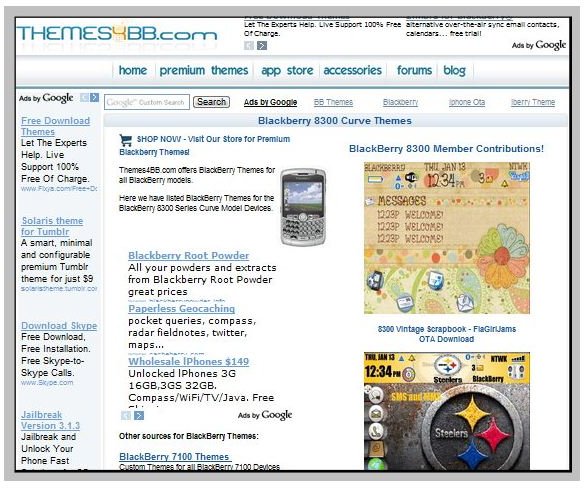 Themes4bb.com focuses on BlackBerry themes that are either premium or free, but mostly premium ones. It also offers BlackBerry applications and a forum board where community members can discuss any topic related to BlackBerry smartphones. Its section on BlackBerry Curve themes is a combination of free and premium themes. Most of the themes can be only be download over the air using the user's current mobile service provider. The site also has information about each theme that includes the mobile carriers that support that particular theme, the BlackBerry smartphone models that are compatible with it and feedback from other community members. The site also links to other sources for BlackBerry themes.