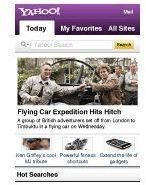 Yahoo for BlackBerry
Yahoo! Mobile for BlackBerry gives you access to all your favorite Yahoo features. Using your device's mobile browser, access Yahoo! Mobile for news, mail, search, address book, calendar, finance and more. No download is required, just a data plan with internet access from your device is needed.
Visit Yahoo for BlackBerry for more information, or enter the following URL into your phone's browser: m.yahoo.com
Yahoo! Mobile Features:
Address Book - Check up on or add to your online Yahoo address book
Calendar - Access your online Yahoo Calendar and even add events
Finance - Up to the minute updates of the stock market and comprehensive financial news
Flickr - Take and upload photos to your Flickr account directly from your device
Local - Get directions or search for local resources
Mail - Check your Yahoo! email with ease and get instant notification of new emails
Messenger - IM from your phone while you're on the go
Movies - Find local theaters, show times and purchase tickets from your phone
News - All the breaking news from around the world, headlines and entertainment news
Search - Browse the internet to find the information you need
Social Pulse - View friends' Facebook, Twitter and other social networking site updates from one place on your phone
Sports - Get news, stats and scores for all your favorite sports
Weather - Check the latest weather conditions and forecasts
Yahoo! Mail for BlackBerry
Want to get your Yahoo! Mail account hooked up to your BlackBerry? Your Yahoo emails can be sent directly to your device, giving you immediate notifications when an email is received. Viewing and opening attachments and photos sent to your Yahoo email is simple. Compose and send Yahoo emails and replies from your BlackBerry.
It is free to setup your Yahoo email for your BlackBerry device. Setup Yahoo email on a BlackBerry directly from your phone's email setup option.
Yahoo Messenger App for BlackBerry

Yahoo for BlackBerry brings it's popular Yahoo Messenger directly to your BlackBerry. Available at the BlackBerry App World for free, Yahoo Messenger allows you to IM from your phone. Chat in real time with your Yahoo Messenger contacts.
Visit App World online to have a link to download Yahoo Messenger for BlackBerry sent to your device.
Cost: FREE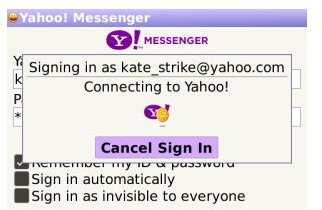 Yahoo! Music App for BlackBerry

Yahoo! Music for Blackberry streams your favorite music to your BlackBerry. Yahoo! Music and CBS RADIO Stations are available for streaming. Currently only available to BlackBerry Bold, Yahoo! Music allows you to skip songs you don't like and share stations via email.
Visit App World online to have a link to download Yahoo! Music for BlackBerry sent to your device
Cost: FREE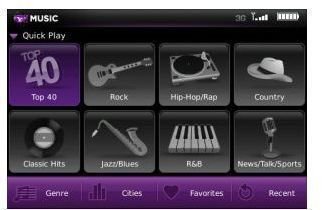 Y! Finance App for BlackBerry

Y! Finance is a comprehensive financial coverage app made by Yahoo for BlackBerry. Find stock information, market summary info, stock market news and other financial headlines all in the palm of your hand. Y! Finance is customizable, allowing you to program the app to follow specific stocks and industries.
Visit App World online to have a link to download Y! Finance for BlackBerry sent to your device.
Cost: FREE