Where to Find Blackberry Storm Themes?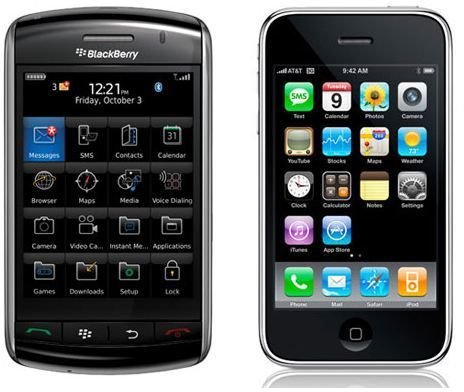 The Blackberry Storm Smartphone
The BlackBerry Storm smartphone is Research In Motion's first touchscreen device. It has been hailed as a direct competitor to Apple's iPhone. With its sleek design and nifty features, it is fertile ground for customizations and modifications. Themes are one of the top blackberry downloads because they are the best way to modify the look and feel of your BlackBerry Storm smartphone. Installing themes created by professional designers or casual theme creators is a great way to personalize a device that can be used by students and professionals alike. Here are some suggestions on where you can find great BlackBerry Storm themes that will fit your style and personality:
The Blackberry Storm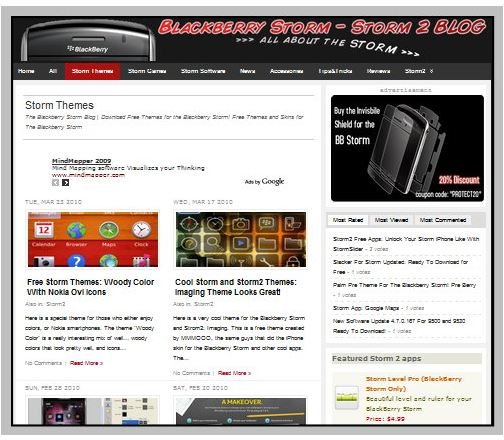 This BlackBerry Storm website includes sections on Storm games, Storm apps, Storm themes, Storm accessories, tips and tricks on using the BlackBerry Storm and the latest news on this mobile device. The Storm Themes section not only features downloadable BlackBerry Storm themes, it also contains articles on theme creation software, wallpapers you can use on your BlackBerry Storm and design contests. The BlackBerry Storm themes you can download here are either free or premium. It's a great resource for BlackBerry Storm enthusiasts and customization fans.
CrackBerry.com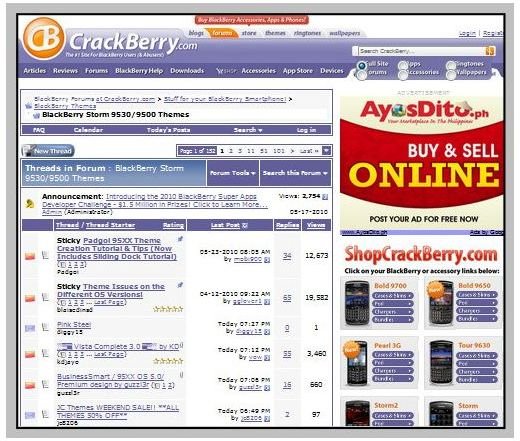 CrackBerry.com claims it is "The #1 Site for BlackBerry Users" and it's not hard to see why. The site has sections on themes, ringtones and wallpapers. It has a blog where articles relating to BlackBerry smartphones are posted. It also has a store where BlackBerry users can purchase accessories, ringtones, themes and of course, the smartphones themselves. The forum board is where users can find the BlackBerry Storm 9530/8500 Themes thread. This is a forum thread where new themes are announced. Forum posters can discuss the look of the theme and if there are issues with it like broken code or missing files. With a lot of BlackBerry users ready to answer questions for you or help you out when you encounter some trouble with a theme, you can be sure that you will never tackle problems alone.
Blackberry Storm Themes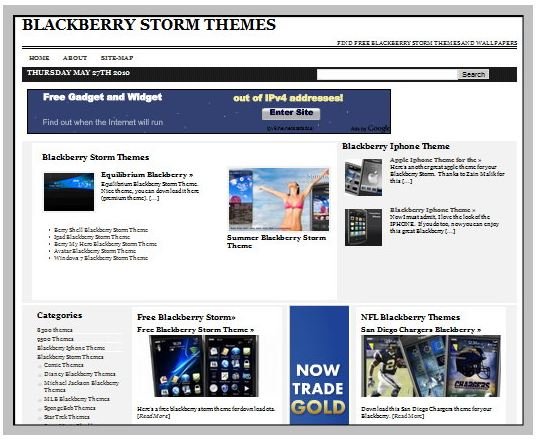 The website BlackBerry Storm Themes is solely dedicated to BlackBerry Storm themes. If you're looking for other topics relating to the BlackBerry Storm, this website will come up short. If you're looking for themes, though, this is a good place to visit. It has an extensive listing of BlackBerry Storm themes. Each entry doesn't really say much about the theme, but they do provide you with a download link and a short description.
Blackberry Theme Park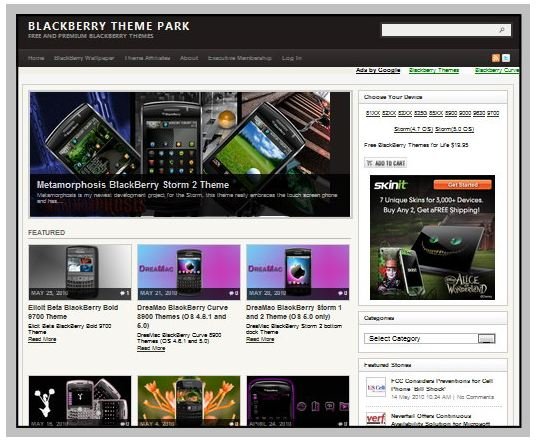 If you're looking for free or premium BlackBerry themes, BlackBerry Theme Park is a highly recommended site for you. It doesn't only feature BlackBerry Storm themes, it also contains themes for the other BlackBerry models. Each write-up contains a thorough review of a particular theme whether it is free or if it is premium. Aside from theme reviews and download links, BlackBerry Theme Park also offers a wallpaper section where users can download wallpapers optimized for their BlackBerry device. This is definitely heaven for all BlackBerry theme enthusiasts.
Blackberry Storm Themes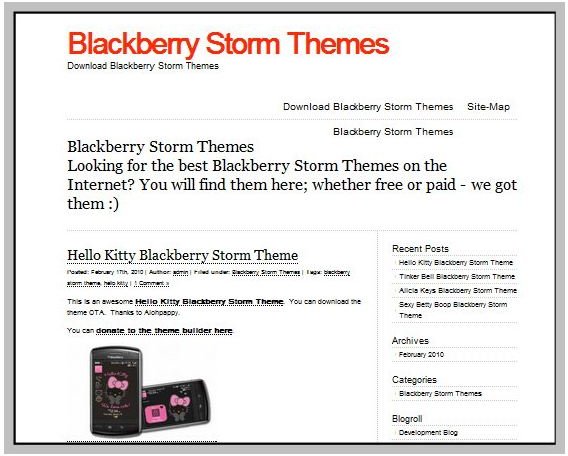 Not to be confused with the earlier website with the same name, this BlackBerry Storm Themes site is a different website altogether. However, like the other website named BlackBerry Storm Themes, this one doesn't really offer much for BlackBerry users other than short reviews and download links. If you're just hunting for BlackBerry Storm themes, this site will do.