Top Blackberry Apps: Java for BlackBerry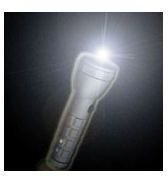 Java for Blackberry
The Java programming language is widely used to create and develop mobile device applications. It powers some of the most useful apps in several mobile platforms including BlackBerry. Java for BlackBerry gives smartphone users several useful and easy to use applications. Here is a list of 5 of them:
IQ Light
IQ Light keeps your BlackBerry's backlight on for as long as you desire without you having to push buttons every few seconds. This is extremely useful if you suddenly find yourself in the dark and the only source of light available to you is your BlackBerry. Aside from turning your smartphone into a torch, IQ Light also gives you the option to use flashes and change the color of your backlight from white to yellow and back in order to change the intensity of the light. This is a handy Java app that is perfect for people who like to spend a lot of time outdoors or in dark places. You can download it for free.
RockeTalk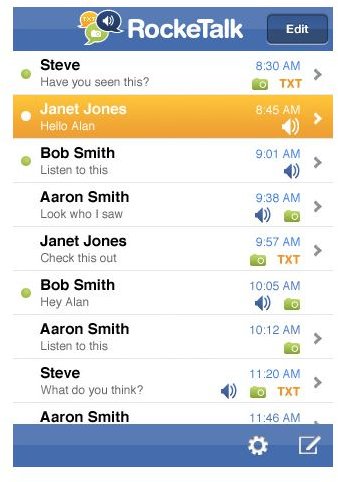 RockeTalk is an app that lets you do instant picture, video and voice chat for free. It's the only mobile application that allows video in chat. It also lets you record a video and send it as a message too. RockeTalk is absolutely free so it is perfect for young people on a tight budget who like to keep connected with their friends and relatives via social networking and mobile communication. There is an active collection of communities in the RockeTalk service where you can meet new friends and stay connected with old ones. Don't worry about your existing instant messaging accounts. You can access all of them via RockeTalk.
Mig33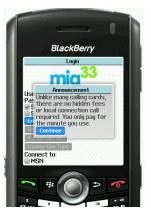 If you're a social networking butterfly, you will love the Mig33 service and its mobile client app. Mig33 lets you connect with your friends in different social networking and instant messaging services like Facebook, Yahoo!, MSN, AIM and GTalk all at once in just one mobile client. You can connect with other people who have the Mig33 client on their mobile device no matter what platform or carrier they are using. Aside from instant messaging, Mig33 also offers users mobile games, group discussions, voice calls, SMS, avatars and the sending of gifts. It's an entire suite of services that you can access via a BlackBerry app for free.
Pilot My-Cast
For $9.95 per month, Pilot My-Cast allows you to view weather forecasts completely with surface meteorological reports, observations and advisories on your BlackBerry. This app also lets you zoom in on a particular airport or route in crystal clear high resolution. Other features include animated radar, satellite imagery, upper air winds information and temperature readings. The information you'll get here in text and colored graphics will guide you in determining if it's a good day to fly. As an app developed by aircraft pilots, Pilot My-Cast assures ordinary users that everything they need to know about their flight's safety is available to them.
Tether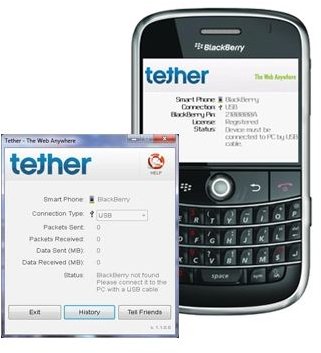 Tether turns your BlackBerry into a modem, allowing your computer to get Internet access using your data plan. Wherever there is coverage for your BlackBerry, you can be assured that you can go online without a hitch. It doesn't even matter if you're a Windows user or a Mac user. This easily installed app can be purchased for $49.95. Tether, an application built on Java for BlackBerry smartphones, is definitely a must-have for people who always feel the need to stay online.
You may also want to read the Top Free BlackBerry Downloads.