BlackBerry Money Manager App Review: Ascendo Money for BlackBerry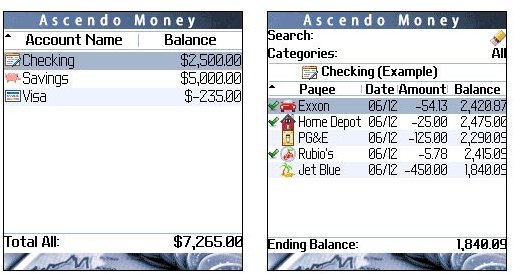 BlackBerry Money Manager
If you're looking for the best BlackBerry app to manage your personal finances look no further than Ascendo Money. This is a pretty useful app that can help your track your periodic spending, pay your bills as well as stay within your budgets.
Ascendo Money app for BlackBerry boasts of advanced features such as budget analysis, account reconciliation, reports, graphs, synchronization and online bank access. These features will certainly enable you to manage your finances better while on the move.
Ascendo Money Personal Finance Manager - Benefits and Features
What earns Ascendo Money app for BlackBerry the best money manager app title are its many features and the benefits of using it. While I was looking for a BlackBerry app for managing money, I found quite a few of them from the BlackBerry App World but nothing quite compares with the plethora of features and functionality that you can enjoy with Ascendo Money.
When it comes to the benefits of using this app, we can name several of them:
gives you the tools to achieve your financial goals
facilitates money management by allowing you to enter information on the go and synchronize with your desktop
supports import and export in several formats to exchange data with Intuit Quicken
Those are just the benefits that you can enjoy while using Ascendo Money Personal Finance Manager app on your BlackBerry. Even better are the many features of the app, including the following:
Create unlimited number of accounts for credit cards, checking, savings and investments
Manage a transaction register for each account
Record payee, date, amount, category, type, payment method, status, memo and a user defined field for each transaction
Enter transactions quickly using auto-complete to select payees and default field values based on payee
Access information quickly using auto-complete to select payees and default field values based on payee
Set budget for categories and compare to actual amounts spent
Split transactions over several categories
Schedule recurring transactions
Make transfers from one account to another
Forecast account balances at future dates
Reconcile accounts with bank statements
Generate numerous reports and display pie charts and bar graphs of data
Securely download information from your bank accounts
Our Verdict
Aside from the many features and functionality of Ascendo Money Personal Finance Manager App for BlackBerry, what I really like about the app is how it approaches mobile money management in a very straightforward manner. I would have to admit that I'm not really a finance person and I haven't used a mobile finance manager app with my other phones (iPhone and Android Phone). But when I was looking for an app for the BlackBerry, I was easily impressed by its simple and intuitive interface.
I was even more impressed when I started exploring what the app can do and it surely can do a lot. Whether you are using a touchscreen BlackBerry phone or the QWERTY ones, Ascendo Money has got you covered with its easy to use interface and powerful money management features.
You can buy Ascendo Money - Personal Finance Manager App for BlackBerry from the Ascendo site. Full licensed version is priced $29.95.