What is the Best BlackBerry Touch Screen Phone?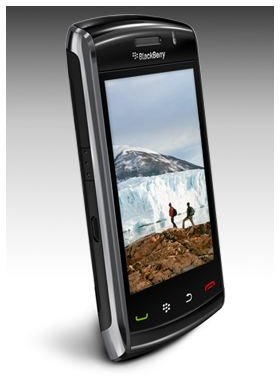 BlackBerry phones are not really well known for touchscreen features. In fact, many people have grown to love them because of their QWERTY keypads, something which many users find much easier to use for composing SMS and email messages. However, since smartphones today mostly have touchscreen features, RIM had no choice but to release their own touchscreen phone - the BlackBerry Storm 2 which now has two models - the BlackBerry Storm 2 9550 and BlackBerry Storm 9530. Of course, since the Storm 9550 is an improvement of the Storm 9530, it is predictable that this BlackBerry touch screen phone is the best so far for RIM.
Of course, the BlackBerry Storm 2's key feature is none other than its touchscreen interface. While the BlackBerry Storm 9530 also has this feature, the 9550 is quite different because of one thing - the SurePress touch screen. SurePress technology makes typing on the BlackBerry Storm 2 more accurate and tactile. Through a virtual full QWERTY keyboard, you'll find it a pleasant experience composing email or SMS messages. This is one feature that used to hamper the iPhone and some Android phones with similar touchscreen interfaces. More often than not, the touchscreen feature is simply not responsive enough. For the BlackBerry Storm 2 it's no longer a problem as it gives you a very responsive touchscreen interface. In addition, it allows you to use the keyboard in portrait or landscape mode and gives you two areas of the screen at once to select multiple items.
BlackBerry Storm 2 9550 Features
The BlackBerry Storm 2 9550 features a 480x360 high resolution TFT LCD which compliments the phone's touchscreen interface. You'll find the phone's colorful functional icons pleasant to look at and they may even entice you to use the phone. Making the phone's display even better is backlighting, light sensing, selectable font size and rich, vivid color display.
If a great touchscreen feature is not enough to convince you to get the BlackBerry Storm 2 9550, its other major features might do so.
Of course, you'll also get the usual line up of BlackBerry smartphone features including the following:
wireless email
organizer
browser
3.2MP camera
media player
corporate data access
SMS/MMS
GPS
15 days standby time; 6 hours talk time
128MB flash memory
1GB onboard memory
microSD card support for memory expansion
BlackBerry Touch Winner
There you have it, major features of the BlackBerry Storm 2 9550 smartphone which make it the best BlackBerry touch phone so far. It may not be the best among the touchscreen smartphones available in the market today. But surely, RIM has made something that can compete with the likes of the iPhone and the Google Nexus One. If you're looking for a BlackBerry touch phone, the Storm 2 9550 is your best bet. Or you can wait some as we're pretty sure RIM is cooking up a new BlackBerry touch phone.