Twitter for BlackBerry: Five of the Best Twitter Apps for BlackBerry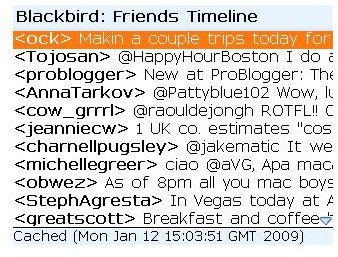 BlackBird (3 out of 5)
One of the first Twitter app for BlackBerry and also perhaps the simplest of them all. It is a text only Twitter client that is easy to use and yet might turn off many users due to its simplistic approach to Twitter. This app works great for those who want the simplest Twitter client for their BlackBerry phones: barebones but gets the job done. To install, download this jad file.
OpenBeak (4 out of 5)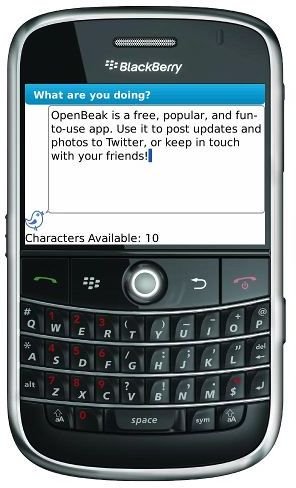 When I got my BB Bold 9700, I was in a rush to see how it handles Twitter so when I searched for an app: I found OpenBeak first. While it is a very good Twitter app, I feel at it lacks the vibrant and lively interface features of the top Twitter apps for BlackBerry listed below. The BlackBerry as a smartphone is simple enough so you may want to have apps which will add flare into its interface. Unfortunately, OpenBeak's simplicity doesn't have those features.
Still, it is a pretty straight-forward Twitter app that gets the job done. Some of the nice features of OpenBeak include - one-click access to view friends timelines, replies, favorites, your own timeline and the Twitter public timeline, post pictures to posterous, Twitpic, yFrog and others, one-click embedded camera, send and receive text messages, mark tweets as favorites and more. To install this app, point your BlackBerry browser to https://m.openbeak.com/
Twibble (4 out of 5)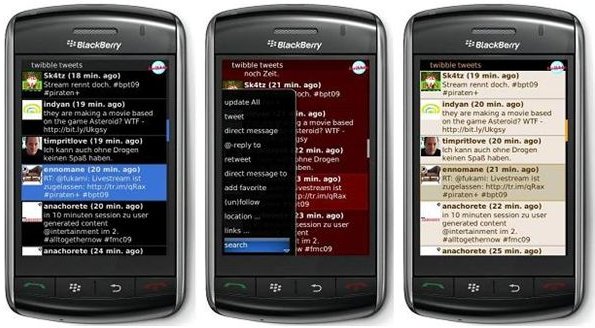 Twibble is another straight-forward Twitter client for BlackBerry with several key features including - a fully integrated Twitter search with auto refresh, load tweets on demand when scrolling down tweet list, auto notification of new version, mark tweets as favorites, support for SSL, support public or private identi.ca, full screen mode, can run in the background and more. Twibble also includes is an option to add location to your Tweets. To install this app, point your BlackBerry browser to https://m.twibble.de.
UberTwitter (5 out of 5)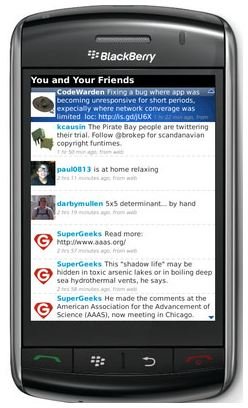 Frankly, once you've used UberTwitter you couldn't practically ask for more. It has got more features than you can probably imagine a simple Twitter client for BlackBerry would. It's location-aware, shrinks tweets, has photo integration and video integration as well as Twitter list and profile management. To download visit this site and select the version that supports your device.
Seesmic for BlackBerry (5 out of 5)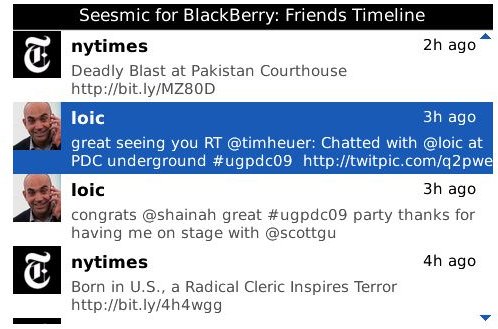 Seesmic has always been my favorite Twitter client be it on my iPhone 3GS, Nexus One or BlackBerry Bold 9700. It's another full-featured Twitter client that gives tons of features that you can use on your BlackBerry handheld device. Seesmic for BlackBerry was only launched last November and recently it was updated to support multi-accounts, Ping.fm integration and neat features like the option to choose the size of photos you post.
With its multi-account support the app lets you cross-post between your Twitter accounts at the same time. It also lets you choose which among your Twitter accounts will be your default account that the app will open up once you fire up the app. And with Ping.fm integration the app now lets you post updates to your various social networking accounts at the same time. For sharing photos, Seesmic lets you do so through Tweetphoto service. If you want a do-it-all mobile application that connects not only to your Twitter but other social networking accounts as well, Seesmic should be the Twitter app for your BlackBerry phone. To install this app, point your BlackBerry browser to https://www.seesmic.com