Top Best Free Apps for Blackberry - Useful Free Blackberry Apps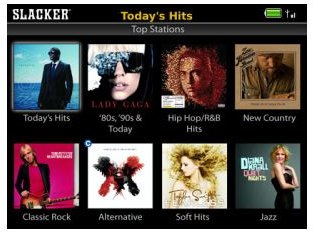 Free Blackberry Apps
There are a bunch of really awesome apps for the Blackberry, and many of them are absolutely free. These apps let you listen to free music online, interact with social media sites like Facebook and Twitter, and much more. Best of all, they are absolutely free to use and download. You can download them directly to your phone using Blackberry App World, or download them to your computer and install using Desktop Manager.
Free Music
You can actually listen to the radio with your Blackberry, thanks to free apps like Pandora and Slacker. These apps interface with online radio stations to stream music over the internet and right into your phone. You won't believe the selection that allows you to search through songs and listen to what you want, or just let it play. Best of all, you can play it through your car stereo if you have the right kind of adapter. Why pay for satellite radio when you can get it for free on your Blackberry?
If you are unsure of which one to pick, be sure to check out this great article called Slacker vs. Pandora.
Social Media
If you are a frequent user of sites like Facebook and Twitter, then there are some great free apps that let you interact with those sites very easily.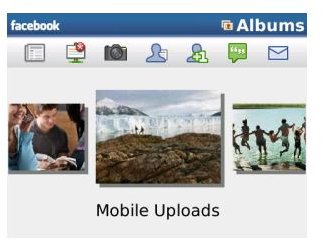 The Facebook app is pretty good for keeping up with your friend's updates and viewing news feeds. However, it doesn't work so well when it comes to uploading photos. It also won't show you who all 'likes' something that a friend posted. Despite its limitations, I think it is still a solid app and I use it all the time.
UberTwitter is an excellent interface for Twitter users, and it provides instant access to your friends and their tweets. This program is ad-supported, but that just means you will have a small banner ad at the top of the tweet listing page. You can easily ignore it by scrolling down.
Information and Reference
You can use your Smartphone to look up useless information like who sang the theme song to Diff'rent Strokes (it was Alan Thicke, the dad from Growing Pains), but you can also get some apps that are truly useful in a variety of situations.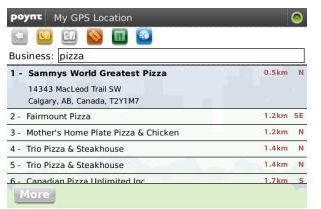 One of the most popular free Blackberry apps is called Poynt. It uses your GPS to find your location, then tells you where pretty much anything of interest is located and how far away. It's like having a 'You Are Here' location on a map that follows you everywhere. It will show you restaurants, movie theaters, stores, and more. I recently used it while travelling in south Florida because I wanted some Starbucks. If you ever find yourself in an unfamiliar location, Poynt will make your life easier. This app is simply amazing, especially because it's free.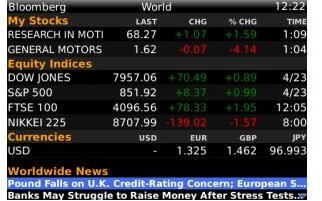 If playing the stock market is your thing, or maybe you just like to see how different companies are doing, then you should check out Bloomberg Mobile. It's completely free and very easy to use, plus it gives you real-time values on any kind of stock. You can even set up your own private portfolio for it to track how your own stocks are doing.
Honorable Mention
I am giving Blackberry App World honorable mention here because it is nice to have a centralized place to get apps for your phone. The only problem is that I hate the interface for it. I found it to be incredibly slow while browsing for apps, and I usually get frustrated and quit looking after a couple of minutes. Why can't we have some kind of iTunes clone for Blackberry?