Wordpress for BlackBerry How To Guide - Setting Up Your Blog, Posting And Managing Comments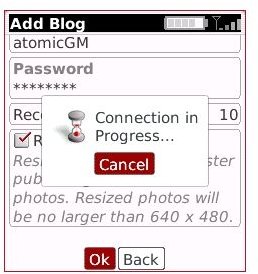 Powerful Blogging Tool
The Wordpress for BlackBerry app is one of the biggest free releases of the year - it provides an admin interface to your Wordpress blog, allowing simple and direct publishing of new posts with tags, links, images and categories assigned.
Obviously this is a powerful blogging tool for any mobile platform - and BlackBerry users now have the chance to interact with their blogs and readers that leave comments thanks to this new tool.
However - a Wordpress for BlackBerry might just be confusing at first, due to the way in which the interface is arranged. Visually it is a far cry from any of the Wordpress admin interfaces.
Getting Started With Wordpress for BlackBerry
Wordpress for BlackBerry is available only as an Over the Air installation from blackberry.wordpress.org/install. This is around 300 KB so you'll need to be in an area with good reception to download.
Once installed, you'll need to setup the connection with your own blog. This can be done by launching Wordpress for BlackBerry, and selecting Add Blog (this option is also available via the menu for that screen).
Next you need to enter your blog URL, your admin username and password as well as set a couple of options (which can be changed later) to resize any uploaded photos and how many recent posts to synchronise with your BlackBerry phone (10 is the least, 50 the highest).
Once this is done, select OK to continue - Wordpress for BlackBerry will synchronise your blog with your phone!
Wordpress for BlackBerry Images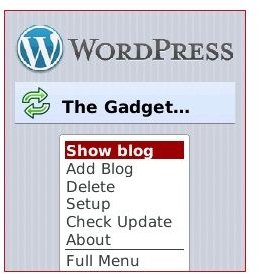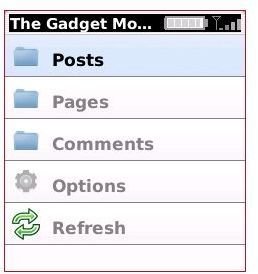 Making And Editing Posts
Posts, Pages and Comments can all be accessed via Wordpress for BlackBerry. As Posts and Pages are very similar, we'll look at adding a Post - as with the full version of Wordpress, adding a Page follows pretty much the same procedure until it is published.
Once your phone has synchonised with Wordpress, you will see your blog listed on the Wordpress for BlackBerry menu. Select your blog and then select Posts.
A list of posts will be shown along with a set of icons to create, view drafts and synchronise your blog. The pencil icon is button to create a new post.
The new post button leads to a screen headed Write. Here, enter a title, whatever tags are relevant, select from the categories already present on your blog or amend the status from Local Draft to Draft (a draft copy on your blog), Private, Pending Review or Published.
Adding Photos To Your Posts
Opening the menu will give you the option to add a photo taken with your BlackBerry into the post. Simply select the photo in the Photos screen and select Add Photo from the menu to do this.
At the bottom of this screen is the top of the text entry area, the space into which you can input your latest blog entry. Opening the menu will give you an option to Save Draft at any time, while the Submit option will publish your entry!
Editing an existing post works on the same principle, and can be done by selecting a previous post on the menu screen rather than starting a new blog entry.
More Wordpress for BlackBerry Images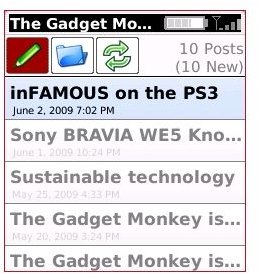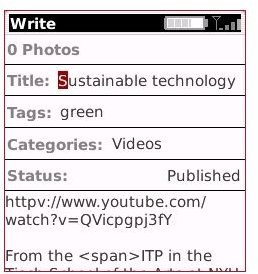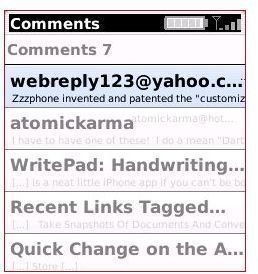 Monitoring Comments
Comments left by your readers can also be viewed in Wordpress for BlackBerry. Comments are available via the main blog menu, and by selecting each in turn you can use the menu to mark a comment as Spam, Delete it or Approve it.
This can also be done without reading individual comments in Multiple Mode, a sort of "bulk approve" function which saves time but potentially lowers the quality of responses to your posts. Using Multiple Mode also allows builk delete of comments, so some care should be taken as to how this function is used.
Remember of course that any changes you make to your blog with Wordpress for BlackBerry can only be applied while an open connection to the internet is made. Any offline changes will be cached until the next synchronization.
The Future Of Blogging Is Mobile
Wordpress for BlackBerry is more than just a powerful blogging tool - it could potentially replace the standard web-based desktop interface for many users.
It is compatible with both blogs built from the software downloaded at wordpress.org as well as the blog network at wordpress.com - in fact any Wordpress blog (especially since version 2.7) should be accessible with Wordpress for BlackBerry as long as you have the correct login privileges.
The software has already created a huge buzz among iPhone users and is set to do the same in the BlackBerry blogging community as each new release of the app irons out previous bugs.