BerryPopup BB Application Review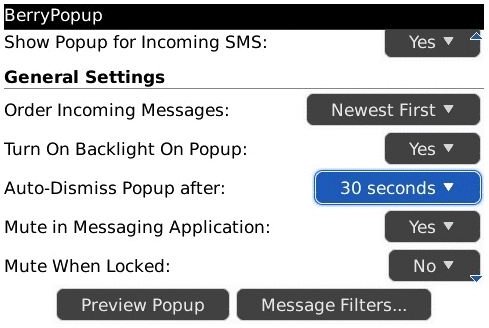 Overview, How it Works and Main Features
BerryPopup comes in line with a lot of similar applications available on the market that keep you on the ball by allowing you to see the preview of all incoming messages directly on your home screen. PeekaWho and Message Peek were unchallenged winners until the release of BerryPopup. I tested and reviewed Message Peek in April and since then it has been an integral part of my Blackberry, handling all my incoming messages effectively and making things a lot easier for me. Then one of my friends told me about the release of BerryPopup.
It is the latest similar e-mail/SMS pop-up application for your Blackberry smartphone that alerts you to incoming messages by displaying a pop-up preview on your home screen as soon as they arrive on your phone. It is also a highly customizable app that will even respond to emails or messages directly from the screen you are working on. You can open your inbox right from the pop-up window and even use features like forward, reply, mark as read and delete.
BerryPopup is developed by Bellshare, the same guys who gave us gems like BerryBuzz and BerryWeather. You can buy this application from MobiHand for just $6.95. You can also download the 7-days trial version from manufacturer's website by clicking here. Installation is simple, just like any other Blackberry application and I did not face any difficulty while setting up BerryPopup on my phone.
Once installed it appears as an icon on the main menu of your phone and you can start using the application from there. Opening the application guided me to the general settings menu where I could enable or disable pop-ups for my incoming messages.
I could set priorities so that I received the newest messages first. There is also an option to turn the backlight on/off while receiving a pop-up. I was able to configure the time after which I wanted the pop-up to automatically dismiss from the screen which ensured no screen crowding when multiple messages arrived. I set this time to 30 seconds and here I could also set message filters so that I can receive only those messages that are important, ignoring all the unwanted ones. The display settings allows you to customize the way you want the pop-up alerts to look like and you can select the pop-up layout, pop-up position, contact picture size, font size and much more.
The image below shows you a rough picture of the pop-up window that you will see on your screen when you receive an incoming message.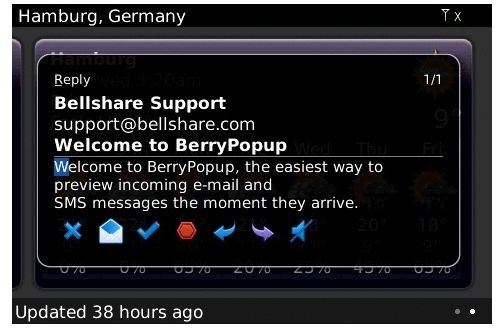 You can notice the editing features along with the message that allow you to respond back immediately. I tried and tested the application for almost 4 days and felt that it was as good as PeekaWho and Message Peek that I have been using for a couple of months now. The only difference was that I could see full HTML displays of my e-mails in the pop-ups of Message Peek but BerryPopup lacked this feature or if the feature was there I missed it and was unable to configure and use it on my phone. Otherwise, the user interface is extremely easy and at the same time quite good-looking with beautiful icons and a colorful display.
Finally, this application is compatible with all Blackberry phone models having operating system 4.2.1 or higher.
Final Verdict
While using the application I instantly shared a liking for BerryPopup but I won't deny that Message Peek is also a great application. PeekaWho and Message Peek are priced closer to $10 approximately whereas BerryPopup is slightly cheaper costing approximately $7, while compromising nothing in features, usability and ease of use. This application is equally good and is a must-have for every Blackberry user. I will advise my readers to try and test this application by downloading the trial version before going for the final buy.