Review of Bolt for BlackBerry Smartphones: Browse the Web at Lightning Fast Speeds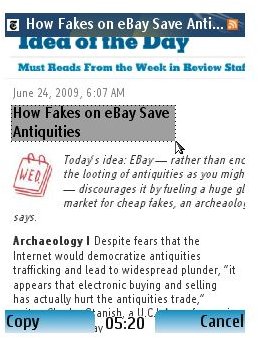 Introduction
Bolt is a recently released mobile browser for J2ME based phones. It is currently in its third beta and is downloadable from Bolt Browser. It works using a proxy just like Opera Mini to transfer content optimized for mobile phones. It loads web pages and their content faster than its competitors.
Features
Bolt allows you to stream videos from YouTube, MySpace, Yahoo, Blip, Dailymotion, and other such video streaming sites. The video quality is acceptable. You can change the video quality from the browser settings. The browser claims to optimize battery usage, which seemed to be working as I got some more time online with my phone with Bolt as compared to Opera Mini.
Bolt features a built in RSS reader that automatically grabs RSS feeds from the sites you have visited. You can also select the image quality for the pictures displayed in web pages.
Adding shortcuts and bookmarks works just like in PC browsers and is done through the menu system. You can also organize the bookmarks list to your liking. Keystroke shortcuts are supported for most functions.
Bolt accomplishes all its functions via a menu based system, which takes some time to get used to. URLs can be entered very easily and efficiently. Bolt includes split screen modes for viewing multiple pages, and it works especially well with phones that have a larger screen. The rendered text is crisp. Navigation and zooming works well with the trackball.
Speed
Bolt loads pages much faster than the default BlackBerry browser. That in itself should be a good reason to try the browser. They use a 23:1 compression scheme which helps loads pages faster. Copying and pasting text is supported so you can easily send links in your mails or messages.
You can also toggle the option to display images on pages. Uploads are supported so you can use Bolt to upload your images to photo sharing sites such as MySpace and Facebook.
Conclusion
Bolt works well in its current iteration and is the next big thing in mobile browsing after Opera. You can download the BlackBerry version of the browser from Bolt Browser. This website also has an active discussion forum where users can give suggestions for improving the application.