Review of txtForward for Blackberry Smartphones: Installation, Working, Main Features And Final Verdict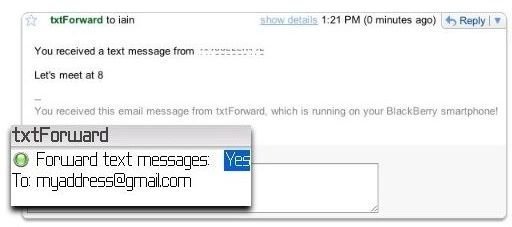 How it Works, Installation, and Main Features
I think it would really help if I got all my phone's text messages sent to my e-mail address as well. It's not that I find it difficult to read messages from my mobile phone, but I am working on my PC all the time with my phone kept aside, and sometimes I fail to attend an important message. Also, I like changing my handset once in a while making it difficult for me to copy and save all my phone messages to a new handset again and again.
I am glued to my desktop PC, and it has become a habit that I keep checking my mail every five to ten minutes. So, it would be quite convenient for me to receive all my text messages in my e-mail at the same time so that I can have an effective backup and keep them safe for viewing in future.
txtForward is one such application that forwards all your phone's text messages to any e-mail address provided by you.
The concept is very simple, and all the incoming and outgoing text messages are saved on Electric Pocket's server and then sent to the e-mail address configured by you. You can also choose the option to send all the incoming and outgoing messages directly to your e-mail address without using the company's server. You can also use Outlook Express to notify you whenever you receive an e-mail so that you never miss a message again.
txtForward can be purchased from the official website of Electric Pocket for $19.95. You can also download the trial version from the developer's website if you want to test the software before buying it. The setup file is only 27.1 KB in size and will download without any difficulty. You can open the website txtforward.com from your Blackberry's browser and directly download and install the application on your phone. You can also use the Blackberry Desktop Manager to install the application if your phone is connected to your desktop PC via a USB cable.
After installing the application, I discovered that it really does what it is designed to do, but there are some basic flaws that restrict the program to within certain boundaries. Basically, it is designed to send only text messages, and messages with multimedia content cannot be forwarded. Secondly, this application can only archive your text messages on your e-mail address, but there is no provision to reply back or forward these messages from this address. Also, whenever you receive a message via txtForward, it does not specify the name and number of the person who has sent the message.
Otherwise, the application is quite easy to use, and you will face no complications in forwarding your outgoing and incoming text messages to your desired e-mail address. Also, it is a small program and works in the background, never interfering with any running applications on your operating system.
Finally, this application is compatible with all BlackBerry models running on operating system 4.0 or higher and is supported by all display modes.
Final Verdict
There is no doubt that txtForward is a handy application and really does what it is designed to do, but, the question is, do you really think it is worth spending approximately $20 just to receive your phone's text messages in your e-mail address inbox. Personally, I think that this application is really overpriced and comes with certain flaws and limitations and is really not worth spending that much money. But, I do suggest that you download the trial version and be the judge yourself whether this application is worth spending that much money.