Review of ActiveMatrix for Blackberry Smartphones: Installation, Inner Workings, Main Features, and Final Verdict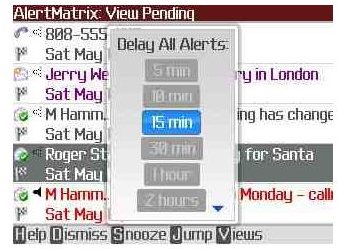 How It Works, Installation, and Main Features
AlertMatrix not only puts you in charge of all your incoming communications by filtering all the calls and messages according to predefined priorities but also allows you to create custom alerts for every incoming call or message that is important to you. This saves you precious time, and you don't have to go through the irritating procedure of taking unnecessary calls or reading unwanted messages.
AlertMatrix allows you to focus more on your work and relieves you from any interruptions that are caused by unwanted communications. You can set rules for receiving every call and message and also set priorities so that you never miss an important call or SMS. This also allows you to respond quickly to any call orf message that you have been waiting for.
Rules and alerts can be assigned to any incoming communication with utmost priority in a way so that they keep flashing on your screen until they are noticed by you.
AlertMatrix is a premium product from REXwireless and can be purchased from the company's website for $34.95. You can either use Google Checkout or your Paypal account to buy the application. You can also download the 14-day trial version also from REXwireless.
The setup file downloads easily, and you can install the application on your BlackBerry phone by using the BlackBerry Desktop Manager (if your phone is synchronized with your PC) or by running the setup file directly on your phone. The activation key is mailed to your e-mail address after you have completed the payment details.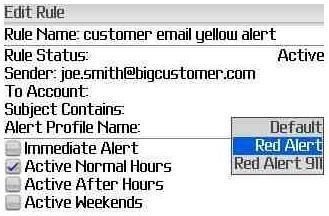 You can not only set rules for your incoming communication based on a specific a person or company but also set up rules for a specific text or subject in an e-mail or SMS. Once you received an important call or message that has been set on these rules, you will keep receiving custom alerts in the form of tones, vibrations, or LED flashes (you can choose from any of these).
You can also customize the frequency of these alerts so that the triggered notification does not disturb you while you're doing some important work. You can also configure these alerts so that you are only notified on a weekday or weekend or any other day you choose. You can also customize these alerts in the way so that you are never disturbed at night or at another specific time.
Final Verdict
I found this application to be immensely useful and very powerful as compared to any other call filtering tool available in the market. The interface is very easy to use, and, once you get used to this application, there is no turning back. It really does the job for which it is designed. Out of all the flooded communications you receive on your phone, you can quickly identify any incoming call or message that is important for you. AlertMatrix is highly recommended to all my readers who want to install effective call filtering and incoming communication alert software on their Blackberry Smartphone.
SOURCE: REXwireless